Lesbian teacher seeks Alameda education seat
Wednesday Feb 26, 2020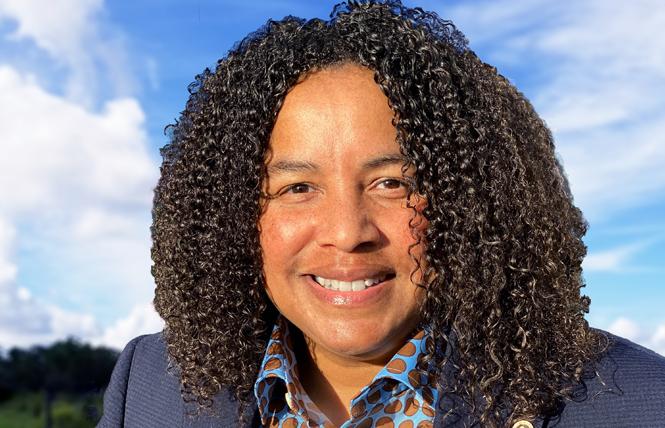 Special education public school teacher Angela Normand, a lesbian, is aiming to become only the second LGBT person to serve on the Alameda County Board of Education. She is seeking the panel's Area 2 seat, which includes the city of Alameda where she lives and various Oakland neighborhoods, including Jack London Square, Chinatown, and parts of West Oakland, Fruitvale, and the Oakland hills.
Normand is running against the incumbent, Amber Childress, the board's current vice president who was first elected in 2016. This is Normand's first time seeking public office, though last June she was elected to the board of her union, the California Teachers Association, representing her colleagues in both Alameda and Contra Costa counties.
She first became involved in union work and union advocacy in 2013, Normand told the Bay Area Reporter. And when it became clear last year that no one else was likely to run against Childress, Normand said she decided to enter the race.
"I think it is vital in all public offices that make decisions about education and students to have a teacher's voice," said Normand, 50, who works in the Brentwood Unified School District. "I am that teacher. I have 13 years of experience in serving the most at-risk, needy students. I know what it takes to make sure they are successful."
The race has become a proxy between public school supporters and those who back charter schools. Groups like the California Charter Schools Association Advocates and prominent charter school supporters, like Netflix CEO Reed Hastings, have paid for mailers backing Childress' reelection, touting her as "the fighter we need" on the county education board.
In its endorsement of Childress, a mom and the development manager at San Francisco Achievers, a nonprofit that works to send black male students in the city to college, the East Bay Times newspaper noted she is "a supporter of strong-performing charter schools" who is also "discerning" and had "voted for and against charters." Also supporting Childress are her board colleague Joaquin J. Rivera, a gay man who has served on the education body for a decade and is currently the board president, and Alameda County Superintendent L. Karen Monroe.
"My vision is simple but not easy, make sure that Alameda County school districts are equipped to provide access to a quality education for every child, regardless of the neighborhood that they live in," argues Childress, a native of Oakland, for why she deserves a second term. "We are moving in that direction, some districts, quicker than others. Fully funding public schools across California is necessary to carry out this goal."
Asked about charter schools, Normand told the B.A.R. she supports parents having a choice for how they want to educate their children.
"I believe parents have a right to choose what they believe is best for their children. I would like to advocate every student deserves the best; that is where the theme in my campaign is coming from," said Normand, who doesn't have children of her own. "This is obviously what I advocate for and champion for everyone."
Normand won the endorsement of the Alameda County Democratic Party and also the East Bay Stonewall Democratic Club, the main LGBT political group in Alameda County. State Superintendent of Public Instruction Tony Thurmond is backing her, as is Assemblyman Rob Bonta (D-Oakland).
She was born in East Oakland but raised in Chicago, where her parents moved after they divorced when Normand was a child. She would visit relatives in the East Bay each summer and knew she wanted to move back to California one day.
From 1993 through 2003 Normand served in the U.S. Marine Corps and was stationed for two tours of duty in Okinawa, Japan. It allowed her to travel throughout Southeast Asia. Her family longed served in the military, as her dad was in the Navy and several uncles served in the Army.
"We have folks who served all the way back to the civil war," said Normand.
Asked why she chose the Marine Corps, Normand noted it has had the fewest number of women and particularly black women, of the service branches.
"I never wanted to look back on my decision and wonder if I could be a Marine. I knew it would be the most challenging," she said.
When she left the military, Normand earned her teaching credential at California State University, Hayward (now known as Cal State East Bay). She worked for a year at a school, now closed, in Contra Costa County for students age 10 to 18 with behavioral disorders and had spent time in the juvenile justice system.
"It really was an experience to learn how to connect and encourage someone who has been discouraged to learn and to achieve," said Normand.
Initially thinking she would teach high school English, Normand was encouraged by her advisers to become a special education teacher, as there was a greater need for such educators. She was hired as such by the Brentwood school district in 2007 and works with middle school students.
"I thought about it for a moment and something just clicked that this might be a good thing. I never looked back," she recalled.
Her decision to now seek the education board seat mirrors her resolve to never second-guess herself when it comes to pursing opportunities, explained Normand.
"Honestly, that's been a constant motivator for me my whole life, to include running for this seat. I would really hate to look back and wonder 'if' I could have won and what difference I could have made," she said. "The Marine Corps urged us to go back to our communities and make them better. I am service-driven, and that's why I am running."
Comments on Facebook