Political Notebook: Santa Cruz, Alameda DCCC races draw LGBT candidates
Wednesday Feb 26, 2020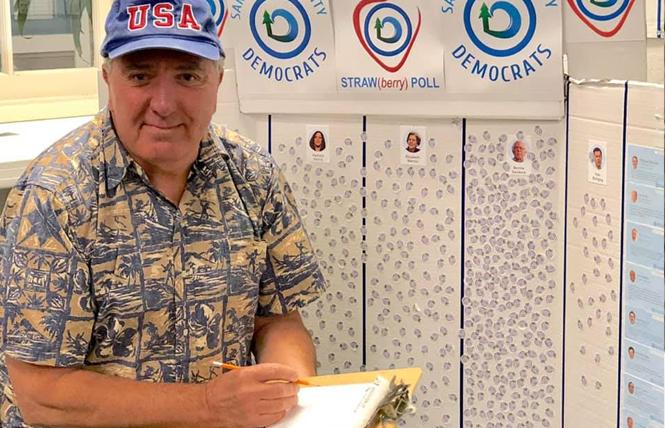 It is not just the race for seats on the oversight body that runs the San Francisco Democratic Party that has drawn a wealth of LGBT candidates. Contests for Democratic County Central Committee seats on March 3 primary ballots around the Bay Area region have also attracted a host of out candidates and others eager to play a role in local politics.

The committees are not only responsible for the day-to-day management of local county Democratic parties, they also endorse in local races. The positions are largely overlooked by the voting public but in recent years have become more coveted by both the party's grassroots activists and local elected leaders.

The interest in serving on a county committee has resulted in the Santa Cruz County Democratic Party seeing a competitive race for its leadership seats for the first time this year in decades. The party allots the 22 seats on the Santa Cruz County Democratic Central Committee to each of the county's five supervisorial districts.

Because a bare minimum of people sought seats in 2016, there wasn't a need to hold an election that year. All of the candidates were automatically elected to serve.

This year saw enough candidates file to hold contested elections to serve on the committee in four of the supervisorial districts. In District 1 that includes Santa Cruz, six people are competing for the five seats and will face off on the March 3 ballot.

"It has been at least three decades since there has been a competitive race for the DCC in our district," noted Adam Spickler, a transgender man who was appointed to a vacant seat in 2017 and is now running for election to a four-year term.

In 2018 Spickler was appointed to the Cabrillo Community College Board of Trustees in lieu of an election since he was the only person who filed to run for the oversight panel's Area II seat. When he took his oath of office that December, he became the first transgender man to hold public office in California.

For 12 years he had served as an alternate on the committee on behalf of his former boss, state Senator Bill Monning (D-Santa Cruz). Spickler helped push through a rules change for how delegates to the state party convention are chosen so they were more fair to transgender and nonbinary people.

He told the Bay Area Reporter he wants to remain on the local committee not only to register Democrats locally but also to continue the work he has done as a member of the state Democratic Party's affirmative action committee.

"My hope is we can reach minority communities that feel they are not a part of the electorate," said Spickler.

Also campaigning for the first time is Tony Russomanno, a gay man and former television reporter for KPIX, the CBS affiliate in San Francisco. First appointed to the party committee six years ago, Russomanno was one of the five people in 2016 automatically elected from the 1st supervisorial district.

"This is a really high pressure campaign. I think my expenses are approaching $60," joked Russomanno when asked what it was like to go from covering politicians to seeking an elected office himself. "I always said I would never run for political office. This is basically a volunteer position that happens to be on the ballot."

The Santa Cruz County DCC race has drawn particular attention this year because supporters of presidential contender Senator Bernie Sanders (I-Vermont) formed a slate of candidates to seek the seats resulting in the contested elections. It includes one LGBT candidate, Glenn Glazer, who was appointed to his seat in the county's 5th district and is seeking election to a full term.

As he told the county's weekly newspaper Good Times, "It is true that Bernie inspired many of us to get involved in politics, but it is not true that we are in lock-step with him, or that our candidacies are somehow dependent on his. We are progressives running for local office and the presidential race is largely outside of it."

Neither Russomanno nor Spickler are part of the slate, and both told the B.A.R. this week they remain undecided in terms of which Democratic presidential candidate they plan to vote for next week.

"We got a memo from the Democratic Socialists of America talking about a takeover. They do want to take over the Democratic Party," said Russomanno. "That is the charm of democracy, and I wish them good luck. But I don't think they really understand what DCC members do."

He noted that the committee members are critical to registering new Democrats and getting out the vote during election time. All last summer Russomanno attended community events like Santa Cruz Pride and the Watsonville Strawberry Festival to drum up interest ahead of this year's presidential race.

"Primarily what the DCC does is voter education. What the Democratic Socialists of America want is to do endorsements," he said. "They just want to have the Democratic Party endorsing their candidates. They can do that, but the real work and job of the DCC is to engage new voters and to find and recruit new candidates."
Alameda County races
In the East Bay, the race for seats on the Alameda County Democratic County Central Committee has drawn a diverse array of candidates, some elected local officials and others party activists. The party divvies up its seats elected by Democratic voters by Assembly district.

Among the candidates seeking the 11 seats on the oversight body in the 18th Assembly District are gay city councilmen Victor Aguilar Jr. of San Leandro and Jim Oddie of Alameda; former Oakland city councilman Abel Guillen, who is two-spirit; Victoria Fierce, a queer transgender woman who co-founded the pro-housing group East Bay for Everyone; and Brendalynn R. Goodall, a lesbian and former president of the East Bay Stonewall Democratic Club, the county's LGBT political club.

"I am running for the right reason — to have a vote and seat at the table," explains Goodall on her campaign site for why she is running to serve on the committee. "I am open to change, can listen, and believe holding elected officials accountable. I am an individual who is an effective messenger, passionate, and committed to advocacy."

Queer women Melissa Shuen-Mallory and Vanessa Sadsad are seeking seats in the 20th Assembly District. And there are also a number of out candidates running in the 15th Assembly District, including gay Berkeley Rent Board Commissioner James Chang; gay DCCC incumbents Andy Kelley and George Perezvelez, who also serves on the county's Fire Advisory Commission; artist Alfred Twu, who is nonbinary; and lesbians Ces Rosales, a web design development, and Barbara "Bobbi" Lopez, policy director for lesbian Oakland At-Large City Councilwoman and current president Rebecca Kaplan.

Escort approved as SF Assembly write-in contender
Assemblyman David Chiu (D-San Francisco) drew no opponent by the filing deadline last year to seek his 17th Assembly District seat covering the city's eastern neighborhoods. Thus, voters in his district will only see his name listed on their March 3 primary ballots.

And he is all but assured of winning another two-year term come the November 3 general election. Nevertheless, he has been sending out four-page mailers touting his election and endorsements from various political leaders and advocacy groups. It has some speculating the mailings are meant to boost his name recognition ahead of a bid for higher office in a few years.

For voters who may be less than thrilled with Chiu's leadership in the state Legislature, they now have an option for casting a protest vote in next week's election. Last week the secretary of state's office announced that Starchild, a bisexual erotic service provider and Libertarian Party member, had qualified to be a write-in candidate in the AD 17 race.

Over the years Starchild has run numerous times for elected positions in San Francisco, including for Assembly, supervisor and a seat on the city's Board of Education. He has also long advocated for legalizing sex work.

Web Extra: For more queer political news, be sure to check http://www.ebar.com Monday mornings for Political Notes, the notebook's online companion. This week's column reported on what the DCCC candidates in San Francisco think about having local electeds serve on the body.

Keep abreast of the latest LGBT political news by following the Political Notebook on Twitter @ http://twitter.com/politicalnotes

Got a tip on LGBT politics? Call Matthew S. Bajko at (415) 829-8836 or e-mail m.bajko@ebar.com
Comments on Facebook