SF Pride grand marshal nominee Shanti sparks controversy
Wednesday Feb 26, 2020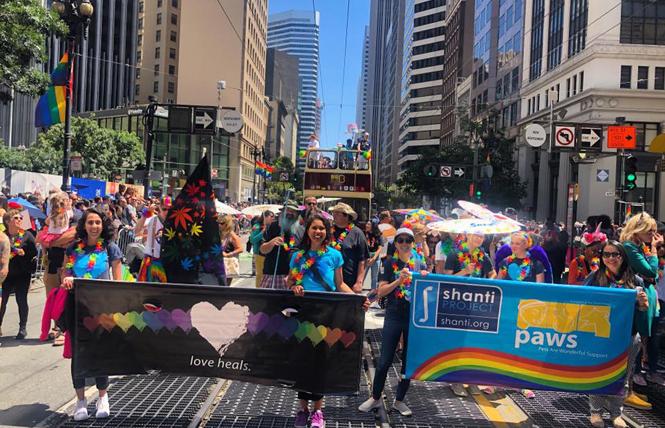 After voting began for community grand marshals for this year's San Francisco LGBT Pride parade, several longtime activists signaled disapproval that the Shanti Project is one of the nominees for organization grand marshal.
The displeasure is related to Shanti donor Dede Wilsey, whose name was included on an invitation for a fundraiser for President Donald Trump last summer.
Voting is open until March 10 at noon for two community grand marshals — an individual and an organization. There are 10 individual nominees and five organization nominees, one of which is Shanti, which was founded in the 1970s and provides practical support and other services for people with HIV/AIDS and other illnesses.
But Arthur W. Corbin, whose activism stretches back five decades, said that Shanti has strayed from its original mission by expanding to cover so many different things, noting its 2015 merger with Pets Are Wonderful Support, or PAWS.
PAWS helps seniors and people with disability or illness care for their pets.
"Shanti does some good work but they're not very connected to what's left of the gay community anymore," Corbin said in a February 24 phone interview with the B.A.R. "I have watched our nonprofits lose sight of their original goals and become traditional nonprofits. The original founders usually had an emotional stake. For the new leaders, it's a job."
On Facebook, Corbin wrote "the caring and loving spirit that was Shanti Project is long gone and has been replaced by the nonprofit hustle for more and more money for a wider range of services."
Ken Jones, another longtime activist and the first African American chair of San Francisco Pride's board of directors, asked on Facebook "How on earth is it possible that the Shanti Project (The Dede Wilsey drama) in the year of its community sell-out could be nominated as a Community Grand Marshal Organization. Really? ... Really? What is happening to 'our'... quite possibly now 'the' Community. I was about to make a motion that The Shanti Project be excluded from marching in the parade entirely this year; but, I guess that would be pointless."
When asked by the B.A.R. to comment on the situation, Jones demurred, saying he did not want to "add one more piece" to the issues the San Francisco LGBT Pride Celebration Committee is facing.
Wilsey is the former chair of the Fine Arts Museums of San Francisco and a longtime philanthropist.
As the B.A.R. previously reported, gay San Francisco Democratic Party chair and former District 9 Supervisor David Campos was critical of Shanti for giving Wilsey an award at its gala last year because she was listed as a co-host for a Bay Area Trump fundraiser.
Shanti gave Wilsey the Lifetime Achievement Award at its fall Compassion gala, although House Speaker Nancy Pelosi (D-San Francisco) successfully had her name removed from it beforehand. (The award had been called the Nancy Pelosi Lifetime Achievement Award.)
Wilsey's son, Trevor Traina, was appointed by Trump in 2018 to be the United States ambassador to Austria.
For her part, Wilsey told the San Francisco Chronicle August 28 that her name ended up on the invitation because "I assume they needed more names and thought I would never know or care."
The Chronicle reported that Wilsey had not given to Trump, though she did give $5,000 to the Great America Committee PAC, which is affiliated with Vice President Mike Pence and gives money to GOP candidates. Wilsey, a Republican, has given to both Republican and Democratic politicians, public records show.
When asked about the Shanti nomination via email February 25, Campos wrote that he did not want the people who work at Shanti to be punished for the decisions of its leadership.
"While I believe that Shanti's leadership is out of touch and has led the organization astray, I don't have a problem with the nomination as I see it as a recognition of the importance of the work of Shanti's staff," Campos said. "I don't blame the amazing Shanti staff for the mistakes made by their misguided leadership."
The B.A.R. got in touch with a spokesperson for Wilsey, but she did not respond to a request for comment by press time.
For its part, Shanti Executive Director Kaushik Roy wrote in a February 24 email to the B.A.R. that "we are thrilled and grateful to be nominated."
"As an organization that has served the LGBTQ community for nearly half a century, including during the early days of the AIDS epidemic, it is gratifying to be acknowledged with the nomination," Roy wrote. "This really is a recognition of the tens of thousands of Shanti volunteers and staff caregivers who have selflessly and tirelessly shown up with compassion and care over the decades for the LGBTQ community."
When asked about the criticism, Roy said he had not heard any.
"No one has contacted me to say anything critical of the nomination," Roy said. "On the contrary, since our nomination became public, many current and former LGBTQ elect(ed)s, philanthropists, community leaders, and activists have reached out to me to share their heartfelt congratulations and gratitude for Shanti's contributions to the community and to share how well-deserved they think our nomination is."
When the B.A.R. reached out to SF Pride Executive Director Fred Lopez and board of directors President Carolyn Wysinger, it received a response from Peter Lawrence Kane, SF Pride's communications manager.
"Shanti is but one of many organizations that the public may choose to vote for as a community grand marshal, suggested by a member of the community via our online tool," Kane wrote in an email to the B.A.R. February 25. "If the voting public prefers one of the other options, that's who they will presumably choose."
Neither Kane, Lopez nor Wysinger would address the criticism of Shanti.
The results will be announced at Pride's March 11 membership meeting.
"The membership and the board itself will then weigh in with choices of their own, with the full results out in mid-April," Kane wrote.
The other organizational grand marshal nominees are Compton's Transgender Cultural District; Frameline, the LGBT film festival; Lavender Seniors of the East Bay; and the LGBT Asylum Project.
Nominee leaving SF
In another community grand marshal matter, nominee Toni Newman announced Tuesday that she is immediately stepping down from St. James Infirmary, a nonprofit that provides services to sex workers and others, and relocating to Los Angeles. (See related story.)
SF Pride's website notes that community grand marshals "are local heroes who have contributed greatly to the SF Bay Area LGBTQ community or to society at large."
That language was added after the 2013 controversy over trans whistleblower Chelsea Manning, who was named a community grand marshal before the board rescinded the honor. In a statement at the time, the board said Manning couldn't be considered for the recognition because she wasn't local.
The following year, after a new SF Pride board was seated, Manning was named an honorary grand marshal.
Lopez told the B.A.R. that Newman will still be a nominee for community grand marshal.
"It's admittedly pretty rare that someone nominated to be a community grand marshal leaves the Bay Area during the brief window between the submission of their name and the conclusion of the voting period, but if the public does in fact vote for Toni, then SF Pride would be honored to have her march with us on June 28," Lopez stated.
The other individual community grand marshal nominees are Terry Beswick, executive director of the GLBT Historical Society; trans filmmaker StormMiguel Florez; womxn's event producer Jolene Linsangan; stand-up comedian Baruch Porras-Hernandez; Marvel Comics writer Gabby Rivera; Compton's Transgender Cultural District Executive Director Aria Sa'id; social justice advocate Zwazzi Sowö; Marin Spectrum LGBT Center (now called the Spahr Center) founder the Reverend Dr. Janie Spahr; and San Francisco Community Health Center CEO Lance Toma.
To vote for community and organizational grand marshals, go to http://www.sfpride.org/grand-marshals/
Comments on Facebook