SF drag artist to compete on 'RuPaul's Drag Race'
Wednesday Feb 26, 2020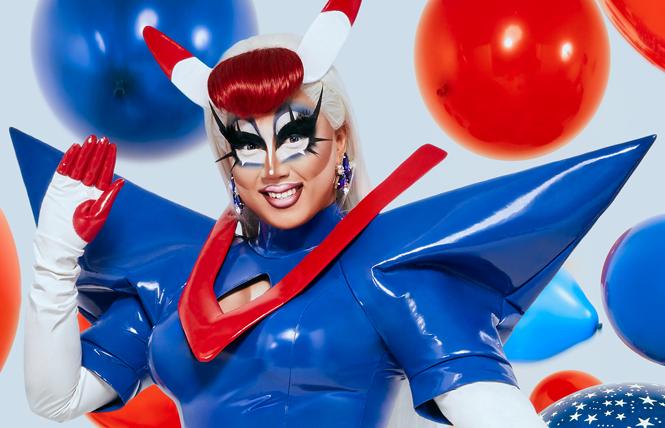 San Francisco-based drag artist Rock M. Sakura will be competing on Season 12 of "RuPaul's Drag Race" beginning this Friday.
Sakura is the first San Francisco-based drag queen to compete since Honey Mahogany in Season 5, and the first Filipino queen to appear on the show since Vivienne Pinay, also in Season 5. Sakura is a big fan of Japanese anime, which inspires her drag name — she also loves "all things campy and kitschy."
"I have a love of manga and Japanese anime," Sakura, 28, who identifies as gay, told the Bay Area Reporter. "Manga is Japanese comics and anime is Japanese animation."
Sakura gave the "Pokemón" series and films such as "Spirited Away," a 2001 Japanese animated fantasy film, as well known examples of anime.
"It's definitely a medium that has pushed its way into the mainstream recently," she said. "My favorite part about it is how over the top and alive it is. It's like a caricature of day-to-day life. I feel that it's really important to embody that in my drag because it's important to make everyday feel special and animated."
Sakura elaborated on the campy aspects of anime.
"It's the costumes," she said. "It's the voice acting, and anime is usually over the top. You think that people in the United States overact for cartoons, but in Japan they overact for anime like 300%. It's really good; I love it!"
Sakura pointed out that anime tends to be mainly hand-drawn animation. The genre has begun to break more into 3-D in recent years, but Sakura notes that it's mainly a 2-D genre.
"Which is why my aesthetic only looks good from the front," she said. "I never try to let people see me from the side because most of my drag looks good straight on."
Sakura's love of camp goes beyond the world of anime. Sakura professes to watch American cartoons every day and to read American comics. She also watches a lot of musicals. She added that she finds a lot of current YouTube content very campy.
"Anyone can make a video," she said. "So people always try to outdo each other with different concepts, with different video ideas. And I think that idea itself is very campy."
Sakura referred to the Hundred Layers Challenge of several years ago, where YouTube vloggers started off with a hundred layers of nail polish, followed by a hundred layers of make-up and a hundred layers of eyelashes and hairspray.
"I think that's camp personified," she said.
Out of drag, as Bryan Bradford, she describes herself as "calm and docile."
"Out of drag I'm a sweet, considerate person," she said. "I'm not necessarily super-talkative. I feel I'm a little more introverted, whereas when I'm Sakura I'm a bit more extroverted."
Sakura used the word "ambiverted" to describe her personality, meaning that she switches between being introverted and extroverted. She got the word from "Drag Race" host RuPaul, who uses the word to describe herself.
"She calls herself an introverted extrovert," Sakura said.
Sakura has been living in San Francisco for about two years, having moved to the city from her native San Jose. She moved here for the drag scene, she said. She had been doing drag part-time before she came to the city.
"I had a big change in my life," she said. "I had been working in fast food for 10 years, and once I hit the 10-year mark I decided that I did not want to work for fast food anymore, so I quit my job. I decided that if I'm not going to be happy doing my job then I'm going to try for something bigger. So I quit and moved to the city and started doing drag full-time."
She spoke of what draws her to do drag.
"It's definitely the ability to be your own avatar and to create your own character — it's my biggest draw to the craft," she said. "I was at a time in my life where I was being restricted artistically and emotionally and I needed a way to express myself, and drag presented itself as a way for me to go out and be myself and express myself through art."
Sakura credits RuPaul for bringing drag into the mainstream and cultivating an atmosphere of love and acceptance.
"I was floored when I met her," Sakura said. "She's beautiful in person."
Sakura couldn't say anything more about her relationship with RuPaul or about what happens on "Drag Race's" 12th season. She's sworn to secrecy — viewers will have to tune in to find out. She did talk about the importance of being visible.
"I think it's important for us to be out performers," she said. "And not just to be out and perform, but to scream it at turn, and to let people know that we're here and we're not going anywhere."
And as "Drag Race" Season 12 prepares to air, Sakura looks back at the show as something special to participate in.
"It was one of my favorite experiences in my whole life," she said. "I've met a lot of friends who I will probably consider family for the rest of my life, and I've made so many wonderful and dear memories that will amp up my art tenfold."
"RuPaul's Drag Race" Season 12 begins airing Friday, February 28, at 8 p.m. on VH1.
Comments on Facebook