Online Extra: LGBTQ Agenda: Manning attorneys seek release of whistleblower
Tuesday Feb 25, 2020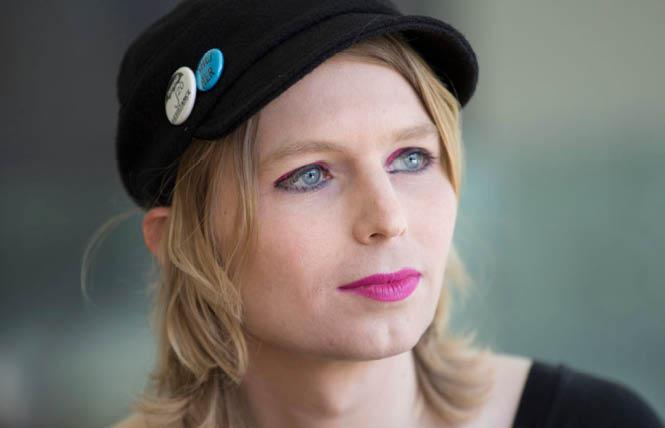 Lawyers for Chelsea Manning — a trans woman and former soldier who became famous for leaking United States military and State Department secrets to WikiLeaks in 2010 and is now in prison — filed a motion in federal court February 19 seeking her release.
At the same time that activists have gathered signatures for a petition imploring the same.
As the Bay Area Reporter previously reported, Manning was convicted of aiding the enemy in a 2013 court-martial; however, former President Barack Obama commuted her sentence in his final days in office in January 2017 and she was released that May. She then ran unsuccessfully for a U.S. Senate seat in Maryland in 2018, losing in the primary.
In May 2019, Manning was incarcerated at a federal detention center for refusing to comply with a subpoena from a federal grand jury in a case against WikiLeaks founder Julian Assange.
The new motion, filed in the U.S. District Court for the Eastern District of Virginia, states that the purpose of a contempt incarceration due to failure to comply with a subpoena is to compel testimony — but since "no realistic possibility remains that continued confinement or other sanctions will bring about Ms. Manning's testimony," Manning should be released.
"As Ms. Manning's resolve not to testify has been unwavering, and as her moral conviction, for which she is deservedly renowned, has become only more developed since her confinement, her incarceration is not serving its only permissible purpose," a copy of the motion states. "Ms. Manning has now been incarcerated for eleven of the maximum eighteen months. There is no reason to believe she will experience a change of heart; there are a plethora of indications that she will not. For that reason, the motion should be granted in its entirety."
Manning is slated to remain incarcerated until the grand jury finishes its 18-month term.
Furthermore, Manning is being fined $1,000 a day as long as she remains in jail. Moira Meltzer-Cohen, one of Manning's attorneys, said in a phone interview with the B.A.R. that their client owes "more than $235,000" due to the incarceration.
Manning is challenging the fines due to ability-to-pay.
Meltzer-Cohen, who is also a trans woman, said they don't know when to expect a ruling from U.S. District Court Judge Anthony John Trenga, but that it should be within the next month.
"The law is very clear that if confinement is not coercive — if she cannot be convinced to comply with the subpoena — then she should be released," Meltzer-Cohen said.
Manning had been segregated from other prisoners for almost a month last spring.
In a letter to the U.S. government, a representative of the United Nations concluded late last year that Manning's confinement was an "open-ended, progressively severe measure of coercion fulfilling all the constitutive elements of torture or other cruel, inhuman or degrading treatment or punishment." The representative also said the fines should be canceled.
Manning is refusing to comply with the subpoena because she is conscientiously opposed to grand jury testimony due to past abuses by prosecutors against left-wing activists.
Fight for the Future, a nonprofit dedicated to digital rights, organized a petition backed by several other groups (such as Daily Kos) calling for Manning's release. The petition had over 61,000 signatures at press time.
Evan Greer of Fight for the Future said the organization has been "a longtime supporter of Ms. Manning," and defended her decision to refuse to comply with a subpoena.
"Grand juries have been used to target activists and journalists and to strip people of their constitutional rights," Greer said. "Chelsea's resistance to grand juries is a principled stance against a non-transparent process frequently used to overreach."
"I think that the U.S. government's persecution of Chelsea is a quintessential example of punishing people for telling the truth. That's her only crime," Greer added.
Federal prosecutors charged Assange last year with 18 criminal counts relating to obtaining and disclosing U.S. national security information. He is currently incarcerated in the United Kingdom for a failure to appear in court, with possible extradition to the U.S.
The charges directly relate to Manning's leaks to him.
On February 20, former U.S. Representative Dana Rohrabacher (R-California) confirmed that he flew to London to offer Assange a pardon from President Donald Trump if he denied that it was the Russian government who leaked emails from the Democratic National Committee to WikiLeaks during the 2016 Presidential election. White House press secretary Stephanie Grisham has denied the pardon offer to Assange.
Assange's lawyer brought up the offer in an extradition hearing in London. According to a report from special counsel Robert Muller last year, it was the Russian government that hacked the DNC, the materials of which were later released by WikiLeaks, as part of a campaign to help Trump's chances in the election and hurt presidential Democratic nominee Hillary Clinton.
The U.S. Attorneys office for the Eastern District of Virginia did not respond to a request for comment as of press time.
LGBTQ Agenda is an online column that appears weekly, usually on Tuesdays. Got a tip on queer news? Contact John Ferrannini at j.ferrannini@ebar.com
Comments on Facebook