News Briefs: Flower Bulb Day coming to SF
Wednesday Feb 26, 2020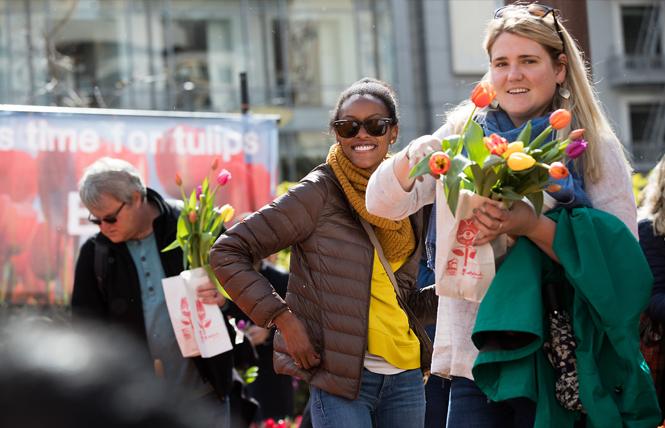 San Francisco's Union Square will be saturated in the colors of 100,000 tulip bulbs for Flower Day 2020 Saturday, March 7.
The event, which includes a free "tulip garden" where people are encouraged to pick their own bunch of tulips to take home to welcome spring, takes place from 1 to 4:30 p.m.
Flower Bulb Day is presented by Royal Anthos, with support from the European Union, the San Francisco Recreation and Park Department, and the Union Square Business Improvement District. Royal Anthos represents companies that trade in flower bulbs and nursery stock products in Europe and abroad.
According to a news release, Flower Bulb Day celebrates and showcases the beauty and availability of classic European flower bulbs. European traders export flower bulbs to more than 100 countries worldwide and the U.S. is by far the largest export market, the release noted. European traders alone export approximately 100 different species of flower bulbs annually, including lilies, hyacinths, daffodils, dahlias, gladioli, and of course, tulips.
Union Square is located near the Powell Street BART and Muni stations. A large turnout is anticipated and organizers encourage people to use public transportation.
Leap year benefit for Rainbow center
Former board members of the Rainbow Community Center of Contra Costa County in Concord are holding a leap year benefit Saturday, February 29, from 3 to 6 p.m. in the Garden Room at the Concord Senior Center, 2727 Parkside Circle.
The afternoon includes prix fixe items for sale, a live auction, and wine, beer, and water. Donations are encouraged. Admission is free.
According to a flier, the event's major sponsor is the Andreason Groups at Morgan Stanley. Other sponsors include Bedell Frazier Investment Counselling and John Muir Community Health Fund.
For more information, check out the Rainbow center's Facebook page.
Castro Cultural district elects 5 more board members
Five more people were elected to the Castro LGBTQ Cultural District advisory board during voting that occurred Saturday, February 22.
According to the cultural district's Facebook page, the new members are Steven Bracco, a city firefighter and contributor to Hoodline; Ms. Billie Cooper, a transsexual woman and founder of the TransLife program at the San Francisco AIDS Foundation; Mahsa Hakimi, a Castro resident and founder of a boutique law firm in the city; Jesse Oliver Sanford, who's been working with the cultural district since its inception; and Stephen Jon Torres, a substitute teacher.
The first five advisory board members were elected in December. There are still five advisory board seats that community members will vote on soon, probably in April, according to the cultural district's website.
Public works kicks off cleaning with Castro focus
Under new acting director Alaric Degrafinried, San Francisco Public Works will bring its new SidewalkSpotlight SF program to the Castro Thursday, February 27.
(Former Public Works chief Mohammed Nuru resigned earlier this month after being charged by federal authorities with fraud in a city corruption scandal. The San Francisco Chronicle reported last week that the indictment against Nuru listed "Girlfriend 1," who was subsequently identified by the paper as Sandra Zuniga, who had run the city's Fix-It program. She has been placed on administrative leave, the paper reported.)
The new sidewalk program will deep-clean busy neighborhood corridors throughout the city with a focus on litter removal, steam cleaning, graffiti abatement, trash pickup, and public education.
The sidewalk cleanups will continue through June, according to a news release.
"Public Works is working hand-in-hand with the community to deliver much-needed sidewalk cleaning to our busiest merchant corridors," City Administrator Naomi Kelly stated.
The program kicked off Monday in the city's Little Saigon neighborhood.
"Obviously, keeping our sidewalks clean remains a high priority for the community and for our department," Degrafinried stated.
The department is also prioritizing a rapid response to dog and human waste and tree basin cleaning, the release noted.
Matthew S. Bajko contributed reporting.
Comments on Facebook