Election 2020: Slates battle for SF Dem Party seats in AD 19
Wednesday Feb 19, 2020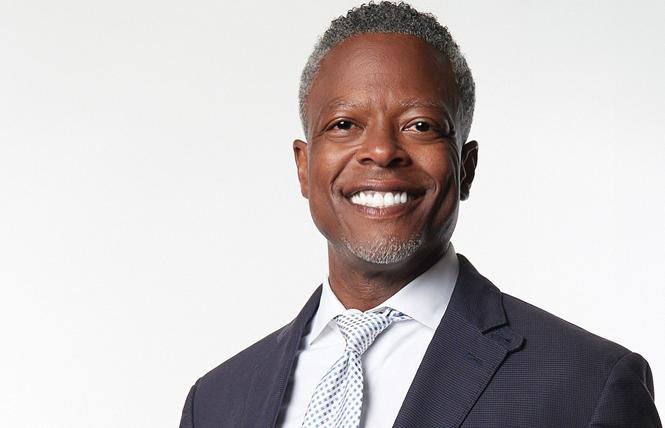 Twenty-one people are competing for the 10 seats on the committee that oversees the San Francisco Democratic Party allocated to residents of the state's 19th Assembly District that covers much of the city's western neighborhoods.

As with the contest for the 14 seats allocated to residents of the state's 17th Assembly District, the candidates running in AD 19 to be elected to the Democratic County Central Committee are a mix of well-known political figures and longtime party activists as well as newcomers running for election for the first time.

All but one — Abra Pauline Castle — belong to one of the two slates of candidates running that represent the progressive and moderate wings of the local party. The Social Justice Democrats Slate is the more progressive of the two and includes gay local party chair David Campos.

Its candidates running for DCCC seats in AD 19 include District 4 Supervisor Gordon Mar, Public Defender Mano Raju, school board member Faauuga Moliga, and Janice Li, a queer woman who serves on the board that oversees the regional BART transit system.

Also on the slate are incumbent DCCC members Leah LaCroix, Kelly Akemi Groth, and Keith Baraka, a gay black man who is a city firefighter. Rounding out the slate are party activists Queena Chen, Li Miao Lovett, and AJ Thomas.

Baraka, who serves as the oversight body's second vice chair, told the B.A.R. he wants to remain on the DCCC, as there are few African Americans who hold any elective office in San Francisco.

"I also believe a role of DCCC members is to perform outreach across the diverse communities of San Francisco to identify, encourage and nurture activism and political involvement to create new leadership for our communities, political clubs, and elected positions," Baraka told the B.A.R.

Li told the B.A.R. she's "proud" to be part of a slate that is a mix of "first-time electeds who are forging a new progressive spirit on the westside" of the city like herself and a group of "brand new faces who have broad, diverse experience in union leadership, public service, political club leadership, and community organizing."
Running on the more moderate Mobilize & Organize Slate are District 11 Supervisor Ahsha Safai, newly elected Sheriff Paul Miyamoto, and ousted district attorney appointee Suzy Loftus. The sole DCCC incumbent on the slate is Mary Jung, a former chair of the local party. Also on the slate are Kat Anderson, Nadia Rahman, and Seeyew Mo.

It also includes three out candidates: Jane Natoli, a transgender woman; Mawuli Tugbenyoh, a gay man; and Cynthia "Cyn" Wang, a queer lesbian. As Wang explained to the B.A.R., she joined the slate since the other candidates share her core values.

"I am somebody who considers themself to be very progressive and solutions oriented," said Wang. "I am very pro housing and small business. Members of this slate align with those policy views."

Natoli told the B.A.R. she decided to run for the DCCC because she wants to get more involved in the party and local government as well as sees it as an extension of the volunteer work she has been doing with LGBT organizations in the city.

"I have been an active and involved member in the LGBTQ community since moving to San Francisco because I want to connect people with the same kinds of opportunities I've had," stated Natoli. "I am a relatively fortunate trans woman, both in finding a good employment situation and a good living situation in a city where I can be myself."

Tugbenyoh, chief of policy at the city's human resources department, told the B.A.R. he wants to serve on the DCCC in order to work on a number of causes and issues he has championed in both his professional and personal life such as criminal justice reform, access to healthcare, gun control, and LGBTQ rights.

"I not only have experience, but also an unwavering commitment to addressing these issues as a member of the DCCC," stated Tugbenyoh, adding that he "will strive to grow the membership of the Democratic Party, whether I am elected to the DCCC or not."

A majority of the current DCCC members from AD 19 will be stepping down as they are not running for re-election, such as District 1 Supervisor Sandra Lee Fewer and former supervisor Angela Alioto. Also departing will be Tom Hsieh, Meagan Levitan, Jen Low, and school board member Rachel Norton.
Comments on Facebook