Editorial: SF judicial race endorsements
Wednesday Feb 12, 2020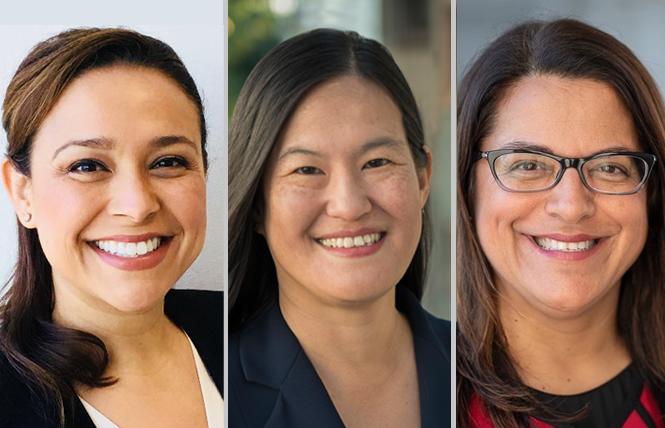 There are three open seats on the San Francisco Superior Court on the March 3 primary ballot. Six women — all straight allies — are in contention, two for each seat, and all returned our candidate questionnaire for endorsement.
SF Seat 1: Maria Elena Evangelista
Maria Elena Evangelista ran two years ago, as part of a group of deputy public defenders seeking to oust sitting judges who were appointed by Republican governors. (The judges were all registered Democrats.) We did not endorse her at that time. (All of the incumbents were reelected.) This time around, however, Evangelista is seeking an open seat and we think she has the breadth of experience needed to ensure fairness in the criminal justice system. Prior to joining the public defender's office, she worked for the San Francisco District Attorney's office as an intern for two-plus years. In her role as a public defender, she worked with the collaborative courts, behavioral health court, veterans court, drug court, criminal justice court, clean slate, and the intensive supervisor court, which provides wraparound services for clients. "In these courts, we attempt to address the root causes of crime," she wrote. "My experience directly serving clients informs me of how we can do better."
Evangelista's parents emigrated from Jalisco, Mexico in the 1970s, arriving in San Francisco after beginning their journey as migrant farmworkers in Southern California. Her mom, who was pregnant with her at the time, was deported and her dad self-deported to bring her back. They sought refuge from Immigration and Naturalization Services in an apartment building in the city's leather community. "I was born and raised in a studio apartment in a building that was almost exclusively gay men," she wrote. "We were each other's surrogate families. I had so many firsts in this community and then I lost so many of them in the 1980s to the AIDS crisis.
"My parents did not speak English and never went to school," she added. "But growing up in the heart of the LGBTQ community inspired my political activism and I wanted to become a voice for equality and representation."
Evangelista has represented LGBTQ clients who had experienced discrimination. We think her 16-plus years of experience will serve her well on the bench.
SF Seat 18: Dorothy Chou Proudfoot
Dorothy Chou Proudfoot is currently an administrative law judge for the San Francisco Rent Board, after serving as a deputy district attorney in Marin County. She has 20 years of legal experience, including 16 years of trial work. Her career has involved general litigation practice, state criminal law, federal criminal law, administrative law, and landlord-tenant law. A daughter of Chinese immigrants, she told us that she understands "how critical it is to improve gender and racial representation on the bench." She is running for an open seat on the San Francisco court.
In terms of working with the LGBTQ community, Proudfoot wrote that she has supported the promotion and advancement of members of the LGBT legal community by recruiting out lawyers to join various bar association boards and committees in which she's been involved. Through the amicus committee of California Women Lawyers, Proudfoot has reviewed friend-of-the-court briefs on same-sex marriage, Title IX discrimination, transgender protections, and the contraceptive care mandate.
When she was a deputy DA, she handled a case with a transgender woman who was representing herself. The judge constantly misgendered the woman, which led her to become agitated. Proudfoot wrote that she emphasized her use of correct pronouns every time she spoke. "The judge then started avoiding using any pronouns at all — which helped to calm the defendant," Proudfoot wrote. In short, Proudfoot explained that she tried to model awareness of how important using a person's preferred pronouns are, even as they were on opposite sides of the case, because she could see the defendant did not feel she was getting fair treatment from the court.
We need more judges like this in San Francisco. Proudfoot would be a good addition to the bench.
SF Seat 21: Kulvindar "Rani" Singh
Kulvindar "Rani" Singh has been rated "exceptionally well-qualified" by the Bar Association of San Francisco — its highest rating. She has served as an assistant district attorney in San Francisco for almost 21 years and told us she's had a "rich and varied" experience during that time. Since 2016, she has been the managing attorney for both the domestic violence unit and the collaborative courts and mental health units in the DA's office. "In my work, I focus on finding a balance in the system where every voice is heard, and factors of trauma, immigration, LGBTQ barriers to services, and socio-economic disparity are recognized," she wrote.
If elected, Singh would be the first Punjabi Sikh woman, appointed or elected, in the state.
A distinguishing perspective expressed by Singh is her willingness to continue community involvement if elected a judge. She's absolutely right when she observed that once judges run and successfully win their seat, they are rarely heard from in the community. "I understand the political line is difficult to navigate as judges, but I think that it should be required not only for elected judges, but appointed judges, to engage in some non-political community engagement," she wrote. "The bench should not be separated from the rest of the community."
Singh has experience prosecuting hate crimes cases and has advocated for access to health care for people living with HIV/AIDS, especially while in custody. As a managing attorney for collaborative courts and the mental health unit, she has dealt with challenges for all marginalized populations that come into the system. "I am often called in when things are 'not working,'" she wrote, "and I use innovation and sensitivity to navigate the difficult issues like advocacy for services and access to the same conditions any person who comes into the court should have."
Singh would be an excellent addition to the San Francisco Superior Court.
Comments on Facebook