News Briefs: Helpers needed as AIDS quilt arrives in E. Bay
Wednesday Feb 12, 2020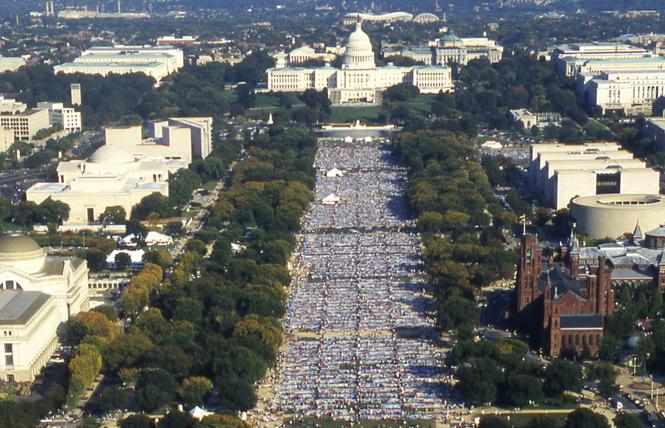 The National AIDS Memorial Grove has put out a call for volunteers as the AIDS Memorial Quilt arrives in the East Bay later this week.

Last fall, the grove and the Names Project, which had overseen the quilt, announced that the grove would be taking over stewardship of the 50,000 panels that make up the historic memorial. It was stated then that the quilt would be moved from Atlanta to the Bay Area.

According to an email sent to supporters, strong, able-bodied, and energetic volunteers are needed to help unload and shelve the quilt panels in new warehouse space in the East Bay. Quilt panels are expected to begin arriving on Valentine's Day.

Helpers are needed February 14-23 except on Monday, February 17. Available shifts are from 10 a.m. to 2 p.m. and 1 to 5 p.m.

The warehouse is located near Oakland International Airport. The email noted that volunteers can be picked up at the Coliseum BART station.

Those interested in helping out should email Kelly Rivera Hart at angelhart47@gmail.com for more information and to sign up.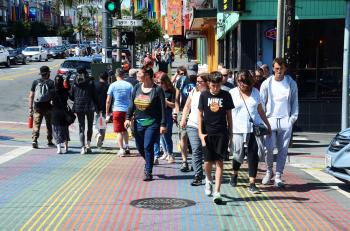 2nd vote nears for Castro cultural district board
People interested in the Castro LGBTQ Cultural District can soon participate in the second round of voting for five advisory board members.

The first five advisory board members were elected in December.

The upcoming vote is set for Saturday, February 22, from noon to 4 p.m. at the San Francisco Gay Men's Chorus' National LGBTQ Center for the Arts, 170 Valencia Street. Like the previous vote, anyone who shows up can cast a ballot.

According to the website, there will be candidate statements from 12:30 to 1, followed by voting.

The Castro LGBTQ Cultural District is the third cultural district in the city that seeks to define locations in San Francisco that have a special significance for the LGBTQ community. The others are the Compton's Transgender Cultural District in the Tenderloin and the Leather and LGBTQ Cultural District in South of Market.

The heart of the district is centered along the 400 and 500 blocks of Castro Street as well as the surrounding residential area. The district's boundary also stretches down the neighborhood's commercial corridor along Market Street to Octavia Boulevard where the LGBT community center is located.

It also includes the blocks of Laguna Street where the LGBT senior services agency Openhouse has its offices and affordable senior housing development. Also incorporated into the district is the stretch of Valencia Street where the gay men's chorus's building is located.

Candidates this time include some who were unsuccessful in the first vote. They are: Michael (Tod) Edgerton, an English professor at San Jose State University; Robert Graves, a camping director for the Boy Scouts of America; Sam Gray, a community programs coordinator with the San Francisco LGBT Community Center; Waide Riddle, a Los Angeles-based writer; Jesse Oliver Sanford, who's been working with the cultural district since its inception; Anvar Shukurliyev, a student at City College of San Francisco; and Ron Williams, a photographer.

New candidates include Haley Adams, a Castro business owner and resident; Jesse James Alexander, an Oakland resident who studied in San Francisco and organizes events at the Stud and other venues; Steven Bracco, a San Francisco firefighter and writer at Hoodline; Ms. Billie Cooper, a transsexual woman and founder of the TransLife program at the San Francisco AIDS Foundation; Christian Gabriel, general manager of QBar; Mahsa Hakimi, a Castro resident and founder of a boutique law firm in the city; Delvin Hodges, who works for the Human Rights Campaign; Dave Karraker, co-owner of MX3 Fitness; Wes McGaughey, a senior analyst for Sutter Health; Matt Slusarenko, a longtime Castro resident; and Stephen Jon Torres, a substitute teacher.

For more information about the election and the candidates, visit https://castrolgbtq.org/election.

Trans Valentine's Day event
The San Francisco Community Health Center will hold a Valentine's Day event for transgender and gender-nonconforming individuals Friday, February 14, from 5 to 8:30 p.m. at Manny's cafe, 3092 16th Street.

Titled "Love Is ...," it will include a discussion and celebration of the different aspects of love in the trans and GNC community.

The event is a collaboration with San Francisco AIDS Foundation, St. James Infirmary, Instituto Familiar De La Raza, Native American Health Center, API Equality Northern California, the Lavender Youth Recreation and Information center, TransLife, and UCSF Alliance Health Project.

There is no cost to attend. For tickets, go to https://bit.ly/39oEUDA

SF to fund services for trans seniors and adults with disabilities
San Francisco has become the first city in the nation to fund services specifically for transgender and gender-nonconforming older adults and adults with disabilities.

The Department of Disability and Aging Services announced February 10 that it has granted approximately $1 million over three years to create programs centered on fostering community, creating social connections, and addressing unmet social needs for TGNC seniors and adults with disabilities.

"We are proud that San Francisco continues to lead the country in providing comprehensive programs and policies that support our LGBTQ community," Mayor London Breed said in a news release. "This first-of-its-kind program will provide much needed support tailored for trans seniors and adults with disabilities who often experience higher rates of discrimination and isolation."

According to the release, DAS is partnering with Openhouse, which provides services to LGBTQ seniors, and Curry Senior Center to create the programs.

"We are so excited to be able to provide services for transgender communities of older people and adults with disabilities," stated Shireen McFadden, a bi woman who's executive director of DAS. "These programs will help bring our neighbors into supportive services and connect them with resources that will help them age with dignity within their communities."

Karyn Skultety, a bi woman who's executive director of Openhouse, stated that her agency will be working with trans-led organizational partners, such as St. James Infirmary, which is led by Toni Newman, a transgender woman.

Newman added that St. James' goal is for TGNC adults and adults with disabilities to have access to inclusive housing and vital resources.

Youth, elders dinner in San Mateo
The San Mateo County Pride Center will hold a Black History Month-themed intergenerational community dinner Wednesday, February 27, from 6 to 8 p.m. at the center, 1021 South El Camino Real in San Mateo.

The African American Community Initiative and the center invite people to attend and learn more about black, queer, and trans contributions to civil rights.

Organizers said they would provide a portion of the food and are counting on attendees to come together and share food that reminds them of love and home. People are asked to bring a dish to share.

The event will also include a sustainability drawing. People can get up to three free chances to win by bringing their own plate/utensils, a plate/utensil set for a friend, and containers for leftovers. Tickets will also be available at the door.

There is no cost to attend the dinner. To RSVP, go to https://bit.ly/2ScJijl

San Mateo County seeks civil grand jurors
San Mateo County Superior Court Judge Amarra A. Lee has announced that applications are now being accepted for service on the 2020-2021 civil grand jury.

Lee is the appointed civil grand jury adviser for the next term, which starts July 1, 2020 and ends June 30, 2021.

The San Mateo County Civil Grand Jury is an independent investigative body created by the California Constitution. Composed of 19 citizens, the civil grand jury serves as a "watchdog for citizens of the county," according to the website.

According to a news release, any resident of the county for more than one year who is a citizen of the U.S., 18 years of age or older, of ordinary intelligence, sound judgment, and good character, with sufficient knowledge of the English language, is eligible for selection. Elected public officials are not eligible.

Lee noted that the court encourages all interested people to apply, as the court strives to obtain a cross section of the county's population. After the completion of an interview with Lee, jurors will be selected through a random draw.

Application forms can be obtained by writing to the grand jury clerk, Court Executive Office, 400 County Center, Redwood City, CA 94063, calling (650) 261-5066, or online at http://www.sanmateocourt.org/court_divisions/grand_jury/ and click on "Grand Juror Application."

The deadline to apply is March 30.
Comments on Facebook