Online Extra: Federal judge rules against California trans woman detained in Texas ICE facility
Thursday Feb 6, 2020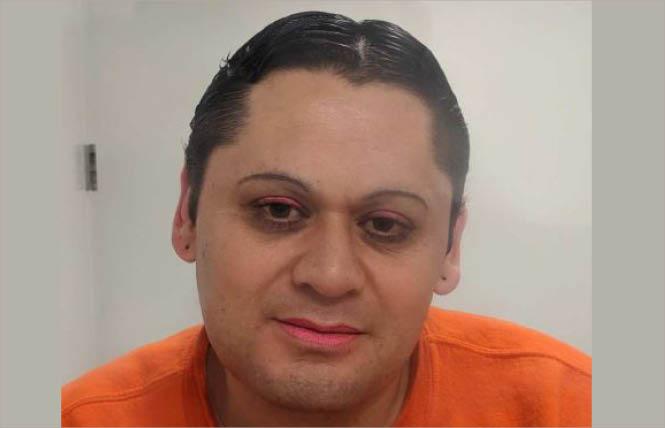 A transgender woman has lost her fight to be moved back to California from a United States Immigration and Customs Enforcement facility in Texas.
Judge Charles R. Breyer of the U.S. District Court for the Northern District of California, the brother of U.S. Supreme Court Justice Stephen Breyer, rejected a temporary restraining order request filed on behalf of Lexis Hernandez Avilez, 41, in a ruling dated February 5.
Readers of the Bay Area Reporter may remember the former Breyer from the case of another immigrant — Oumar Yaide, a gay man who Breyer ordered the U.S. Department of Homeland Security to return from Chad two months ago.
In the Avilez case, Breyer said that Avilez failed to establish that she was being denied medically necessary treatment.
"In this case, ICE has begun to take steps to provide the hormone treatment Avilez requires," Breyer wrote in his opinion. "There is some factual dispute about the extent to which Avilez's gender dysphoria is being appropriately addressed by ICE. But Avilez and her counsel agree that steps are being taken to provide her with hormone treatment."
Breyer also rejected the argument Avilez's attorney made to grant the temporary restraining order because Texas is too far for her to have a right to counsel from her San Francisco attorney.
Avilez is being represented by the San Francisco Public Defender's office.
"We are disappointed by the court's decision to allow ICE to transfer and keep our client away from family, community support, and counsel. The transfer has not only affected our ability to communicate and work with Ms. Avilez, but has exacerbated her mental health conditions," Avilez's attorney, Deputy Public Defender Hector Vega, wrote in an email to the B.A.R. "Her sadness and depression come through each time I get to talk to her. We asked the court to remedy ICE's improper actions by ordering Ms. Avilez's return to her home state, however, this court failed to confront the barriers that ICE places on all immigrants' access to counsel.
"Immigration attorneys should not be forced to file lawsuits against ICE and detention centers in order to secure basic needs for our clients," he added.
Vega wrote that Avilez "went months without necessary medical care and proper undergarments, and had to endure segregated detention because she was a transgender woman. The LGBTQ immigrant community continues to be vulnerable against vile actions from ICE, and the court was wrong in allowing these policies to continue without accountability."
Vega said he could not speak to Avilez until the afternoon of February 6, due to the limited phone access to the Texas facility where she is being held.
As the B.A.R. reported January 6, Avilez was brought to the U.S. from Mexico as a child and has been in the custody of ICE for about 14 months, according to court documents.
The public defender's office brought the suit after Avilez was moved unexpectedly from the Yuba County Jail outside of Sacramento (which works with ICE on detaining people in the U.S. without legal permission), where she'd been detained, to an ICE facility in Texas on Christmas Day 2019, without counsel being notified and after she was told she was about to be released, according to court documents.
"We represent people who have their immigration proceeding in San Francisco because the immigration court is here," Vega said during a January 6 phone call with the B.A.R.
Vega was seeking Avilez's release, saying that the petition for a temporary restraining order is to "compel ICE/Yuba to take more immediate action on the case," either through releasing Avilez or by granting her a bond hearing in California.
Avilez has resided in California since 1979, according to court documents. She presented gender-nonconformity from a young age, for which she was reprimanded by her father.
She got married in 2000 and became a permanent resident of the U.S. (Federal law allows the spouses of U.S. citizens to become permanent residents. After three years they can apply for U.S. citizenship.)
In 2005, Avilez, then 26, was convicted of a gang-related assault.
"In prison and away from her brother's grip, Ms. Avilez immediately began the process of disavowing her gang ties," the complaint stated. "For the first time, she began to explore and embrace her sexual attraction to men."
Avilez identified as a bisexual man, which Vega said was the result of a "lack of understanding and acceptance" of trans identities on the part of the wider culture. In 2019, Avilez began to openly identify as a transgender woman and started receiving treatment for depression.
She got her name legally changed. By that time she had been transferred to Yuba County and charged with being a permanent resident who was removable from the U.S. While Yuba medical staff recommended hormone therapy, and ICE said the request had been approved, Avilez never received it, according to court documents.
Before she was sent to Texas, Avilez had been told she was going to be released and called her family to share the good news, according to court documents.
Since her move to Texas, Avilez has been having thoughts of suicide, according to court documents.
A transgender woman being represented by the San Francisco Public Defender's office has lost her fight to be moved back to California from a United States Immigration and Customs Enforcement facility in Texas. Photo: Courtesy GenderPortraits.com
Comments on Facebook