Updated: Lopez hired as SF Pride's new ED
Wednesday Feb 5, 2020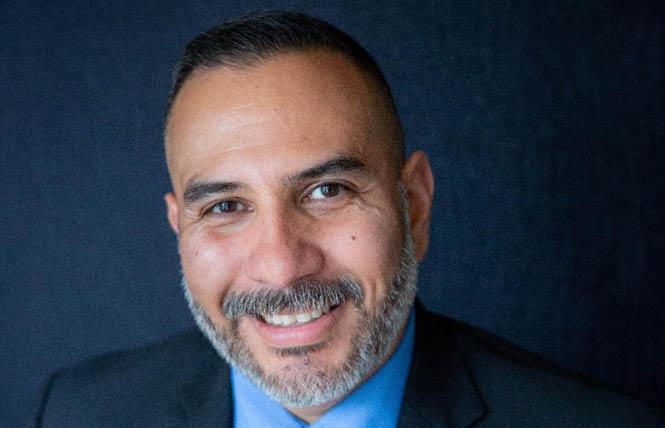 The board that oversees San Francisco Pride hired its permanent executive director three weeks ago but didn't announce it until more than two weeks later.
The news wasn't a surprise, as the board named Fred Lopez, previously its interim executive director, as its new permanent leader, according to a news release.
Lopez, a gay man who began working with the organization as a contractor in 2016 and became a staff member in 2017, takes the helm of the organization as the parade prepares to celebrate its 50th anniversary this June.
He started in the role January 15, but the board of San Francisco LGBT Pride Celebration Committee, Inc., as it's formally known, only announced the news January 31.
In a January 29 phone interview, SF Pride board President Carolyn Wysinger declined to comment when the B.A.R. asked when the appointment of a new executive director would be announced, even as Lopez was apparently already in the permanent position.
In a phone interview Monday, February 3, Lopez said the decision was made to delay the announcement.
"There was plenty of work to be done so we decided to delay the announcement to do the work," he said. "It was opportune to announce at the end of the month."
Lopez said he's thrilled to be leading SF Pride.
"I am honored to have been selected as the executive director of San Francisco Pride," he said. "It's a really big job. San Francisco Pride is an iconic celebration, and it's an honor to lead it into the next 50 years."
Lopez discussed his future goals.
"San Francisco Pride right now is really fortunate to be at a level of financial stability," he said. "I hope to continue that and build on it. An organization the size of Pride should have reserves in place for a rainy day and we are going to continue that. The LGBTQ+ community wants to continue being a part of Pride and wants to refocus its participation in the parade and the celebration. There's a sense of excitement for all of Pride Month and we want to tap into that."
According to SF Pride's 2017 IRS Form 990, its budget was about $3.6 million. Lopez declined to state what the organization's current reserve fund is.
Asked to elaborate on what he meant by "refocus," Lopez replied, "We are hearing from folks that the LGBTQ+ community wants to be centered in the celebration. How that looks we are not sure right now, but we have ideas we can try."
As an example of how SF Pride centers the community, Lopez mentioned the programming of the Pride festival's stages and venues.
"Looking at the parade and how to restructure the parade, we're grateful to have a livestream partner in CBS," he added. "We want to acknowledge ally-ships but keep it centered on the community."
Lopez, 43, had previously worked as executive director of the Castro Street Fair and served on its board. He has also worked at the San Francisco LGBT Community Center and at Lyon-Martin Health Services, and has "led event management teams for SFMOMA and the Fort Mason Center for Arts and Culture," according to the release.
"He began as a community organizer for the Gay City Health Project in Seattle where he managed an active team of more than 100 volunteers and helped open the first rapid-HIV testing site in King County," the release stated.
Lopez moved to San Francisco in 2005, according to the release.
Wysinger stated that about 110 candidates were interviewed for the post.
"Our board is happy to have Fred's interim position as executive director become permanent," Wysinger said in the release. "Fred is a truly qualified individual and we are excited about his overseeing the organization as we prepare for our landmark celebration."
At press time, Wysinger had not responded to the B.A.R.'s request for comment.
Lopez replaces George F. Ridgely Jr., who had served as executive director for over five years, according to the release. Ridgely, who left SF Pride after the 2019 parade and festival, now works for the San Francisco Recreation and Parks Department.
The announcement comes as the Pride board of directors prepares for a February 5 meeting — after the print edition of the B.A.R. goes to press — where it will decide whether to include Google, its affiliates, including YouTube, and the Alameda County Sheriff's Office in the parade after a membership vote to exclude them January 15, coincidentally Lopez's first day as permanent executive director.
As the B.A.R. previously reported, the vote of a small group of members — led by two former Google employees — to ban the organizations is considered nonbinding by Pride's attorneys, but the board of directors will take up the matter.
"We believe the group that brought these resolutions — mostly former Google employees — don't speak for the larger community," Wysinger said. "We received a lot of phone calls with differing opinions."
In the interview, Lopez said the issue of corporate participation in SF Pride is not new.
"I think that the topic is indicative of a larger question we have been asked by folks in the community about companies who sponsor Pride, and we want to be inclusive, but this is an opportune time to ask companies to consider how they best represent themselves as allies," he said. "Is it through T-shirts and stickers? Or is it through changing hiring practices and partnering with smaller, LGBT nonprofits?"
Lopez declined to reveal his salary, other than to say it was in line with previous executive directors.
As the B.A.R. previously reported, Ridgely was compensated $136,153 in salary and benefits, according to the 2017 SF Pride IRS Form 990.
Comments on Facebook