News Briefs: 'Hearts in SF' sculptures now on display
Wednesday Feb 5, 2020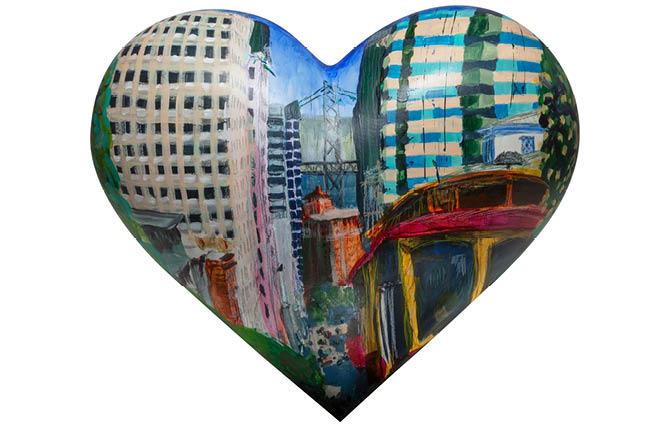 San Francisco General Hospital Foundation has announced that all of the tabletop and mini heart sculptures from its 2020 "Hearts in San Francisco" public art project are now on display at Macy's Union Square and Wilkes Bashford, leading up to the Hearts in SF event Thursday, February 13.
Select hearts from this year's series will be available for purchase through a charity auction on eBay. Bidding started this week and closes at 11:59 p.m. February 14. The online auction is open to the public and will provide necessary funding for initiatives at Pricilla Chan and Mark Zuckerberg San Francisco General Hospital and Trauma Center, according to a news release.
"Hearts in San Francisco" artworks, combined with Hearts events proceeds (2004-2019), have raised more than $27 million, as well as worldwide awareness, the release stated.
The eight tabletop hearts from the series will be on display in the storefront windows of Wilkes Bashford, 375 Sutter Street. The 15 mini hearts will be on the third floor of Macy's, 170 O'Farrell Street. The displays will be up through February 9.
The release noted that the hospital foundation received a record-breaking number of artist applications for this year. All 33 of the selected heart sculptures will be transported to Oracle Park for the big February 13 evening event. Following the fundraising celebration, three large heart sculptures will join the Tony Bennett "America's Greatest City By the Bay" heart at Union Square from February 14-November 1.
To check out the eBay auction, visit https://www.ebay.com/b/Hearts-in-San-Francisco/bn_7116478158
Tickets for the February 13 event at Oracle Park are $250 and available at https://sfghf.org/events/hearts-in-sf-2020/#tickets
The party starts at 7 p.m. Cocktail attire is suggested.
SF Summer Resource Fair
The San Francisco Department of Children, Youth, and Families will hold its Summer Resource Fair Saturday, February 8, from 11 a.m. to 2 p.m. at the County Fair Building, 1199 Ninth Avenue in Golden Gate Park.
Along with the San Francisco Recreation and Park Department, DCYF, and Livable City is holding the resource fairs to let people know about summer programs, camps, classes, and other services. The resource fairs are free. After the citywide event — which will feature over 125 exhibitors — pop-up resource fairs will be held throughout the city until May.
This year the goal of the resource fairs is to ensure children and youth — particularly from working families — will have enriching, safe, and fun activities to participate in during the months that school is not in session.
For a complete list of summer resource fairs, visit https://www.dcyf.org/
ConnectSF workshop
ConnectSF, a multi-agency collaborative process to build an effective, equitable, and sustainable transportation system for San Francisco's future, will hold a public workshop on the city's Eastside Thursday, February 13, from 6 to 8 p.m. at the Mission Cultural Center, 2868 Mission Street.
A similar session is planned for the Westside Saturday, February 8, from 2 to 4 p.m. at the Park Branch Library, 1833 Page Street.
Organizers explained in a news release that workshops were held last November — one for youth and one with people who live, work, or spend time in the city's southeastern neighborhoods. Both workshops had great turnout and robust discussions on connections that were working and not working, as well as future projects.
The upcoming sessions, which are free, will engage attendees in a discussion about what works and what doesn't when it comes to local and citywide connections. People will also learn about what it would take to get people to travel by more sustainable modes and get ideas for project concepts and policies to help the city reach its community-generated transportation vision for the future.
To RSVP for the February 13 workshop, go to http://connectsf.org/rsvp-feb13
To sign up for the February 8 session, go to http://connectsf.org/rsvp-feb8
For those who can't attend, a brief digital survey has been created that closely mirrors the workshop discussions. People can take the survey at https://connectsf.org/survey/
ElderPride coming up
ElderPride 2020, a conference for LGBTQ seniors and their friends, will take place February 13-16, at Heart and Soul Center of Light, 1001 42nd Street in Oakland.
The Reverend Jack Elliott and Akilah "Kiki" Monifa are co-chairing the conference, which will include two-dozen mini seminars, consciousness in aging workshops, keynote speakers, a panel discussion on transcending ageism, a jazzy mixer Friday, and a Heroes and Sheroes gala.
The mission of ElderPride, a nonprofit centers for spiritual ministry founded by Elliott, is to provide spiritual tools for personal growth, empowerment, and connection for spiritually engaged LGBTQ seniors age 60 and over.
Tickets range from $25 to $149 and are available at https://bit.ly/2uZD7pB
For more information, visit http://www.elderpride4me.org
Pink Sonoma Saturday returns in new spot
Organizers of last year's Pink Sonoma Saturday are returning, with this year's edition taking place Saturday, May 2, from 11 a.m. to 3 p.m.
Out in the Vineyard, which produces the event, noted that there's a new location, Viansa Sonoma, 25200 Arnold Drive in Sonoma. (Last year, one of the new owners of the venue selected, General's Daughter, was revealed to have penned anti-LGBTQ posts on social media. Gary Saperstein, owner of Out in the Vineyard, decided not to cancel the event and later said it was a success.)
This year's Pink Wine Saturday is an opportunity for attendees to spend an afternoon tasting rose in a setting along the summit of Sonoma Valley. In addition to the tastings by over two-dozen wineries, there will be a DJ and light bites.
The event benefits Positive Images, which supports LGBTQ youth in Sonoma County.
Tickets are $75 and people can save 15% if they're purchased by February 14. Go to https://bit.ly/36TS61F and use the code "PINKLOVE" when purchasing.
SF mayor announces free tax help
San Francisco Mayor London Breed has announced that free tax assistance centers are now open to help city residents maximize their refunds and apply for the San Francisco Working Families Credit, or WFC.
The city's tax season initiative includes $1.55 million in funding for the local credits. The WFC offers low- and moderate-income working families with children up to $250 cash back to help cover day-to-day expenses like utilities, rent, and child care. When combined with federal tax credits, the WFC can help families receive up to $9,600 in tax credits, according to a news release from the mayor's office.
Prior to this year, the WFC was a one-time credit. But that rule has been eliminated and all eligible families are encouraged to apply again, the release stated.
Free tax preparation assistance will be offered at San Francisco Human Services Agency client service centers and more than 30 other neighborhood locations, in partnership with United Way of the Bay Area.
The HSA service centers offering tax help through April 15 are located at 1235 Mission Street, 170 Otis Street, 3120 Mission Street, and 1800 Oakdale Avenue. Hours are weekdays from 8 a.m. to 5 p.m.
To download the WFC applications and find additional tax assistance center locations, go to www.freetaxhelpsf.org or call 211.
Comments on Facebook