Bogota's new mayor weds partner
Wednesday Jan 15, 2020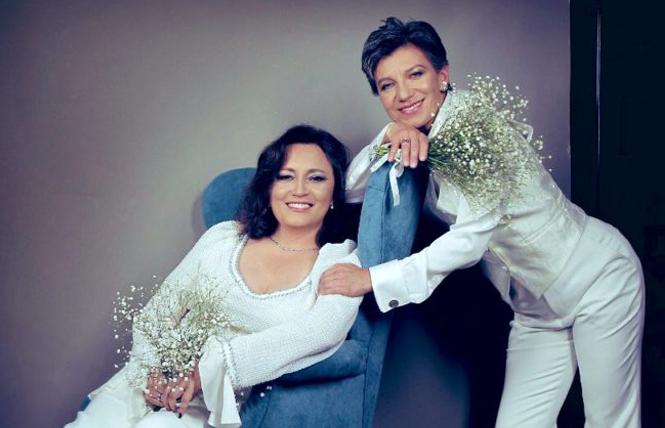 Bogota's new mayor, Claudia López, secretly wed her partner, Angelica Lozano, before taking office, she announced on social media December 16.
In the photos released, the two women are wearing matching white suits by Colombian designer Angel Yanez and each held a simple bouquet of flowers.
"Thank you life for this marvelous year!" López tweeted, reported the Associated Press. "I graduated with my doctorate, won mayoral office, and married the love of my life!"
López took her office this month, making her the first openly lesbian mayor of a capital city in Latin America.
Court denies Belize government's appeal of its homosexuality bill
In other end of 2019 news, Belize's Court of Appeal December 30 denied the government's appeal of a ruling that decriminalized homosexuality.
A three-judge panel reaffirmed the 2016 decision of the chief justice that said the country's colonial-era sodomy law was unconstitutional.
"Today's decision from the Court of Appeal is part of a growing international trend recognizing that discrimination on the grounds of sexual orientation is fundamentally rooted in gender stereotyping," said Téa Braun, director of the Human Dignity Trust, who made key submissions before the court.
She applauded the court for rightly applying international human rights law to its interpretation.
"We hope the government will accept the Court's decision and focus its full attention now on eradicating discrimination against all marginalized groups in Belize," she continued.
One of the original plaintiffs also praised the decision.
"This ruling shows the strength of strategic approaches to communication and community mobilization used across the Caribbean," said Caleb Orozco of the United Belize Advocacy Movement. "We are proud that Belize is raising the bar of what is possible in advancing LGBT rights across the region."
LGBT advocates call foul on Trump's decriminalization plan
LGBT advocates weren't excited about President Donald Trump's proposal to decriminalize homosexuality globally.
U.S. Ambassador to Germany Richard Grenell presented the Trump administration's global initiative to decriminalize homosexuality to the LGBT Core Group at the United Nations in Geneva at the end of December.
Grenell and Stuart Milk, who are gay men, along with anti-gay evangelical leader Johnnie Moore and others, presented the administration's proposal for doing away with criminalizing homosexuality at the U.N. side event, "Decriminalizing Homosexuality in Solidarity with LGBTQ People," December 18.
Milk is the nephew of slain former San Francisco supervisor Harvey Milk. Moore is an anti-LGBTQ pastor who leads the United States Commission for International Religious Freedom.
Grenell called the strategy "69 plans of action."
Seventy nations currently have laws on the books making it a crime to be gay, and a handful of those punish sexual minorities with the death penalty.
Rather than having a common understanding about what human rights are, the administration came up with a customized plan for each country where it's illegal to be gay.
Representatives of the European Union weren't on board with the plan. The country can't "isolate and disassociate," said one of the EU diplomats. They called for "coherence" regardless of the country being discussed.
Ambassadors of Argentina, the Netherlands and OutRight Action International, an LGBT human rights organization, criticized the bill and pointed out that it would only protect lesbian and gay people, leaving out bisexuals and transgender and gender-nonconforming people.
Grenell told the panel that there were "no easy answers" for the path toward decriminalization of homosexuality worldwide.
Got international LGBT news tips? Call or send them to Heather Cassell at WhatsApp: 415-517-7239, or Skype: heather.cassell, or oitwnews@gmail.com.
Comments on Facebook