News Briefs: MLK Day events planned
Wednesday Jan 15, 2020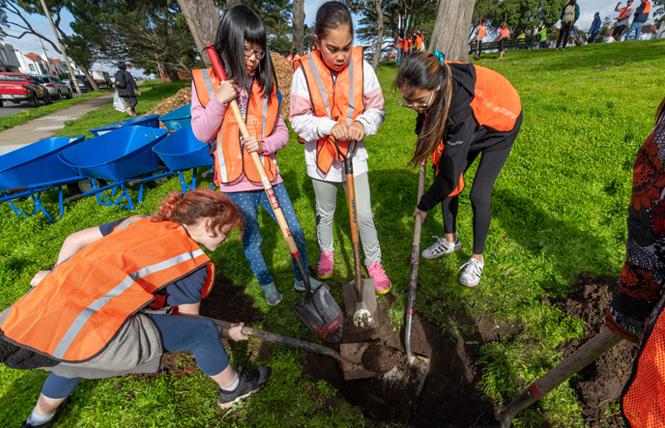 The San Francisco Interfaith Council has announced events to celebrate the birthday of Martin Luther King Jr., which will be observed Monday, January 20.
At 11 a.m., there will be a march from the Caltrain Depot at Fourth and Townsend streets to Yerba Buena Gardens, 750 Howard Street. Once people arrive, the council will hold its 10th annual interfaith commemoration ceremony.
This year's theme is "The Time for Justice." The council said that churches can bring their congregations and banners. To register for the march, visit https://bit.ly/37UtZkc
Caltrain will offer its free "celebration train" that day for those in the South Bay and on the Peninsula who wish to attend the San Francisco event. The train will depart San Jose at 9:35 a.m., and stop in Palo Alto (9:55) and San Mateo (10:19) before arriving in San Francisco at 10:45. Tickets are required, and can be obtained at https://bit.ly/306la4j
The service is a program of the Northern California Dr. Martin Luther King Jr. Community Foundation.
In addition to the interfaith ceremony, there are other service day activities, lectures, and more both on Monday and over the weekend. For a complete list, visit https://sfmlkday.org/
Women's Marches Sat.
Women's Marches are scheduled for San Francisco and Oakland Saturday, January 18.
In San Francisco, events will run from 11 a.m. to 3 p.m. at City Hall Plaza, 335 McAllister Street. This year's theme is "Together We Rise."
The march lineup begins at 1 p.m. and will go 1.7 miles on Market Street to the Embarcadero.
For more information, visit www.womensmarchsf.org
In Oakland, the march and rally take place from 10 a.m. to 4 p.m. at Frank Ogawa Plaza, located at Broadway and 14th streets (near the 12th Street BART station). The 1.3-mile march starts at 11 and begins and ends at the plaza.
Announced speakers are Aimee Allison, founder of She the People, and Mya Whitaker, who ran for Oakland City Council in 2018. The co-host is the Women's Foundation of California.
The theme for the event is "Oakland Counts," and there will be information available on the 2020 census, including job fairs the census bureau is holding.
For more information, visit www.womensmarchoakland.org
NCLR staffer honored with leadership prize
The Juvenile Law Center, the nation's first public interest law firm, has announced that one of the recipients of its 2020 Leadership Prize is Shannan Wilber, who is the youth policy director at the San Francisco-based National Center for Lesbian Rights.
The law center, based in Philadelphia, is marking its 45th anniversary this year. The leadership prize is awarded to outstanding individuals working in any field — law, government, arts, media, entertainment, sports, business, or any other sector — who are fighting for the rights and well-being of youth in the child welfare and justice systems.
According to a January 10 news release, Wilber has been instrumental in developing professional standards and agency policies governing the care of LGBTQ youth in state custody. She joined NCLR in 2013 after serving as executive director of Legal Services for Children, a nonprofit law office in San Francisco.
The law center's other recipients were Stephen K. Harper, assistant clinical professor at Florida International University College, and Sherry Lachman, founder and executive director of Foster America.
The celebration event for the prize recipients will take place May 14 at the National Constitution Center in Philadelphia.
Scholarship for HIV+ students
The New York City-based HIV League has announced that applications are being accepted for its scholarships, which it says are the only national ones for students living with HIV.
According to its website, grants are available as follows: a two-year $7,000 scholarship for a full-time student; a one-year $3,500 one for a full-time student; and a one-year $1,500 scholarship for a part-time student.
Applicants must be living with HIV and have an unweighted GPA of at least 2.5. They need to be enrolled in an institution of higher education as a full-time or part-time student for at least one year beginning with the Fall 2020 semester. The institution they are attending must be in the U.S. or a U.S. territory; American citizenship is not a requirement.
Last year, according to the HIV League's website, nine scholarships were awarded across the three categories.
The deadline to apply is Friday, January 31, at 9 p.m. Pacific time. For more information, visit http://www.hivleague.org
Elections dept. reminder for no party preference voters
The San Francisco Department of Elections reminds people who are registered no party preference, or NPP, that they need to request a ballot with presidential candidates if they want to cast a vote in the presidential primary election March 3.
Those registered NPP who vote by mail should have already notified the department. If not, voters will still be able to exchange their ballots for their preferred ballots by following the instructions enclosed in the vote by mail ballot.
The Democratic, American Independent, and Libertarian parties will allow NPP voters to participate in their March 3 primaries, but only if they request the ballot.
The Green, Peace and Freedom, and Republican parties will not allow NPP voters to participate in their presidential primaries. Voters who want to cast ballots for those parties need to reregister with that specific party.
Before February 18, voters may reregister online at www.registertovote.ca.gov or by completing a voter registration application and returning it in person or by mail to the elections department. After February 18, voters can reregister at a voting center or polling place on Election Day and vote a provisional ballot that reflects their new party.
To check voter registration status, visit www.sfelections.org/voterportal
For more information, visit www.sfelections.org/2020primary or call (415) 554-4375.
Comments on Facebook