Hundreds turn out for Wiener's reelection bid
Wednesday Jan 15, 2020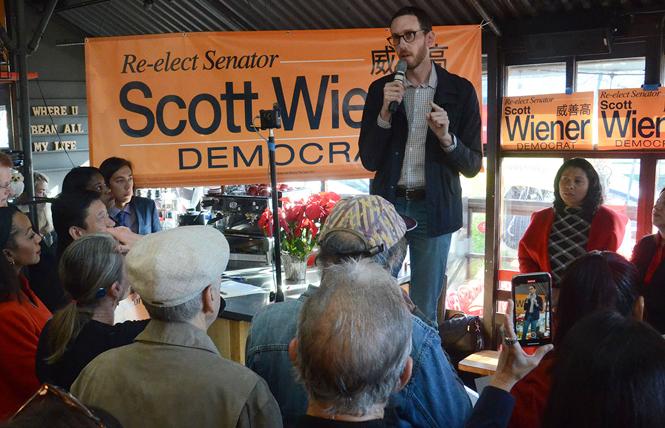 Flore cafe in San Francisco's Castro neighborhood was filled to capacity last Saturday morning for gay state Senator Scott Wiener's campaign kickoff for a second term in office.
Housing and LGBT issues were among the reasons that people were supporting Wiener's campaign, several said. He recently reintroduced the controversial Senate Bill 50, a major zoning reform that would allow more local flexibility in how to implement the housing legislation. Activist groups oppose it because they say it would allow new development at the expense of displacing residents.
At a news conference last week in Oakland, where Mayor Libby Schaaf announced her support for the bill, Wiener, a San Francisco Democrat, was shouted down by protesters.
That was not the case at the Castro cafe January 11. (While Flore owners recently announced the eatery's closure, it is available for special events.)
"I'm here because we need leaders like Scott who don't only tackle tough issues like housing, but who also fight for LGBTQ individuals with bills like allowing nonbinary gender markers," said Jane Natoli, a 38-year-old transgender woman. "He's also fighting for the rights of intersex individuals with SB 201."
Natoli was referring to SB 179, which then-Governor Jerry Brown signed in 2017. The bill, which Wiener co-authored with lesbian state Senator Toni Atkins (D-San Diego), allows residents to be identified by a gender marker other than "F" or "M" on their driver's licenses.
Regarding SB 201 the intersex rights bill, the Bay Area Reporter noted this week that it died in committee Monday. Four senators on the panel thought more changes were needed to the bill, which was made a two-year bill in 2019 after it failed to garner support. (See related story.)
Wiener has vowed to keep fighting for SB 201, a major component of which is the requirement that any decisions about medically unnecessary surgical interventions in the case of intersex infants be postponed until they are at least 6 years old.
Wiener, 49, told the B.A.R. that he was pleased with the turnout at his kickoff. He will appear on the March 3 primary ballot, with the two top vote-getters regardless of party advancing to the November general election.
"I'm inspired by the large and diverse group of people from our community who came out to support my reelection," he said. "I'm thankful for their support, which comes from decades of working together in the community."
Among those in attendance were state Assemblyman David Chiu (D-San Francisco), San Francisco Mayor London Breed, and California Lieutenant Governor Eleni Kounalakis.
"Our senator is no ordinary senator," Kounalakis told the crowd.
She then mentioned several pieces of legislation that Wiener has authored that have become law.
"Among them, SB 35, a landmark bill to streamline housing approvals," Kounalakis said. "SB 822, which enacts the strongest net neutrality protections in the nation. SB 1045 and SB 40, which strengthen and expand California's conservatorship laws. SB 219, which protects LGBTQ seniors in long-term care facilities, and SB 159, which allows pharmacists to provide PrEP and PEP, which are powerful HIV medications, without a physician's prescription."
Last year, Governor Gavin Newsom signed Wiener's SB 40, an expansion and revision of SB 1045. Both address procedures regarding 5150 psychiatric holds and subsequent conservatorship for people deemed "incapable" of handling their own health, the San Francisco Examiner noted in an article last year. Wiener has said the new law could apply to 50-100 people in San Francisco.
Unafraid of tough issues
"Senator Wiener takes on the hardest issues," Kounalakis said. "He's not afraid of the blowback, he's not afraid of the controversy. He knows that if we're going to show that democracy delivers for people, we have leaders who will take on the challenges head on and really bring people together, to find and build consensus for change and for problem solving around these important issues, and as we know, housing is one of the key ones."
Kounalakis also pointed out that Wiener is the chair of the Legislative LGBTQ Caucus.
Daly City Councilman Ray Buenaventura also spoke. The councilman acknowledged that Wiener always remembered Daly City. (In addition to San Francisco, Wiener represents a portion of northern San Mateo County, including Daly City, Colma, and part of South San Francisco.)
David Fujimoto, co-chair of the Alice B. Toklas LGBT Democratic Club, addressed the crowd. The Alice club early-endorsed Wiener in October.
"We at Alice are so proud to be supporting Scott for Senate," Fujimoto said. "Alice considers ourselves to be an independent club in San Francisco, we listen to all sides of an issue, and we support the candidates and the policy issues that represent our values and our mission, and we do what we think is best for San Francisco and to help push California along as well.
"Senator Wiener embodies so much of what Alice stands for in that regard," he added. "He listens to all sides of these very difficult issues that we've been discussing. He will push for what he thinks is right."
Fujimoto pointed out that Wiener has made it easier for trans and nonbinary individuals to change their birth certificates and driver's licenses to match their gender identity.
"He has made it so that PrEP is easier to access not only for LGBTQ individuals, but for low-income people on Medi-Cal," he said. "He has made changes to the law to prevent unequal treatment to people with HIV and has worked to reduce stigma for people living with HIV. He has made it so that sex workers — radical idea — can report crimes without the risk of facing arrest, and that they can carry condoms without that being used against them in a court of law."
Breed spoke about Wiener's strong work ethic.
"I don't think this guy sleeps," she quipped.
"Senator Wiener introduces quality legislation that is so desperately needed to move our city and our state forward," Breed added. "What I most love about Senator Wiener is that you don't have to tell him about what we need. He knows what we need. He understands the challenges that exist in our city. That's why he worked so hard to change conservatorship laws in the state, because he knew that it was so desperately needed here in San Francisco, locally in order to deal with what we see on the streets every single day. You didn't have to tell Senator Wiener to change policies around housing and housing affordability because he understands that that's the struggle of what we're dealing with."
Wiener speaks
There were wild cheers when the mayor introduced Wiener to the crowd. Wiener acknowledged the presence of elected officials from Daly City.
"A lot of times our rep in San Francisco is that we're so insular that we don't care about any of the other cities," he said. "To me, representing Daly City and San Mateo County, it matters, and you have to be there for everyone in your district, not just the biggest city."
Wiener noted that Donald Trump was elected president the same night he was first elected to the state Senate in 2016.
"We weren't just going to have to fix our own problems here in California," he said. "We were going to have to go to war to defend basic American values, basic American decency — that diversity makes us stronger, that immigrants make us stronger and built this country, basic notions that all genders are equal and that women have a right to make decisions about their own lives and their own bodies, basic notions like trans children shouldn't be demonized for going to the restroom, how about that?"
Wiener added that people were lucky to live in California, a state that has pushed back against the Trump agenda through legislation and lawsuits.
After his speech, Wiener chatted with individuals and posed for a group photo with attendees. Many people took window signs and went out to campaign and knock on doors in the Castro and surrounding neighborhoods.
After the event, Wiener spoke to the B.A.R. about his chances for reelection.
"I take nothing for granted," he said. "We live in a democracy and no elected official is entitled to a free pass. It's my responsibility to make the case to the voters that they should send me back to the Senate. It's my responsibility to ensure the voters are aware of my hard work for our community and my willingness to tackle some of the hardest issues such as housing, homelessness, mental health, and addiction and to deliver concrete results. I look forward to working hard to earn another term."
On the same morning as Wiener's kickoff, one of his challengers, Jackie Fielder, a queer progressive activist and Democratic socialist, held her own field campaign event in Dolores Park. Fielder did not respond to the B.A.R.'s phone calls requesting a comment. According to her campaign website, Fielder's agenda includes economic and social justice. She held her campaign kickoff in December.
"Restructure the economy to ensure no income, working class, immigrant, LGBTQI, and communities of color can not only access housing, health care and education, but can afford it," the website reads.
"I don't know Jackie, so I can't comment beyond what's been reported in the press," Wiener said. "She has a right to run for office, and I look forward to the campaign. I've been working in, and for, the LGBTQ community for 30 years. I'm passionate about this community, and I'll always go to the mat for it."
Another candidate running against Wiener is Erin Smith, a transgender woman who's a Republican. (See related story in this week's Political Notebook.)
Wiener has served in the state Senate, representing District 11, since 2016. He previously sat on the San Francisco Board of Supervisors, representing District 8, which includes the heavily LGBT Castro district. District 8 is currently represented on the board by gay Supervisor Rafael Mandelman, who was in attendance at Wiener's kick-off.
"Scott and I have not always supported each other in the past," Mandelman told the B.A.R. as the crowd gathered. "But I have always respected his relentless work ethic and I think he's doing a strong job as state senator."
San Francisco's housing crisis weighed heavily on the mind of Michael MacDonald, a gay 32-year-old Wiener supporter.
"I think that Scott is our best chance of a progressive leader in San Francisco," MacDonald said. "Our housing crisis is in such a dire need of a solution and Scott is the legislator that can bring those solutions to life."
Comments on Facebook