Political Notebook: Housing and mental health top of mind for SF Supe Mandelman
Wednesday Jan 8, 2020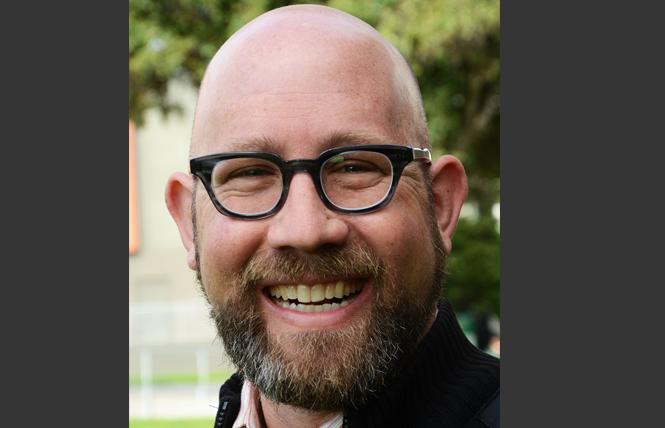 Just as San Francisco Mayor London Breed highlighted the city's housing crisis and need for increased mental health services in her inaugural address this week, so too did District 8 Supervisor Rafael Mandelman in discussing what his priorities will be in 2020.
Meeting with the Bay Area Reporter last month to layout his legislative priorities for 2020, Mandelman said at the top of his to-do list will be implementing the ideas generated by a meth task force he co-chaired last year and ensuring his district benefits from the $600 million affordable housing bond passed in November.
The measure included language that steers the funding toward areas of the city that has seen little new affordable housing be built in recent years, such as the Castro, Noe Valley, Diamond Heights, and Glen Park neighborhoods he represents at City Hall. Mandelman, a gay lawyer and the lone LGBT member of the board, is particularly interested in seeing projects be funded in the city's LGBT Castro district where evictions and high housing costs have led many residents to be forced out of the city.
"It has become clear to me that we do not have enough locked sub acute facilities in the city," said Mandelman, referring to places where those dealing with severe mental issues can receive the services they need.
While he would like to see the city open a meth sobering center in his district, Mandelman told the B.A.R. he expects the first one will likely open in the Tenderloin. He is working with Breed's administration to situate a Navigation Center for homeless individuals in District 8 and hopes to have a site selected early this year.
"We have our sights on two spots, hoping one or both of them will pan out," said Mandelman, who declined to disclose the locations.
He is again serving on the supervisors' budget and finance committee this year, giving him a prominent perch to direct the city's spending priorities as City Hall deals with projected deficits over the next two fiscal years. He will also continue to chair the board's public safety and neighborhood services committee.
Since being elected supervisor in June 2018, Mandelman has worked with the police department to increase foot patrols in the Castro and other commercial corridors in response to merchant complaints about thefts and the behavior of people living on the streets. Additional homeless outreach is also being provided in the neighborhood.
Thus, Mandelman told the B.A.R. he believes the efforts have resulted in some improvements but wants to get a better assessment of the situation this year and what else can be done.
"I think we would have hoped that we would be seeing a more dramatic improvement than we are," he said.
He suggested it may make sense for the city to designate a location where homeless people can set up their tents at night, rather than merely having city workers and police clear out tent encampments at one spot to see them return in a different spot the next day.
"What we're doing now feels very inhumane," said Mandelman. "I want to think about, are we, is what we're doing now going to get us there, or do we need to do some kind of radical re-envisioning."
Also top of mind for Mandelman is addressing the glut of retail vacancies in the Castro, particularly along the upper Market Street corridor. He plans to assist the National AIDS Memorial Grove find a location in the area where it can display segments of the AIDS quilt now that is has taken over stewardship of it. And Mandelman pledged to help the GLBT Historical Society find a suitable site in the Castro for its planned permanent history museum.
"We do have these large buildings that we need to figure out something to do with," said Mandelman, referring to several of the more expansive vacant storefronts in the Castro.
He also told the B.A.R. he hopes to see plans finalized for the future of Harvey Milk Plaza, the public parklet above the Castro Muni station named in honor of the city's first gay supervisor. In light of a new elevator bank set to be built in the plaza later this year, some would like to see a complete overhaul of the area, while others are arguing for a more minimalist upgrade.
"The elevator is going in, so we'll continue to push for some kind of peaceful resolution of the disputes about the rest of it," said Mandelman.
Assisting Mandelman this year will be a new legislative aide, Jacob Bintliff, who will be leaving his job with the city's planning department to start working at City Hall January 21. Bintliff is replacing Kyle Smeallie, who is now a legislative aide for newly sworn-in District 5 Supervisor Dean Preston.
The hiring of Bintliff, a gay man who lives in Oakland, means all three of Mandelman's legislative aides are LGBT, as already working for him have been Tom Temprano, who is gay, and Erin Mundy, who is queer.
"I love what I am doing at planning, but this was an opportunity to branch out even more," said Bintliff, who in addition to focusing on land use and planning concerns will also be Mandelman's point person for issues in Noe Valley.
Another key concern for Mandelman this year will be addressing the city's transit system, having co-led a task force last year that zeroed in on how to fix Muni. As it happens Breed hired one of his constituents, Jeffrey Tumlin, a gay man who lives in Noe Valley, as the city's director of transportation.
"I will spend, I think, a chunk of [this] year trying to implement them," predicted Mandelman.
SF D7 supe race headed for rematch
Two days after the start of 2020, tech investor Ben Matranga filed paperwork with the city's ethics commission to begin raising money for a second stab at being elected to the District 7 seat on the Board of Supervisors. In 2016 Matranga, a former adviser to the late mayor Ed Lee, came up short in his bid to represent San Francisco's neighborhoods west of Twin Peaks.
It means the fall race is headed for a rematch between Matranga and Joel Engardio, a gay man and former journalist who also ran unsuccessfully for the seat four years ago against the incumbent supervisor, Norman Yee, who is now president of the board. Yee is barred by term limits from seeking a third term this year.
Matranga, a managing partner at Connectivity Capital, and his wife live in West Portal and have an infant daughter. Six years ago he had led the city's Vision Zero project to end pedestrian deaths.
"I am running for supervisor to give voice to the young families who are trying to make it in our city and to give a voice for the people who want city hall to be held accountable for how our tax dollars are spent," said Matranga, a co-founder of the emergency response group Resilient West Portal.
He told the B.A.R. this week that he plans to officially kickoff his campaign sometime after the March 3 primary but is also already reaching out to supporters to line up endorsements. Former supervisor and Assemblywoman Fiona Ma, now state treasurer, is once again backing Matranga, as are former supervisors Angela Alioto and Annemarie Conroy and Lenette Thompson, a lesbian mom of four who is a lieutenant with the city's fire department and had sought a school board seat in 2018.
"We are going full speed ahead. No question about it," said Matranga.
Also pulling papers for the race last month was Patrick McGuire, who owns the Java Beach cafe near Ocean Beach.
"I thought that I'd give it a go to serve our city," McGuire wrote in a Facebook post December 17. "I'm a San Franciscan for all San Franciscan's ... my credentials for this job ... common sense ... that all ... just common sense."
Engardio, a copywriter and senior manager for content marketing at Firebrand Communications, lives with his husband, Lionel Hsu, in the Lake Merced neighborhood. In October he announced his third bid for the seat, having first ran against Yee in 2012. Former supervisors Katy Tang, Carmen Chu, now the city's assessor-recorder, and Scott Wiener, a gay man now serving in the state Senate, have endorsed him.
"This is an open seat so I expect a contested race. I'm focused on my own campaign and meeting the needs of westside residents in District 7," Engardio told the B.A.R. this week. "The good news is that we're ahead of the race with nearly 300 donors and $65,000 cash on hand to start the election year."
As the B.A.R. has previously noted, Yee has urged his aide, Ivy Lee, to enter the race. But she has yet to pull papers. Whether it is Lee or another candidate, a prominent progressive is expected to compete for the seat.
Political Notes, the notebook's online companion, returns Monday, January 13.
Keep abreast of the latest LGBT political news by following the Political Notebook on Twitter @ http://twitter.com/politicalnotes
Got a tip on LGBT politics? Call Matthew S. Bajko at (415) 829-8836 or e-mail m.bajko@ebar.com
Comments on Facebook