Editorial: Big steps needed for AIDS Walk
Wednesday Jan 8, 2020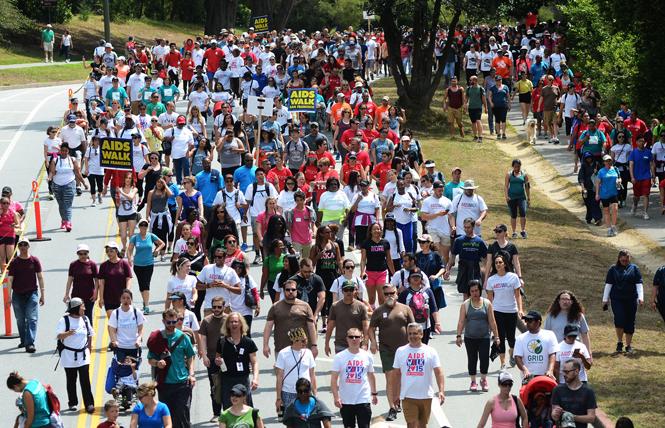 This year's AIDS Walk San Francisco has a new co-producer, the nonprofit PRC, which presents an opportunity for organizing officials to offer a transparent evaluation of the costs associated with the event, and to revitalize it in order to increase the relatively tiny percentage of money that goes to various smaller HIV/AIDS organizations that are not major beneficiaries. For 2020, Brett Andrews, CEO of PRC, told us the agency has committed to distributing $50,000 in grants to other organizations. He declined to share how much money PRC itself will receive from the walk, or what the administrative overhead is for the event. That's unfortunate and he should release that information.

PRC and MZA Events, which originated the walk in 1987 and is this year's other co-producer, both insist that PRC will not have to pay a fee or licensing agreement to MZA for use of the AIDS Walk name and logo. "PRC is not paying anything to be able to use the name," MZA CEO Craig Miller told us. "The licensing agreement enables PRC to produce materials." Andrews initially said that PRC would have to pay MZA, but then said he was incorrect. MZA's decision to waive the fee will save costs, as it has varied greatly over the years, from $212,000 in 2012 to $137,000 in 2014. But it is unclear whether any money will be paid to MZA under another description; previous producers made payments to MZA that were listed as "AIDS Walk services."

The sad fact is that the AIDS Walk has been bringing in less money for the last several years. In 2016, $2 million was raised, according to a news release at the time. In 2017 and 2018, the walk raised $1.8 million. Last year the figure was $1.5 million. So, there was a $500,000 drop off in three years, meanwhile, administrative overhead costs remained high. Back in 2012, when MZA cut ties with the San Francisco AIDS Foundation, we reported that expenses ranged from 32% (2007) to a whopping 65% (2011). The walk also brought in much more than it does today, $4.66 million in 2007 and $2.88 million in 2011. Project Inform, which produced the walk in 2014 and 2015, had a goal of boosting revenue to the 2007 level; that didn't happen. In 2017, the most recent figures available, the walk raised $1,814,637, but after $1,053,860 or 58% in expenses, only netted $586,277 for charity, according to figures provided by Miller.

If costs to stage the event continue to exceed the amount raised for HIV/AIDS charities, it would be more effective economically for donors to give to a nonprofit directly. But there are intangible benefits to the AIDS Walk, and that's what PRC and MZA are relying on for 2020. The walk, which takes place in July in Golden Gate Park, has raised more than $90 million in 30-plus years. That has enabled smaller organizations to receive grants that they might not otherwise have access to. It allows companies to participate through organizing teams of walkers, which benefits HIV/AIDS organizations and provides good PR for the companies. It brings thousands of people together in the common pursuit of raising HIV/AIDS awareness, which is spread to the broader community through news coverage and outreach.

With revenue decreasing, the walk needs to be restructured. The AIDS Walk used to provide $96,000 in grants to smaller nonprofits. This year it will be only $50,000. Andrews should disclose all costs the AIDS Walk will incur, and explain to the community whether those expenses will be borne by his agency or be passed on to all nonprofits in the form of reduced grants. Miller, too, has declined to specify costs for the event. PRC must reinvigorate the walk to increase donations, and that begins with a transparent evaluation to build trust and support with all the participants. Since PRC is providing office space for the walk, and staff hours — another cost savings — it's also in a unique position to draw on clients for paid support positions in the effort.

This type of third-party fundraising model has been around for years, and can be successful. Now that people with HIV/AIDS are living longer, donor fatigue has set in, even in the LGBTQ community. In the last decade, community support and donations were directed to the marriage equality campaign, sometimes at the expense of other issues. Looking ahead, trans rights will continue to be at the forefront and many will be donating to their preferred candidates in the 2020 presidential race. These are just some of the challenges that this year's co-producers must face in order to turn the AIDS Walk around.
Comments on Facebook