Trans woman recalls life as Orthodox rabbi
Monday Dec 30, 2019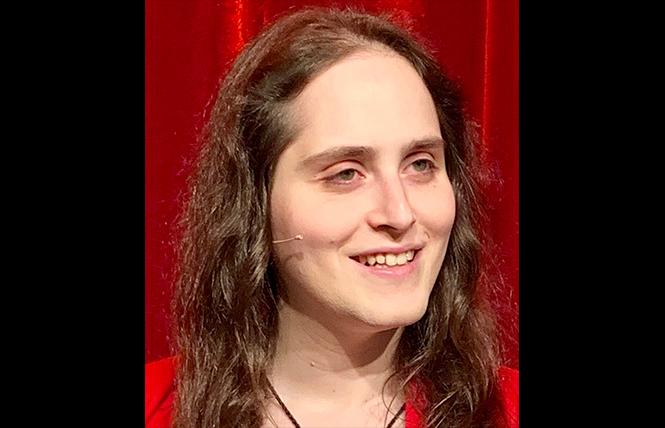 Abby Stein's dramatic journey from a sheltered existence as an ultra-Orthodox rabbi to a fast-paced life as a transgender author, speaker, and activist recently drew a sold-out audience to the San Francisco Jewish Community Center.
Stein, 28, was in town for several appearances as part of a national tour for her new memoir, "Becoming Eve: My journey from ultra-orthodox rabbi to transgender woman," published by Seal Press in late November. The presentation at the JCC was co-sponsored by the James C. Hormel LGBTQIA Center at the San Francisco Public Library.
Before her December 4 talk, Stein spoke to the Bay Area Reporter about the radical choices she made that forced her to leave her home, her family, and her way of life to come out as a woman, an identity she had silently understood for many years before her decision to transition.
Stein, a 10th generation descendant of the Baal Shem Toy, the founder of Hasidic Judaism, grew up in Williamsburg, Brooklyn, where few stepped out of their traditional roles.
"I felt from a very early age that I was a girl," Stein explained.
Still living in New York City, Stein said that she spends her time fighting for transgender rights and for those leaving ultra-Orthodoxy.
"I have a busy life," she said. "There's a lot of work to be done."
A member of the steering committee for the 2019 Women's March in Washington, D.C., Stein said that she hopes her efforts will enable her to work in national politics on a presidential campaign staff.
Stein has also consulted with several congressional campaigns, some of the gigs paid and some volunteer, she said, declining to name any of the candidates.
Preferring the descriptor of "woman of transgender identity," Stein is estranged from her parents but in touch with "other relatives," she said. Stein added that she has "not given up" on her parents' decision to cut ties with her.
"I am hopeful," she said.
According to her book, Stein is the sixth child out of 13 born to a family of notable Hasidic leaders. She grew up speaking Yiddish and Hebrew and was educated at a traditional all-boys private school. She attended the Viznitz Yeshiva in Kiamesha Lake, Upstate New York for high school, and also received ordination as a rabbi there in 2011.
In 2012, she left the Hasidic community, and in 2014 she started attending Columbia University's School of General Studies, later receiving a degree in political science there.
The book goes into detail about the years Stein spent grappling with her gender identity before taking the step of living openly as a woman, leaving behind the insulated religious community for a secular life in Manhattan.
When Stein left her Orthodox community in 2012 and came out as an atheist, her parents said, that "no matter what happens" Stein would always be "their child." But when she came out as a transgender woman, Stein's father informed her that he "might not be able to talk to her ... ever again," according to the book. Stein said that she has also received hate mail from other members of her former community.
In late 2015, Stein made headlines when she came out on her blog and started her transition. Word spread quickly after she was featured in a number of major media outlets, including the New York Times, CNN, and Fox News.
In June 2016, Stein celebrated her transition and announced her name change to Abby Chava Stein at a New York synagogue, telling the Huffington Post at the time that although she did not believe in God, she wanted to celebrate in a temple.
After coming out, Stein started an online support group to help trans people who come from Orthodox backgrounds. Stein also said that such groups have been her lifeline and made her realize the positive power of online communities.
In 2016, Stein founded a support group for trans people from Orthodox backgrounds. The group's first meeting had 12 people attending, most of them fellow Orthodox Jews struggling with their gender identity, she said.
As to her future plans, Stein said, "Five years ago, I couldn't have imagined I could be this happy" in her life and career.
"I hope to do more work in public policy and hope to publish another memoir" that continues where this book left off, she added.
She also hopes that her parents will want to reconcile with her.
"I hope there will be a lot of other good things in my life, stuff I cannot even imagine right now," she said. "I see a world where my life will continue to be great."
Comments on Facebook