Silicon Valley Pride board picks interim CEO
Tuesday Dec 24, 2019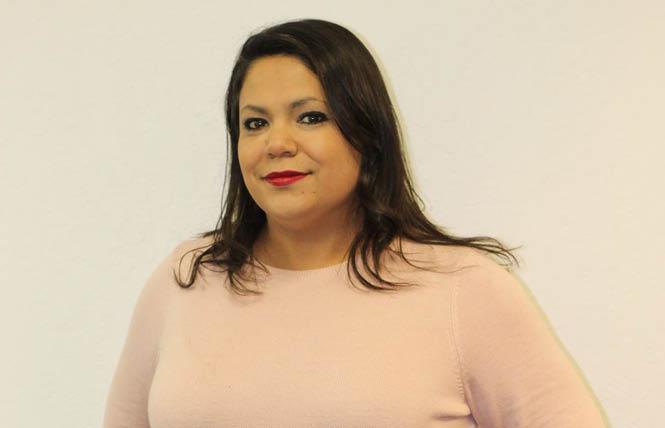 A South Bay woman has been selected as Silicon Valley Pride's interim president and CEO in the wake of the death of its former president and CEO, according to a post on its Facebook page Monday, December 23.
Nicole Altamirano, a lesbian who was named to the posts, has been with the Silicon Valley Pride organization for three years, according to its website. She said she felt a need to get involved "with the political climate the way it is."
The organization's former president and CEO, Thaddeus Campbell, died just over a month ago.
In an email to the Bay Area Reporter Wednesday, December 25, Altamirano said she was grateful to have been chosen.
"It is a humbling honor to be elected as interim CEO and board president of Silicon Valley Pride," she wrote. "Following the passing of Thaddeus Campbell, our previous CEO and board president, the board decided to appoint someone as interim to lead us through this time of transition."
In a Monday, December 23 news release Altamirano said Campbell was "an irreplaceable leader, and I miss him dearly. However, I am confident our Silicon Valley Pride team will honor his legacy by making 2020 PRIDE the biggest and best ever."
Altamirano works in the San Jose city manager's budget office and heretofore managed the logistical operations of the Pride festival as chief operations officer.
On the Silicon Valley Pride website, Altamirano said that she was born and raised in San Jose.
"My wife and my two beautiful babies (Chihuahuas) are my world," she wrote. "I am an outspoken individual who stands up for what I believe."
Campbell, 64, died November 24. He had served as the president and CEO of Silicon Valley Pride for the past six years and is credited with bringing San Jose's Pride parade back years after it had gone defunct.
"It is our 45 annual Pride festival here in the South Bay and I am excited for what we have in store," Altamirano wrote.
Silicon Valley Pride 2020 will be held in downtown San Jose August 29 and 30.
Updated, 12/27/19: This story has been updated with comments from Altamirano.
Comments on Facebook