Queer opponent faces gay SF senator
Wednesday Dec 18, 2019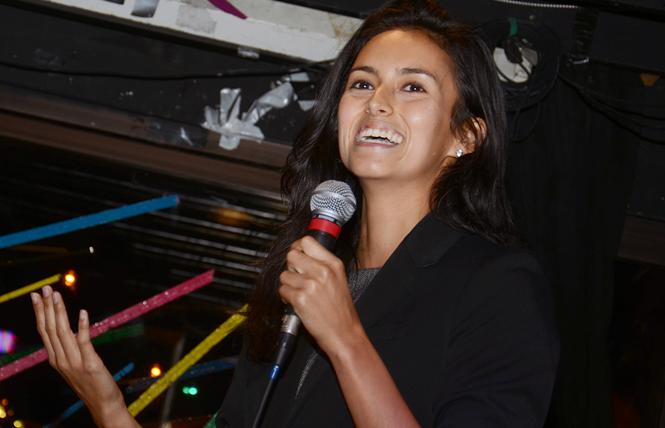 A queer Native American activist and educator is mounting her first campaign for elected office against San Francisco's lone out representative in the state Legislature.

Jacqueline "Jackie" Fielder, 25, who graduated from Stanford with degrees in public policy and sociology and moved to San Francisco in 2018, is running against gay state Senator Scott Wiener (D-San Francisco). A former city supervisor, Wiener, 49, won a hard fought campaign for his Senate District 11 seat in 2016 against fellow former supervisor Jane Kim.

In an interview with the Bay Area Reporter, Fielder acknowledged she would be seen as an underdog candidate in the race. But she pointed to the outcomes of the November races for the city's district attorney and District 5 supervisor seat, where progressives defeated establishment candidates, as buoying her own chances of winning come November 2020.

"I'm definitely coming in as an outsider to the, the general SF political spheres, but I think that a lot of our city is energized and ready for new leadership," said Fielder, who grew up in Long Beach, California. "I am willing to put in a lot of volunteer time into door knocking and canvassing and phone banking. ... However, I'm under no illusions that Scott is the most well-funded politician in the city."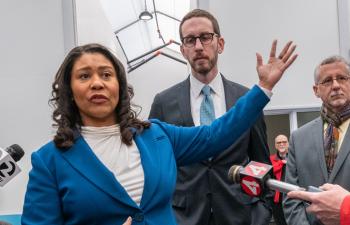 Known to be a formidable campaigner, Wiener already secured the endorsements of the California Democratic Party and the city's Alice B. Toklas LGBT Democratic Club, which he used to co-chair, before Fielder entered the race in late November. Until then it had looked like Wiener would cakewalk into a second four-year term.

This month, Wiener announced a slew of endorsements from other California Democratic politicians, including House Speaker Nancy Pelosi (San Francisco), Governor Gavin Newsom, U.S. Senators Dianne Feinstein and Kamala Harris, San Francisco Mayor London Breed, and Supervisors Rafael Mandelman, Ahsha Safai, Catherine Stefani, and Shamann Walton.

Mandelman, a gay man who is the sole LGBT member of the board, told the B.A.R. that despite their differences on certain issues, he believes Wiener has represented the city well in the Statehouse.

"I think Scott is a tremendously talented and effective state senator," said Mandelman, who like Wiener did, represents the 8th supervisorial district on the board. "Certainly, there are issues where we have disagreed and I am sure there will be issues where we disagree in the future. It doesn't mean I don't think he is doing a good job for San Francisco in Sacramento."

Wiener, who is also being challenged by Republican Erin Smith, told the B.A.R. although he is confident about his being re-elected next year, he isn't taking the campaign for granted.

"I feel good about my re-election. It's a democracy and anyone can run," noted Wiener. "No one's entitled to a free pass, and it's my responsibility to convey to the voters the work we've done for the community and why I deserve to be re-elected."

Signaling what will likely be a key campaign talking point, Wiener pointed to his 23 years of various leadership roles in San Francisco and his legislative victories in the Legislature, from groundbreaking LGBT rights bills to addressing housing, homelessness, and mental health.

"My record is one of the most progressive for members of the Legislature, and I look forward to standing by that record and making my case to the voters," said Wiener.
Yet it is his legislative proposals, such as allowing denser housing to be built near transit centers and reducing local zoning controls, that Fielder argues is why a new legislator is needed for the Senate district, which includes all of San Francisco and parts of northern San Mateo County.

"The current senator has worked with a lot of interested industries in the real estate lobby and landlord associations, and instead of affordable housing advocates who are on the front lines of displacement and gentrification," said Fielder, who belongs to the Two Kettle, Lakota, and Hidatsa Native American tribes and is also of Mexican heritage.

She currently is searching for a place to live, telling the B.A.R. she has been sleeping on friends' couches and on occasion in her van since moving out of her apartment in May to save money. A main concern she has is the lack of investment in affordable housing at both the federal and state levels. With California expecting a $7 billion budget surplus next year, Fielder argues there is no excuse for why more money isn't going toward development of no- to low-income housing.

"I believe that we'll be able to do a lot more once we have someone representing us who doesn't feel afraid about raising taxes on the wealthiest corporations and individuals in the state," said Fielder.

She won the endorsement this month of the Harvey Milk LGBTQ Democratic Club and the San Francisco Tenants Union. Fielder also has the support of gay former supervisor Harry Britt; District 5 Supervisor Dean Preston, a fellow Democratic socialist who was sworn into his board seat Monday night; and Alicia Garza, a queer woman who co-founded Black Lives Matter.

As of Wednesday at noon, Fielder was listed as "pending" in terms of her qualification status on the city's elections department website. The secretary of state's office is still processing her nomination documents, according to local elections officials; the state office should release its list of qualified candidates December 26.

After attending Stanford on a partial scholarship, Fielder joined the protests against the Dakota Access Pipeline, whose route runs through her ancestral tribal lands. She returned to the Bay Area in 2017 and lived in Alameda while volunteering at a youth detention center in San Mateo County and a continuation school in Oakland. In 2018, she joined the efforts to launch a public bank in San Francisco and helped lead the successful No on H ballot measure campaign to defeat the police union's attempt to set policy for the use of tasers.

That year she also took over Garza's Race, Women, and Class course in the College of Ethnic Studies at San Francisco State University, where Fielder continues to teach part-time.

"I was politicized by Black Lives Matter and by an awakening to my own ancestral history and my family history about indigeneity and also being Mexican American," said Fielder about her time in the Bay Area and reason for deciding to remain in Northern California.

Other races on ballot
There are a number of federal, state, and judicial races on San Francisco's primary ballot next year. Pelosi is running for re-election to her District 12 seat.

The powerful lawmaker is expected to easily win re-election, though she is facing three Democratic challengers and two Republican opponents. On the GOP side, businessman John Dennis is again running against Pelosi, as is Deanna Tesoriero, whose ex-boyfriend Omar Navarro was recently arrested for allegedly stalking her in San Francisco.

After running against Pelosi in 2018 but failing to survive the primary, Democrat Shahid Buttar is mounting another campaign to unseat her. The attorney and deejay is straight but also identifies as a queer ally who is cisgender due to his gender expression being fluid; in Muslim spaces he identifies as queer, he told the B.A.R., "really because gender is contextual."

The other Democrats in the race are former Massachusetts state representative Tom Gallagher, who has taught in the city's public schools, and millennial and former nationally competitive jump-roper Agatha Bacelar, a Brazilian immigrant who went to Stanford. She quit her advocacy job with Democracy Earth and documentary filmmaking in order to run against Pelosi.

Congresswoman Jackie Speier (D-San Mateo), whose 14th District includes San Francisco's southern neighborhoods, is facing three candidates who have qualified for the ballot, according to San Mateo County elections officials. Republican Ran Petel is mounting an underdog campaign against Speier, as are Democrat Cristos Goodrow and independent Eric Taylor.

State Assemblyman David Chiu (D-San Francisco) is running unopposed in 2020 for his 17th District seat, while Assemblyman Phil Ting (D-San Francisco) drew Republican challenger John P. McDonnell for his 19th District seat.

There are also three open seats on the San Francisco Superior Court up for grabs on the March primary ballot. Court Commissioner Pang Va Ly, a former assistant prosecuting attorney in Jefferson County, Missouri, and deputy public defender Maria Elena Evangelista are running for the court's Seat 1.

Dorothy Chou Proudfoot, an administrative law judge at the San Francisco Rent Board, and deputy public defender Michelle Tong are seeking the court's Seat 18. San Francisco Assistant District Attorney Kulvindar "Rani" Singh and tenants' rights attorney Carolyn Gold are seeking the court's Seat 21.
Comments on Facebook