Political Notebook: Lesbian CA assemblywoman gives birth to triplets
Monday Dec 16, 2019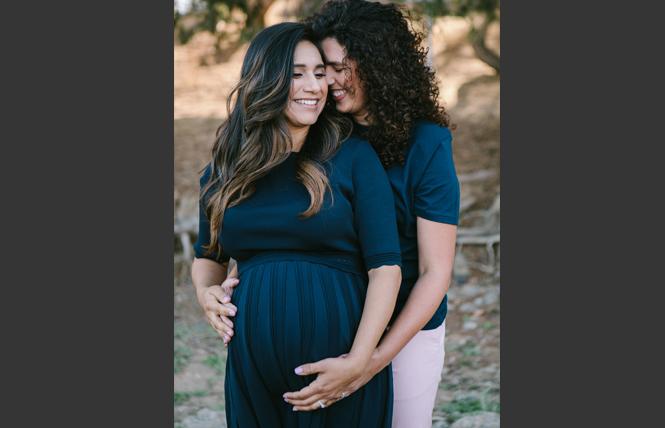 A lesbian assemblywoman in California has made history by becoming the first legislator in the state to give birth to triplets while serving in office. She is also the first out member of the Legislature to give birth while in office.
Last week, Assemblywoman Sabrina Cervantes (D-Corona) gave birth to two boys and one girl, her office announced Monday, December 16. The babies arrived early, as her due date was expected to be in mid-January.
"My wife and I are blessed to welcome our three newborns into the world. We are deeply grateful for the love and support from our family, friends, and the medical team who have been with us on this exciting journey," stated Cervantes. "We look forward to celebrating the holidays with the three newest additions to our family. At this time, we ask for your prayers and well wishes."
The statement noted that Cervantes, 32, who is married to Courtney Downs, and her family "are in good health and appreciate respect for their privacy during this time."
As the Bay Area Reporter noted in September, Cervantes was one of at least three out lawmakers this year in California who became parents. Gay Sacramento City Councilman Steve Hansen announced August 15 that he and Michael McNulty, his partner of five years, had legally adopted their son, Henry Benjamin Hansen McNulty.
And lesbian BART board director Rebecca Saltzman and her wife, Caitlin Stone, welcomed their daughter Zinnia November 15 when Stone gave birth to their first child. Saltzman, 37, noted in a Facebook post Sunday that she would be returning to her job on Monday as deputy director at Breast Cancer Action.
"Our daughter Zinnia is officially one month old today! We are so thrilled to have her in our lives," wrote Saltzman. "This past month has been amazing and exhausting. I am sad that I am going back to work tomorrow and won't have as much time with little Zinni and my wonderful wife Caitlin, but I am so grateful we got to have this time together."
According to Cervantes' office, she is the first openly LGBT California state legislator, and fourth California state legislator, to give birth while serving in office. Her announcement said she "looks forward to joining the millions of Californians who balance parenthood and profession when she returns to our State Capitol to continue serving California's 60th Assembly District."
She is up for re-election next year to her Assembly seat in Riverside County, which encompasses the cities of Corona, Eastvale, Jurupa Valley, Norco, a portion of Riverside, and the unincorporated communities of Coronita, El Cerrito, and Home Gardens.
"I am proud to be both a parent and a public servant, and remain committed to continuing to fight for the hardworking families of the 60th Assembly District," stated Cervantes, one of seven members of the Legislative LGBTQ Caucus.
Cervantes now joins fellow caucus member, lesbian Assemblywoman Susan Talamantes Eggman (D-Stockton), as both a parent and lawmaker. Eggman and her wife, Renee Hall, have a daughter, Eme.
Web Extra: For more queer political news, be sure to check http://www.ebar.com Monday mornings for Political Notes, the notebook's online companion. This week's column reported on the five Democratic presidential candidates seeking Equality California's endorsement.
Keep abreast of the latest LGBT political news by following the Political Notebook on Twitter @ http://twitter.com/politicalnotes
Got a tip on LGBT politics? Call Matthew S. Bajko at (415) 829-8836 or e-mail m.bajko@ebar.com
Comments on Facebook