Online Extra: Political Notes: Five Dems seek EQCA prez endorsement
Monday Dec 16, 2019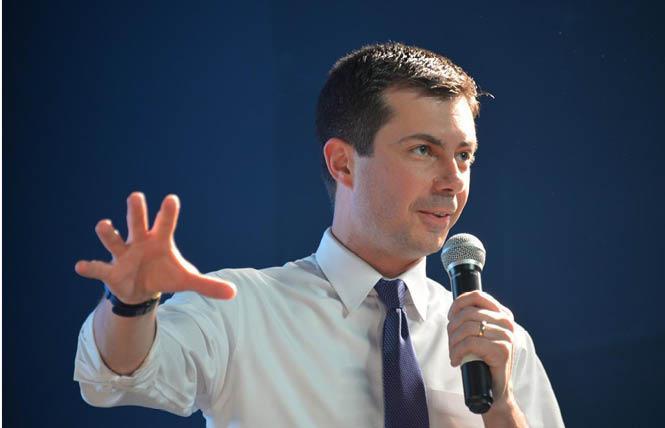 For months speculation had run rampant that U.S. Senator Kamala Harris of California was a shoo-in to earn an endorsement of her presidential bid from the Golden State's largest LGBTQ rights group. A number of high-profile LGBT leaders in the state had endorsed Harris, formerly California's attorney general and before that the district attorney of San Francisco.
And it didn't go unnoticed that Harris was the featured guest at Equality California's party during the state Democratic Party's recent convention held in Long Beach. Nonetheless, with many out leaders across the state also backing gay South Bend, Indiana Mayor Pete Buttigieg, some suggested EQCA's political action committee would perhaps dual endorse Harris and Buttigieg.
The sudden departure of Harris from the race in early December, however, has thrown the intraparty contest to nab EQCA's support wide open. LGBT leaders in recent days have told the Bay Area Reporter they wouldn't be surprised to now see Buttigieg run away with a sole endorsement, while others suggested U.S. Senator Elizabeth Warren of Massachusetts could emerge with EQCA's backing.
The only endorsement outcome that has remained clear throughout 2019 is that EQCA, while it boasts of being a nonpartisan group, will only endorse a Democrat seeking the White House in 2020. It has been a vocal opponent of Republican President Donald Trump and his administration's systematic rollback of LGBT protections and rights since 2017.
And on Friday EQCA came out in support of seeing the House of Representatives impeach Trump and the Senate remove him from office. In a statement EQCA Executive Director Rick Zbur pointed to "clear, compelling, and overwhelming" evidence that proves the president abused the power of his office and obstructed Congress.
"Since his first day in office, President Trump and his administration have attacked the LGBTQ community," stated Zbur. "We have opposed his heartless, discriminatory actions every step of the way. And we are committed to defeating his anti-LGBTQ agenda in 2020."
According to EQCA officials, five of the Democrats seeking their party's presidential nomination next year have turned in the group's questionnaire and are thus eligible to be considered for an endorsement by its PAC. In addition to Buttigieg and Warren, the quintet includes former Vice President Joseph R. Biden Jr.; U.S. Senator Bernie Sanders, an independent from Vermont; and Tom Steyer, a California billionaire who has long called for Trump to be impeached.
EQCA did send its questionnaire to the most recent entrants into the race, former New York City Mayor Michael Bloomberg and former Massachusetts Governor Deval Patrick. But as of Friday afternoon, neither had submitted it. All the remaining candidates have until Friday, December 20, to turn in a completed questionnaire to EQCA in order to be considered for the group's endorsement.
As the B.A.R. first reported in May, EQCA officials had settled on conducting a formal endorsement process in the 2020 presidential race. It came up with a list of questions for the candidates, and for those that answer them, it plans to interview them prior to deciding which one to endorse.
And EQCA leaders have not ruled out a dual endorsement in the race. An announcement is expected in January, as California voters will head to the polls March 3 for the presidential primary.
EQCA's endorsement process for the 2020 race is in marked contrast to how it handled the 2016 presidential election. The group early endorsed Hillary Clinton in March 2015 before she had even officially declared her candidacy. It prompted criticisms from some within the LGBT community, including the editorial board of the B.A.R., that it had squandered an opportunity to get Clinton on the record about where she stood on various LGBT issues.
Although EQCA will not be publicly releasing the questionnaires it has received from the 2020 candidates, it did disclose to the B.A.R. myriad topics it asked them. The issues run the gamut from support for federal LGBT legislation like the Equality Act and their history of advocacy on LGBTQ rights to gun safety regulations and health care reforms.
The majority of the PAC members listed on EQCA's website have yet to donate to any of the 2020 presidential candidates, according to a check of the federal elections donations database. Of the handful that has done so, several gave to Harris, two donated to Buttigieg, and one wrote two checks to Biden.
Several LGBT groups have already endorsed Buttigieg, who is scheduled to be in San Francisco Monday night (December 16) for a sold out $2,500-per-person fundraiser, part of a two-day swing through the Bay Area. Earlier this year the San Diego group GLBT Vote and the National GLBT Network USA, the civil rights arm of the International Imperial Court System, both endorsed him for president. In June, during Pride weekend, the LGBTQ Victory Fund threw its support behind Buttigieg.
But Buttigieg's being a gay candidate doesn't guarantee he has a lock on the LGBT vote. That is evident within San Francisco's LGBT community.
This month, the progressive Harvey Milk LGBTQ Democratic Club endorsed Sanders for president. Former Milk club president and current Supervisor Rafael Mandelman, a gay man who represents District 8, however, is backing Warren for president.
"I am an Elizabeth Warren person but am very excited we have a queer candidate who is among the top tier of presidential candidates," Mandelman told the B.A.R.
The city's more moderate Alice B. Toklas LGBT Democratic Club failed to coalesce around one of the presidential candidates and, as of now, is taking no position in the race. It could revisit its stance next year, but at this point it is unclear if it will do so.
A number of Alice members had been supporting Harris in the race, such as former club co-chair Scott Wiener, a gay man who now represents San Francisco in the state Senate. He told the B.A.R. last week that he has yet to decide whether he will endorse another candidate ahead of the March primary.
"I am still sad Kamala is out," Wiener, a former San Francisco supervisor, told the B.A.R.'s editorial board December 12.
Former San Francisco supervisor Bevan Dufty, a gay man who now serves on the board overseeing the regional BART transit agency and will be co-chairing EQCA's 2020 gala fundraiser in San Francisco, had also endorsed Harris in the presidential race. While he has also given money to Buttigieg, Dufty told the B.A.R. Friday he isn't ready to officially endorse another candidate in the race.
"I am going to wait awhile," said Dufty, adding that he wouldn't be surprised to see EQCA's PAC endorse Buttigieg.
Across California LGBT leaders are split in the Democratic presidential primary race. Monday (December 16) lesbian former state legislator and current Los Angeles County Supervisor Sheila Kuehl endorsed Warren, joining the likes of gay San Diego City Councilman Chris Ward and lesbian at-large Oakland City Councilwoman and current council President Rebecca Kaplan who had earlier announced their support of her candidacy.
"In California, we have been dealing with growing wealth disparities and severe poverty for decades, and we are continuing our efforts, but local government can't do it alone. Elizabeth Warren has spent her adult life fighting for working families and making sure that our democracy serves the people, not just the wealthy few," stated Kuehl in a news release from Warren's campaign. "Elizabeth has built an effective progressive movement that we can all be proud of. I'm supporting her because she not only knows what's broken --- she knows how to fix it."

Political Notes will return Monday, January 13.
Keep abreast of the latest LGBT political news by following the Political Notebook on Twitter @ http://twitter.com/politicalnotes
Got a tip on LGBT politics? Call Matthew S. Bajko at (415) 829-8836 or e-mail m.bajko@ebar.com
Comments on Facebook