Political Notebook: Gay lawyer aims to be first out Orange County legislator
Wednesday Dec 11, 2019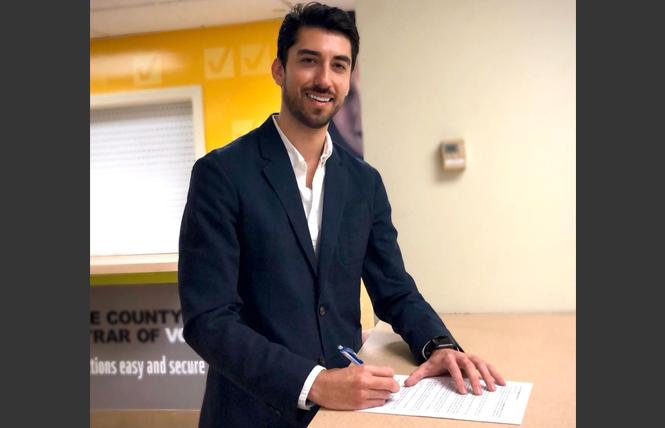 In Southern California, lawyer Bijan Mohseni is running as a Democrat for the state's Assembly District 72 seat. If elected, the gay Los Alamitos resident would be the first LGBT legislator from Orange County and the first out LGBT caucus member of Iranian descent.
Next door in the Assembly District 73 race, gay Mission Viejo Realtor and grandparent Scott Rhinehart is also running to become the first out state lawmaker from Orange County. He first ran in 2018, losing to incumbent Assemblyman William Brough (R-Dana Point).
Brough has since been accused of inappropriate behavior by four women and has drawn two Republican opponents and another Democratic challenger in addition to Rhinehart. The California Democratic Party is backing Rhinehart in the race, as is the statewide LGBT advocacy organization Equality California, which announced its endorsement of Rhinehart Tuesday (December 10).
EQCA has yet to endorse in the 72nd Assembly District race, whereas the state Democratic Party is supporting Garden Grove City Councilwoman Diedre Thu-Ha Nguyen, a laboratory cancer scientist. She is one of three Vietnamese American candidates in the race.
The others are the incumbent, Assemblyman Tyler Diep (R-Westminster), and Republican Janet Nguyen, a former state senator now on the board of the Orange County Foundation. Mohseni, who is also of Mexican descent, is hoping his trio of challengers will split Vietnamese voters, who account for about a third of the electorate in the district, allowing him to be one of the two candidates to advance to the general election in November.
The district has also swung to favor Democrats, as has much of the rest of Orange County, where GOP congressional candidates were decimated in the 2018 midterm election. Thus, Mohseni believes the fall contest will be between one of the Democrats and one of the Republicans.
"Ideally, I would prefer to be the Democrat at the end of the day," Mohseni, 27, told the Bay Area Reporter in a phone interview this week.
He added that he believes the Assembly seat is one the Democrats can pick up next year.
"I wouldn't be running if I thought I was going to lose," said Mohseni, who left the law firm he was working at in May in order to focus full-time on his campaign, which he officially launched in September. "The more I researched this race, the more I learned how flippable this is."
His father fled Iran at the time of the country's Islamic revolution and landed a job as an ice cream truck driver in Southern California and later became a car salesman. His Latina mother was placed in the foster care system in Los Angeles as a child.
His parents met after passing each other on the freeway riding in convertibles and his father drove after his mother to exchange phone numbers. They had four children, with Mohseni the second youngest, and settled in the city of Cyprus.
After his father died in 2005, Mohseni's mother worked four jobs, including as a school crossing guard and a middle school cafeteria worker. While he attended Chapman University, from which he earned a political science degree in 2015, Mohseni ran unsuccessfully for a Cyprus City Council seat in 2012 with the backing of several Republican groups.
At 18, he had registered as a Republican and at one point thought of becoming a Catholic priest. Later, after coming out, he re-registered as no party preference and a year ago joined the Democratic Party.
He graduated from law school at UCLA in 2018, and during a trip that year to London, met his boyfriend who lives there and teaches science at an inner city school. Mohseni told the B.A.R. that he has always been drawn to public policy, seeing it as a way to help lift up other working class families.
"One out of three kids in our district lives in poverty. To me that is unacceptable," he said. "The current leadership we have isn't going to cut it, that is why I jumped into this race. If you want something done, you have to do it yourself."
To learn more about Mohseni, visit his campaign website at https://www.bijanforassembly.com/.
EQCA endorses incumbent lawmakers
EQCA this week endorsed a number of incumbent state lawmakers running for re-election in 2020, including the four members of the Legislative LGBTQ Caucus who will be on the March 3 primary ballot. They include gay Assemblyman Evan Low (D-Campbell), lesbian Assemblywoman Sabrina Cervantes (D-Corona), and lesbian Senate President pro Tempore Toni Atkins (D-San Diego).
Also endorsed was LGBTQ caucus chair gay state Senator Scott Wiener (D-San Francisco). He is facing two challengers from his left — Democrat Jackie Fielder, a queer progressive activist, and Green Party member Barry Hermanson — and Republican Erin Smith.
(As of the B.A.R.'s press deadline Wednesday, the city's elections department listed the qualification status of the trio of challengers as "pending.")
The four out lawmakers were among those incumbents who received pro forma endorsements from EQCA's political action committee December 9 due to their having perfect scores the last two years on its scorecard. As expected, the list of endorsees included Assemblyman Miguel Santiago (D-Los Angeles), as he has had 100% scores from EQCA since being elected in 2014.
As the B.A.R. reported last week, gay educator Godfrey Santos Plata is running against Santiago for his 53rd Assembly District seat. As he would be the first out immigrant elected to the California Legislature, Plata had faulted EQCA for not dual endorsing in the race in an interview with the B.A.R.
Assemblyman Mike Gipson (D-Carson) also picked up EQCA's endorsement. He had been facing a gay opponent for his 64th Assembly District seat, but David Cunningham, whose given name is Devund Keiymontae Tinson, has suspended his campaign.
There are at least 18 LGBT candidates for state Assembly and Senate seats said to be running in 2020. The secretary of state is expected to release a final list of qualified candidates December 26.
EQCA dual endorses in San Diego House race
Also this week EQCA confirmed it was dual endorsing queer San Diego City Councilwoman Georgette Gomez and its board member Sara Jacobs, a straight ally, in the race for the 53rd Congressional District seat. It is an open seat as Congresswoman Susan Davis (D-San Diego) opted not to run for re-election in 2020.
Political newcomer Janessa Goldbeck, who is queer and a military veteran, is also running for the House seat. In November, Gomez earned the California Democratic Party's endorsement in the race.
If she wins, Gomez would be only the third LGBTQ community member elected to Congress from California. Thus, EQCA's decision to split its support between her and Jacobs, a former Hillary Clinton campaign adviser, has been met with criticism from some out leaders in San Diego.
In his LGBTQ San Diego County News column posted online December 6, former EQCA state board chair Nicole Murray Ramirez blasted the group as being "out of touch" for its dual endorsement. An EQCA spokesman noted to the B.A.R. that no matter if Gomez or Jacobs wins, either would be a strong advocate for LGBT rights on Capitol Hill.
Web Extra: For more queer political news, be sure to check http://www.ebar.com Monday mornings for Political Notes, the notebook's online companion. This week's column reported on a bisexual Palm Springs councilwoman poised to be her city's first female mayor in 2020.
Keep abreast of the latest LGBT political news by following the Political Notebook on Twitter @ http://twitter.com/politicalnotes
Got a tip on LGBT politics? Call Matthew S. Bajko at (415) 829-8836 or e-mail m.bajko@ebar.com
Comments on Facebook