Pioneering gay cartoonist Howard Cruse dies
Wednesday Dec 4, 2019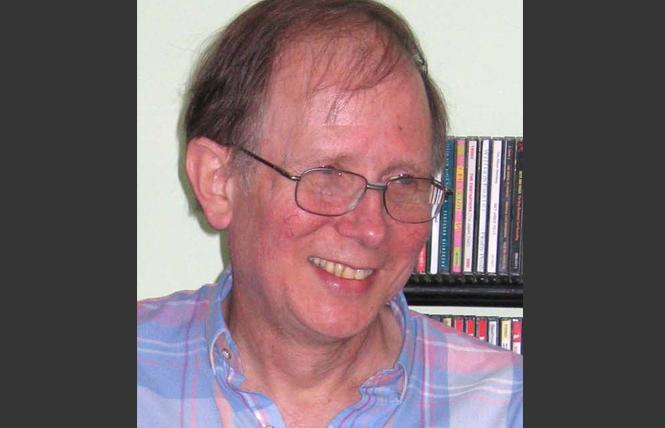 Howard Cruse, a pioneer in the LGBTQ cartooning movement and founding editor of Gay Comix, died November 26. He was 75.
His husband of 40 years, Ed Sedarbaum, said that Mr. Cruse died of complications from lymphoma at Berkshire Medical Center in Pittsfield, Massachusetts. Mr. Cruse, who lived in Williamstown, Massachusetts, had been diagnosed in August.
Mr. Cruse was the author of "Stuck Rubber Baby," an award-winning graphic novel about the intersection of race and sexuality in the South. Published in 1995, it was based on Mr. Cruse's internal struggles as a closeted gay man during the civil rights era of the 1960s. Widely translated, "Stuck Rubber Baby" has won numerous awards, including a critics prize at the Angoulême International Comics in France, the Harvey Award, Eisner Award, and United Kingdom Comic Art Award for best graphic album.
The graphic novel will be reissued in a 25th anniversary edition by First Second Books in May.
Mr. Cruse was born May 2, 1944 in Birmingham, Alabama, as the younger of two sons of Clyde and Irma Cruse. The family moved to Springville when his father, a photojournalist, was ordained as a Methodist minister and assigned to Springville Methodist Church.
According to an obituary by Richard Goldstein and Jay Blotcher, Mr. Cruse's creative talents were encouraged by both his parents. His first published work was a 1959 comic strip called "Calvin" in the St. Clair County Reporter. He also had cartoon art published in the humor magazines Fooey and Sick. He was mentored through an ongoing correspondence with cartoonist Milton Caniff, the creator of "Terry and the Pirates" and "Steve Canyon" newspaper comic strips. At age 16, Mr. Cruse was invited to visit Caniff in New York City.
At Birmingham Southern College, Mr. Cruse became involved in the theater program, designing sets and appearing in several productions. For the college literary magazine Quad, Mr. Cruse satirized the conservative organization the John Birch Society. The controversial work appeared in print, but the faculty adviser insisted on running a full-page disclaimer.
After graduating from BSC in 1968, Mr. Cruse joined Birmingham's WBMG-TV as art director and a puppeteer on "The Sergeant Jack Show." At this time, according to his obituary, he became romantically involved with a man, Don Higdon, for the first time.
During this time, Mr. Cruse created "Tops & Button," a cartoon panel about two squirrels, which ran daily in the Birmingham Post-Herald from 1970 to 1972. He also created the subtly subversive "Barefootz," which debuted in the University of Alabama's newspaper, Crimson White. It also appeared in several area publications during the decade, and later in underground comic books.
In 1977, Mr. Cruse relocated to New York City to make cartooning his full-time profession. In 1979, he met Sedarbaum and they moved in together. The couple were married in 2004.
Gay Comix
Mr. Cruse's career reached a personal and professional breakthrough in 1980 when he was founding editor of Gay Comix, an underground anthology for lesbian and gay cartoonists. Mr. Cruse's own work, exploring his conflicted childhood and repressive Southern upbringing, appeared in these comic books.
Observers noted that in an era before the formal passage of LGBT rights, Gay Comix's frank cartoon explorations of gay culture, politics, sex, and camp had a huge influence on young people in the closet. During the four years of his editorship, Mr. Cruse received letters of gratitude from readers all over the country, many who had considered suicide. During this period, Mr. Cruse did many pro bono illustrations to support fledgling LGBT organizations, as well as mentoring young queer cartoonists. Mr. Cruse created a high-profile poster about gay male safe sex in 1985 for New York City's Gay Men's Health Crisis.
Mr. Cruse frequently appeared at comic book conventions over the decades, and was a featured guest at academic and fan conferences, especially those addressing the subject of queer comic art. His final published comic work appeared this year in Northwest Press' horror anthology "Theater of Terror: Revenge of the Queers." Mr. Cruse was among LGBT cartoonists and illustrators appearing in the documentary "No Straight Lines," scheduled for a 2020 release.
Mr. Cruse's work has been collected in several books, among them, "Barefootz Funnies" (Kitchen Sink, 1975-1979); "Wendel" (Gay Presses of New York, 1986); "Dancin' Nekkid with the Angels" (St. Martin's, Kitchen Sink, 1987); and "Wendel on the Rebound" (St. Martin's Press, 1989).
In addition to Sedarbaum, Mr. Cruse is survived by his daughter, Kimberly Kolze Venter, and his brother, Allan Cruse.
Donations in his memory can be made to New York City's LGBT Community Center, the Queers and Comics Conference, and Rainbow Seniors of Berkshire County.
Public memorial services are planned for Massachusetts and New York City. Exact information will be posted on www.howardcruse.com
Comments on Facebook