Online Extra: HRC blasts Trump Jr. over 'vile' HIV tweet
Tuesday Nov 26, 2019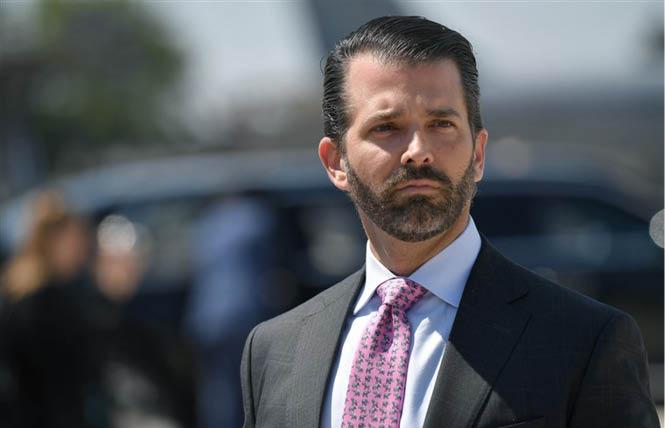 The Human Rights Campaign called on President Donald Trump's eldest son to apologize for what it described as a "vile" weekend tweet stigmatizing people living with HIV.
On Saturday, Donald Trump Jr. responded to an old tweet on LGBTQ outlet Queerty.com that had posted a story titled "What you stand to lose by not having sex with people with HIV?" Trump Jr. wrote "Well I can think of one thing." The original post was made on November 17, according to Out magazine.
Donald Trump Jr.'s disgusting and ignorant tweet only serves to perpetuate stigma and proves again what we already knew -- that he, his father and the Trump-Pence administration don't care about people living with HIV. https://t.co/vRJvJWZpvt— Human Rights Campaign (@HRC) November 26, 2019

Trump Jr. did not expand on his tweet but many called it stigmatizing to people living with HIV.
"Trump Jr. just proved again what we already know — that he, his father, and the Trump-Pence administration don't care about people living with HIV, are undermining competent care, and have no understanding of people living with HIV," HRC President Alphonso David said in a November 26 news release.
"Trump Jr.'s absolutely disgusting and ignorant tweet only serves to perpetuate the stigma faced by people living with HIV, which HRC and LGBTQ advocates have fought so long to end. Trump Jr. must apologize. And Trump and Pence must put their money where their mouth is and actually sufficiently fund the domestic initiatives aimed at ending the epidemic they claim to be combatting," he added, referring to President Donald Trump and Vice President Mike Pence.
In fact, this week, as the Bay Area Reporter noted in an online story Monday (and in this week's print edition), HIV/AIDS stigma remains pervasive among young people, according to a new survey. The study, released ahead of World AIDS Day, showed that HIV-negative millennials said that they have avoided casual social contact — including hugging people — because of their HIV status. The survey of 1,596 people from the millennial and Generation Z generations was released by pharmaceutical company Merck November 25.
Additionally, overcoming stigma is one of the main pillars of San Francisco's Getting to Zero initiative. It aims to make San Francisco the first city to eliminate new HIV infections, deaths due to HIV/AIDS, and stigma against people living with HIV. It relies on a three-pronged strategy of expanded access to PrEP, rapid initiation of antiretroviral therapy (ART), and engaging and retaining HIV-positive people in care.
To all living w/HIV like me in response to @DonaldJTrumpJr today:
You deserve love, life, & joy. ANYONE who feels otherwise can talk to me. I love eating the ignorant for breakfast. What they can't stand is a confident & empowered HIV+ person. Here I am. I'm not going anywhere.— Javier Muñoz (@JMunozActor) November 23, 2019

In HRC's release, the organization said that Trump and Pence "share a disturbing record on HIV and AIDS."
In 2017, the Trump administration proposed a federal budget that would have slashed $1.1 billion in funding for international HIV-prevention programs, HRC noted. "This was slammed by experts, who claimed it would lead to political instability and entirely reverse the gains made against the disease in the past decade," the organization stated.
The same budget proposal called for a repeal of the Affordable Care Act that included deep cuts to Medicaid and defunding Planned Parenthood for a year, despite the reality that 40% of Americans with HIV depend on Medicaid to pay their medical bills.
Early last year, the Department of Health and Human Services proposed a regulation that would allow health care providers a license to discriminate based on their own personal beliefs, even in cases of life-saving medical care, which would drastically impact patients living with HIV and AIDS.
As the B.A.R. has previously reported, three federal judges have recently tossed out the so-called refusal rule.
A November 20 ruling from federal Judge William Alsup of the U.S. District Court for the Northern District of California in San Francisco came after federal judges in the states of Washington and New York had already struck down the refusal rule.
Trump Jr. currently works for his father's 2020 presidential re-election campaign.
An email message to the campaign seeking comment was not immediately returned.
Charles T. Moran, a spokesman for the national Log Cabin Republican organization, responded to a request for comment by writing in an email that Trump Jr.'s tweet "is clearly a tongue-in-cheek reference to the obvious. Maybe Queerty's editors should try to just stop shaming in general, instead of redirecting it to another party."
Log Cabin formally endorsed President Trump for re-election in August.
"President Trump's initiative to end the spread of HIV/AIDS in 10 years is one of the most ambitious and meaningful efforts of any world leader to our greater LGBTQ community," Moran added. "Reducing stigma and shame is a part of that. But let's not ignore the fact that HIV/AIDS, if not managed and treated, is a deadly disease. Queerty's provocative headline clearly is an attempt to shame people who engage in serosorting when choosing sex partners. It's their body, and their choice."
Updated, 11/26/19: This article has been updated with a response from Log Cabin Republicans.
Comments on Facebook