Gay men seek SF supervisor seats
Tuesday Nov 26, 2019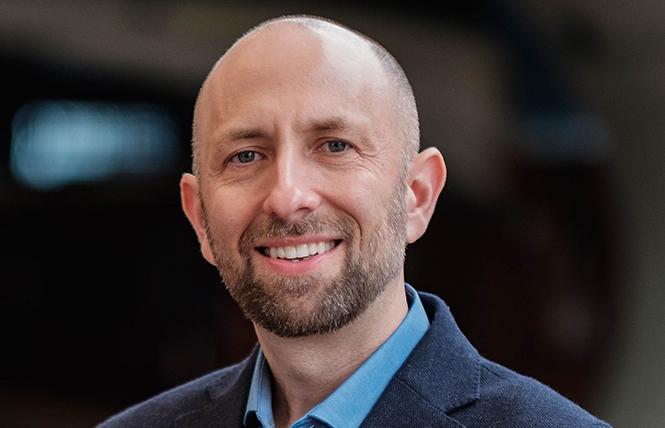 Following the departure of gay former District 9 Supervisor David Campos in early January 2017, the San Francisco Board of Supervisors has had just one member of the LGBT community serving on it. That person has represented District 8, which includes the LGBT Castro district; since July 2018 gay Supervisor Rafael Mandelman has served in the seat.

Now two gay men are looking to expand the ranks of out supervisors by running for seats on the November ballot next year. Either would be the first out person to be elected to their supervisor seat.

Joel Engardio is mounting his third campaign for the District 7 seat representing the neighborhoods west of Twin Peaks. He first ran in 2012 and saw his percentage of the vote significantly increase when he ran a second time against the incumbent in 2016.

"To me it's third time's the charm," Engardio, 47, told the Bay Area Reporter during an interview the morning of the November 5 election while seated in front of the West Portal branch library.

District 7 Supervisor Norman Yee, currently president of the board, is barred from running again due to term limits. As the B.A.R. has previously noted, Yee has urged his aide, Ivy Lee, to enter the race.

She ran unopposed this month to serve out a term on the city's community college board through the end of 2020 having been appointed last summer by Mayor London Breed to help oversee City College of San Francisco. Lee has already said she will not seek re-election next November but has yet to announce if she will run for supervisor. She did not respond to a request for comment for this story.

Across town startup executive Spencer Simonsen is running against District 3 Supervisor Aaron Peskin, who represents North Beach, Chinatown, Polk Gulch, and other neighborhoods in the northern section of the city. He faces long odds trying to unseat the formidable politician, nicknamed the "Napoleon of North Beach."

Nonetheless, Simonsen, 29, told the B.A.R. in a recent interview that he feels new leadership is needed in the district. With seemingly intractable issues like homelessness, business closures, and unaffordable rents impacting many residents, Simonsen said a fresh pair of eyes is needed at City Hall.

"It is the perfect opportunity to turn San Francisco around with the experience I have had in my career," said Simonsen, who moved to the city's Nob Hill neighborhood four years ago with his husband of 10 years, Paolo Mercado, and their dog Ben, a Maltese-Bichon Frise mix.

Peskin, 55, is running for his fourth full term on the board, having served two terms between 2001-2009 and completing the term of former supervisor now Assemblyman David Chiu (D-San Francisco) before winning a third full term in 2016. He told the B.A.R. this would be his last supervisor race.

"As I say in my thank you letters to people who have been donating to my campaign, 'Thank you for supporting my fifth and final term on the Board of Supervisors.' I am allowed to run for one final term and use the experience I have gained over the last 30 years of being in and out of office," said Peskin, adding that he does not know Simonsen. "I look forward to meeting this gentleman on the campaign trail."

District 7 campaign
According to the city's ethics commission, Engardio is the only person to date to have pulled papers to run for Yee's seat. After he entered the race in September, the San Francisco Examiner retired his regular column on city issues and local politics.

A former journalist, Engardio since 2017 has worked as a copywriter and senior manager for content marketing at Firebrand Communications. He and his husband, Lionel Hsu, own a home in the Lake Merced neighborhood.

Engardio has remained involved both politically and civically since mounting his first supervisorial bid. He is active with the United Democratic Club, leading its LGBTQ committee, and serves as vice president of Stop Crime SF, a grassroots group aiming to hold local law enforcement and judges accountable.

While he expects to face a progressive opponent, Engardio believes if he remains the lone moderate in the race then he has a shot at picking up the seat for the more centrist bloc of supervisors on the board. With incoming District 5 Supervisor-elect Dean Preston, the progressives control nine seats on the 11-member board.

"We are a majority homeowner district; I feel our residents are lacking a voice at City Hall," said Engardio.

Assessor-Recorder Carmen Chu and former supervisors Scott Wiener, a gay man who now serves in the state Senate, and Katy Tang, who now lives in District 7, have endorsed Engardio. Wiener told the B.A.R. that next year's race is Engardio's "time to shine."

"Joel is so connected to the city and is a real hard worker. He deeply cares about District 7," said Wiener. "I think he is the right person."

Engardio is meeting head on criticism that he is a perennial candidate by pointing out his support grew by an average of 82% in every precinct in the district between his first and second campaigns. There have also been demographic shifts, noted Engardio, over the last decade that he feels benefit his candidacy.

"I've never been a machine candidate and building an organic base of supporters takes time. I also had to overcome the perception that an openly gay candidate is not a fit for historically conservative District 7," he told the B.A.R. "My husband and I live in a neighborhood near Lake Merced where half the voters supported the Prop 8 statewide ban on same-sex marriage in 2008. But Westside attitudes have changed dramatically since then."

And he harks back to the doggedness of the late Supervisor Harvey Milk, who became the first gay person elected to the board in 1977 on his third try for a supervisor seat, having also lost a bid for a state Assembly seat.

"It took Harvey Milk four times to win an election in the Castro and I'll do it in three on the Westside. That's progress," said Engardio.

Asked about the results of this month's elections, where progressive candidates ousted moderate mayoral appointees as the District 5 supervisor and district attorney, Engardio told the B.A.R. voters were sending a message that they are looking for fresh candidates with new ideas. It was a not so subtle dig to his likely opponent in the race, Lee, a married mom of three children who previously was an aide to former District 6 supervisor Jane Kim.

"Voters have appointment fatigue. They're tired of candidates being installed in an office by the powers that be and running as incumbents without being elected first," said Engardio. "Voters are especially tired of candidates who try to quickly hop from one office to the next. Voters want to choose a candidate for themselves and determine which candidate is focused on addressing their needs."

Engardio, who doesn't plan to formally launch his campaign until early 2020, has already raised more than $30,000 and surpassed the threshold needed to qualify for public matching funds. To learn more about his bio and platform stances, visit http://www.engardio.com/.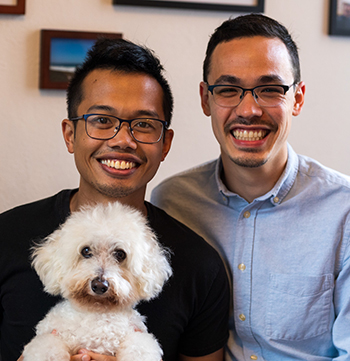 District 3 race
Simonsen, who is half Chinese and half Danish, is third-generation American and grew up in the suburbs of Tampa, Florida. His husband's family emigrated from the Philippines.

"I'd always wanted to live in San Francisco. Coming from Florida — it is not as accepting and inclusive," said Simonsen, a computer engineer who has worked for several startup firms. "We wanted to come to San Francisco because it is a city where anyone is accepted."

They at first landed in Mountain View to be close to Simonsen's former job. The couple resorted to suing their landlord in order to get their security deposit back when they moved to San Francisco after two years.

One firm Simonsen worked at, LendUp, aimed to help low-income workers in need of a loan avoid more expensive check-cashing companies. He volunteered with Open Door Legal, a nonprofit that ensures people have access to legal representation.

Today, Simonsen is head of delivery services for GoGo Grandparent, which helps seniors access online sites and cellphone apps offering rideshare services or food delivery. The company was recently in the news for its fight with state utility regulators over its insurance liabilities.

His professional background has prepared him to tackle the issues faced by the supervisors at City Hall, argued Simonsen. He also believes his lacking political experience will be advantageous in the race.

"There are a lot of things we can be doing much better," he argued. "Aaron Peskin has served in this seat off and on over the last 20 years. I know it will be an uphill battle but the tides are turning. People are looking at the crises we are in and want something different."

He will be holding his first neighborhood meeting to introduce himself to voters from 6 to 8 p.m. December 11 at 776 Bush Street and is planning a formal kickoff early next year. To learn more about Simonsen, visit his campaign website at http://www.votesimonsen.com/
Comments on Facebook