SF honors trans day of remembrance
Tuesday Nov 26, 2019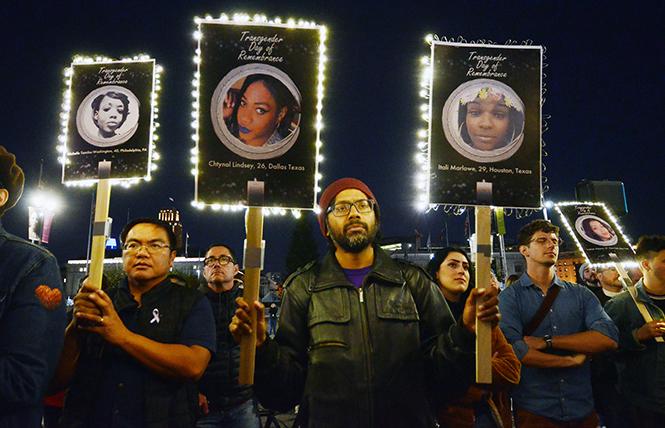 Concern about the many trans women, particularly those of color, who have been murdered or died by suicide this year led to people gathering in front of San Francisco City Hall November 20 for the 20th annual Transgender Day of Remembrance observance.
Hundreds more attended a program at the Louis B. Mayer Auditorium at UC Hastings College of the Law, which took place immediately following the City Hall ceremony.
A transgender flag flew outside of Mayor London Breed's office. The mayor spoke at the City Hall gathering as people stood solemnly, some holding candles, others holding up signs with photos of transgender women of color who'd been murdered.
Both trans people and allies were in attendance. Bruce Beaudette, a 60-year-old gay man who sits on the board of the San Francisco LGBT Pride Celebration Committee, came to City Hall wearing a transgender flag cape.
"I wanted to support a beautiful community on this day of remembrance," Beaudette told the Bay Area Reporter. "Because support is crucial in changing people's hearts and minds."
Suzanne Ford, 54, is a transgender woman who is also a member of the SF Pride board, where she serves as treasurer.
"Ever since I came out I haven't missed one," Ford said of the annual commemoration. "I love my black and brown trans siblings. Being here is my small way of supporting them."
Breed was greeted with applause when she took to the steps of City Hall. The mayor addressed the gun violence that she lived with during her youth, drawing a parallel between that struggle and the brutality that targets trans women of color.
"The loss of 26 lives in just this past year, and unfortunately, disproportionately again African American women who are victimized just because they are being who they are meant to be," the mayor said. "And that's why we are here today. We must remember because we have to rededicate ourselves every single time to a better future, so there is not one more person that we lose to violence in any way.
"Tonight is in honor of those who are no longer with us," Breed added. "City Hall is lit up in the colors of our transgender flag as a way to make sure that this city knows how important this day is, how important the people are that we have lost, and that their lives are not forgotten and that, as a result, we are committed now more than ever to make sure that change leads to the result that we all want: not one more, ever."
The mayor's speech was met with applause and cheers. After her remarks, attendees marched slowly to UC Hastings for the main program, many still carrying candles and the placards that memorialized murdered trans women of color.
Pastor Megan Rohrer, 39, is the first transgender pastor ordained in the Lutheran church. Rohrer spoke to the B.A.R. about why they attended the rally.
"I received a lot of calls as a pastor this year in response to trans individuals who have taken their own lives," Rohrer, who is also a volunteer chaplain with the San Francisco Police Department, said. "Events like this are important to honor those we have lost and to encourage those on the edge to choose life when they can. I encourage people to reach out to the many trans-celebrating pastors, social workers, therapists, and advocates for help when they need it."
Program
The Mayer auditorium was filled to capacity for the main program. There was an altar in the room that memorialized trans women of color who had been murdered. Many attendees wept when they saw it. Alejandra de la Vega and SF Pride board member Anjali Rimi hosted the program.
"The Transgender Day of Remembrance is a genuine tribute to those we have lost to violence due to hatred and prejudice," Rimi said. "We also remember those who have taken their own lives. May they find peace in death that they sought in life."
Holy Old Man Bull, a 62-year-old two-spirit trans man, offered an invocation.
"Please watch over the transgender people," he said. "Remind us every day that we are beautiful. And that being transgender is a gift from the creator and meant to be celebrated and shared. Please watch over the transgender people, keep us safe from harm caused by others who fear us, and ... ourselves when we take that fear and loathing as our own."
El/La Para TransLatinas, an advocacy group for transgender Latina women, and Cal Pep, an HIV and health outreach program that serves sex workers and other communities, were among the organizations represented during the program. Speakers included trans activists Socorro "Cori" Moreland, Ebony Ava Harper, and Ms. Billie Cooper.
Moreland, a trans man, asked all black trans people to stand up. As they did, the audience applauded.
"It sickens me to the core and is disgusting that we have to come together once a year to remind ourselves and society about our existence as living, breathing people deserving of love, experiences, and existence," he said. "It's even worse that we are adding people daily to the ever-growing list of victims directly affected by these acts of carnage."
As he spoke, Moreland memorialized trans friends of his who had been murdered.
"If you know me personally, you know that I am a very emotional person, and that I am a hug person," he said. "So when I give hugs I hold onto people tightly and I make sure to remember their smell and the way they feel. Because I know that I may not hug them in the future."
Harper opened by paying her respects to those who came before her.
"Even though we're here to mourn, I want you to know that our existence is divine," Harper said. "In the old cultures we used to be revered as God's people. Some of you aren't religious and I understand why, but we are God's people. We are a spiritual descendant of the most high."
Harper also acknowledged trans people who had been murdered, as well as those who took their own lives.
"Suicide is murder, because why are they committing suicide?" she asked. "Because they're in a society that ostracizes them and marginalizes them, that they don't feel comfortable in. But we're going to change that narrative. We're going to make our existence sacred again."
Harper closed her speech by leading the audience in a chant, which was repeated several times: "It is our duty to fight for our freedom. It is our duty to win. We must love and support one another. We have nothing to lose but our chains."
Cooper was among the last to speak.
"I want each and every person in this room and out on the street to remember our transgender elders, also our transgender sisters, who are lost in the system," Cooper said. "Who are homeless, who are locked up in jails and prisons, who have lost themselves, and who have not found their way back and who we forget about so often. Today, I no longer forget about the elder trans women and the homeless trans women and the trans women that are in nursing homes with strokes, and the trans women that have lost their minds on the street. I embrace them, and I want to say that they could be me or you."
A video memorializing trans people who have been murdered during the past year was shown toward the end of the evening. As their names appeared on screen, the audience spoke the names aloud. The evening also included performances from the New Voices Bay Area TIGQ Chorus and from singer Star Amerasu, a trans woman who sang a song titled "Be Free."
After the program, people mingled as food was served.
"I'm really sad and angry that we continue to have to gather to mourn those that we lost to anti-trans violence," Clair Farley, director of the city's Office of Transgender Initiatives, told the B.A.R. "It's time that we end the incredible violence that's impacting black trans women and that we support their leadership and keep our community safe."
Comments on Facebook