SF Mayor Breed clinches full term
Wednesday Nov 6, 2019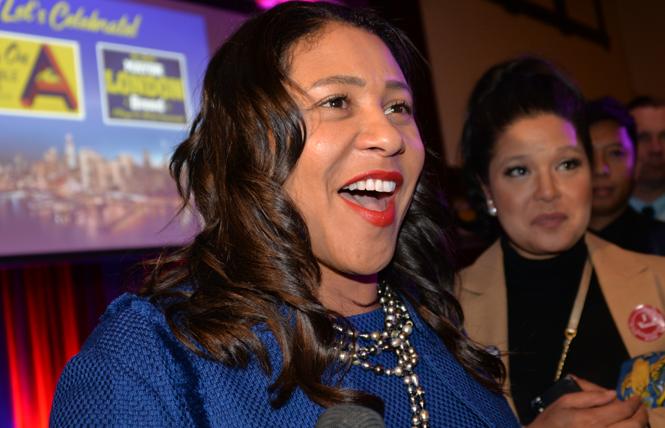 Mayor London Breed easily clinched her election to a full four-year term Tuesday. The result had been expected, as the San Francisco native who grew up in public housing had faced five little-known opponents.

It allowed Breed, the first black woman elected to Room 200 at City Hall, to focus instead on passing a $600 million bond measure for affordable housing on the November 5 ballot. The largest such bond in the city's history, it had reached the two-thirds threshold it needed to pass based on the unofficial returns Wednesday morning.

Passage of the bond as well as another measure making it easier to build below-market-rate housing for teachers is a major victory for Breed as she attempts to deal with a housing crisis that is driving the middle class and low-income workers out of San Francisco in search of cheaper places to live.

According to unofficial returns Wednesday, Breed took first place with nearly 78% of the vote, or 74,428 total votes after six rounds of ranked-choice voting. In second place was Ellen Lee Zhou, who was accused of using racist tropes against the mayor during the campaign, with 21,707 votes for 23% of the total ballots cast.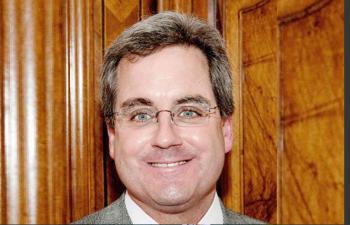 Also sailing to an easy win Tuesday night with 99.66% of the vote was City Attorney Dennis Herrera, who was unopposed in his bid for a sixth term. He was one of a number of citywide candidates, including those running for sheriff, public defender, and treasurer-tax collector, who did not face an opponent Tuesday.

Breed celebrated her second mayoral election victory and that of the bond measure at the Swedish American Hall on upper Market Street in the city's Castro district, not far from where she lives in the Lower Haight neighborhood. She had won the special election in June 2018 to serve out the remainder of the late mayor Ed Lee's term following his sudden death in December 2017.

"When I look on this last year, there were a lot of people who were concerned. They were concerned about how I would work with the Board of Supervisors," said Breed. "They were concerned that we had a lot of challenges in this city. And there was a need for us to come together to address those challenges. And guess what, that's exactly what we did with Proposition A, we came together and we did it responsibly."

Also a boost for the freshman mayor were the results in three of the down-ticket races on the off-year ballot involving women Breed had appointed to fill vacancies over the last 15 months. Community college board member Ivy Lee was unopposed and school board member Jenny Lam easily fended off two opponents, based on the unofficial returns.

Interim District Attorney Suzy Loftus, appointed to the position mere weeks ago by Breed, was holding on to a slight lead Wednesday morning over second place finisher Deputy Public Defender Chesa Boudin. A winner won't be declared until elections officials count the remaining ballots cast in the coming days.

Also to be determined is the race for Breed's former District 5 seat on the Board of Supervisors, which she stepped down from after her first election as mayor. Her appointee and former aide, Vallie Brown, was trailing her main opponent, tenants rights activist Dean Preston, by 218 votes as of Wednesday morning.

Should Preston hold on to his lead in the coming days it will be a stinging blow not only to Brown but also Breed, as he came close to winning the seat in 2016 against Breed. His joining the board would not only give him a bully pulpit to harangue Breed's housing policies and other actions but also increase the progressive bloc's majority to nine.

"If Dean Preston wins it really makes things difficult for her at City Hall because he likes to take pot shots at her," said gay state Senator Scott Wiener (D-San Francisco), who on Tuesday night held out hope that Brown would win.

As for what the outcomes of the DA and District 5 supervisor races will mean for Breed's ability to lead going forward, Wiener downplayed the impact on the mayor. He said that the city's mayors historically have not had "coat tails" for other candidates to ride on come Election Day.

"It is not about her," Wiener said of those two contests, noting her securing a full term allows Breed to focus on dealing with not only the city's housing crisis but also its homeless population and the increased need for mental health services for those living on the streets.

"She now has four more years to execute her plans," he said.

Gay District 8 Supervisor Rafael Mandelman, part of the progressive majority who often works closely with the mayor on various issues, agreed that Breed's cementing a full term enables her to now zero in on the "serious challenges" in the city.

"I think it allows her to move more aggressively," said Mandelman. "Now she really needs to make her mark on the city. She has a good head start to do so."

He added that he was confident that Breed would find a way to work with the winners of both the DA and District 5 supervisor contests.

"She is going to have to deal with the world she finds herself in," he told the B.A.R. Tuesday night. "She will figure that out."
Comments on Facebook