Updated: Preston holds lead in D5 supe race
Wednesday Nov 6, 2019
District 5 Supervisor Vallie Brown has fallen back to second place in her tight race against Dean Preston, as he now has a 35-vote edge.

Preston is now leading with 10.651 votes, or 50.08% of the total ballots cast, according to unofficial returns released Friday afternoon by the Department of Elections. Brown is trailing behind with 10,616 votes, or 49.92% of the total.

It was the second day that Preston had a 35-vote edge.

On election night, Preston had held a slim lead over incumbent Brown in the hotly contested race for San Francisco District 5 supervisor, according to unofficial returns. But he then swapped places with Brown after additional ballots were counted late Wednesday.

It may be a few more days until the final results are known as mail-in and provisional ballots are counted.

"I think it's going to go back and forth," Brown told the Bay Area Reporter shortly after midnight November 6 as she left Church of 8 Wheels, a former church turned skating rink, where she held her Election Night party. She remained hopeful that she would win the election, and cited a proposed Navigation Center for the homeless as one of her top priorities. She also vowed to improve Muni's on-time performance by seeing to it that more drivers were hired.

"For the last class of Muni drivers, 80 people signed up," she said. "It used to be 15-20 people, so in a few years we'll have the people we need to drive buses."

Preston spoke to his supporters around 11 p.m.

"What is missing in so many campaigns is a vision of what this town could be if we did not surrender to the darkest forces of capitalism and neo-liberalism," he said. "We are going to change with mass mobility, democratic socialism, and fearless advocacy for the things we know are right. What we have in this town is not inevitable — people on the street, incarcerating people of color, astronomical rents. This town can be different."

As the B.A.R. previously noted, Preston hopes to bring forth a ballot initiative next November that would tax large corporations that have annual revenues of at least $50 million in order to raise an estimated $300 million a year for Muni. Half the funds would be used for infrastructure and higher salaries, while the rest would be used for fare reductions and bicycle and pedestrian safety. Preston said he'd like to see a free Muni.

Brown was not sure if she could support the initiative.

"We've got to have Muni safe," she said in a previous interview with the B.A.R. "We've got to have Muni reliable. I'm not sure if $300 million is going to make it that way."

Though Brown's victory was not a done deal, her supporters remained optimistic that she would win the election, and remained enthusiastic about her policies.

"I support Vallie because I feel very strongly about her values in support of the Navigation Center, low-income housing, fixing Muni, and making it safer for bicyclists," said Joel Medina, a 38-year-old gay man. "Having Vallie as our supervisor is good for our district. She supports our community 100%. District 5 issues are LGBT issues."

This is Brown's first run for supervisor. She was appointed to her seat on the board last year after her predecessor, London Breed, became mayor.

The race took a turn late in the campaign when Brown acknowledged evicting tenants from a building she formerly owned two decades ago. Preston's campaign jumped on the issue.

"I'm humbled by the turnout and by the enthusiasm of the community who came out to work for me for nine months," Brown said as election results continued to come in. "It's been a community district effort. It made me feel powerful."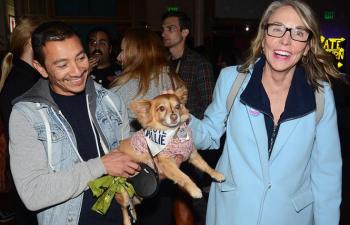 The mood was jubilant at Preston's party, which took place at Noir Lounge. When the first results came in, Brown was at 51% and Preston was at 41%, but as the numbers evened out to 47% each, the crowd cheered. They cheered even louder as the progressive Preston pulled ahead slightly.

"We are unstoppable, another world is possible," the crowd chanted.

"I'm feeling good," Preston said. "I'm still cautiously optimistic, but there are still a lot of votes to be counted. We always knew early votes would skew toward a more conservative candidate, and that Election Day votes would skew towards a more progressive candidate, but we're cautiously optimistic."

Brad Chapin, 29, a gay District 5 resident, spoke to the B.A.R. about what Preston means to him.

"I'm a longtime member of the Harvey Milk Club and Harry Britt is my mentor," Chapin said, referring to the gay former supervisor who was appointed after Harvey Milk was assassinated in 1978. "I'm really excited to see the numbers looking so good for Dean.

"Harry taught me a lot about how important changing power dynamics and fighting for housing justice is fundamental in fighting for social justice for all disenfranchised communities," he added. "How political it is to fight for rent control and fundamental change, to re-envision what is possible. He'll bring activists from all our communities, inspiring them to fight for themselves and for the soul of what matters to this city."

Preston's party continued beyond midnight, with attendees at the packed lounge remaining upbeat. Over at Church of 8 Wheels, the mood was more somber. Brown's party broke up around midnight.
Comments on Facebook