Online Extra: SF LGBT data collection shows marked improvement
Tuesday Nov 5, 2019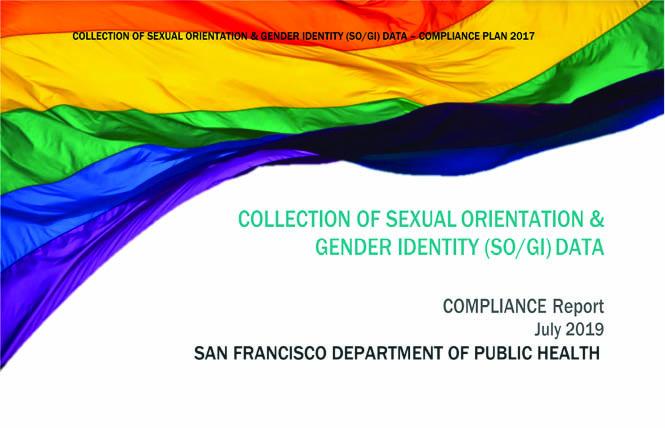 Two years after San Francisco ordered half a dozen city agencies to track the number of LGBT people they serve, the departments are reporting they have ramped up their data collection efforts in recent months in order to meet the mandate.
Based on the reports from the six city agencies, which the Bay Area Reporter reviewed ahead of a public hearing scheduled for Thursday, various issues remain in ensuring numerous city-run programs are accurately collecting sexual orientation and gender identity data. LGBT advocates have long argued that without the SOGI information the city cannot adequately address the needs of the LGBT community.
Nonetheless, there have been marked improvements since the city agencies released their first SOGI data collection reports last fall and discussed their efforts at a City Hall hearing in the spring.
"It does seem like a positive change," said Clair Farley, a senior adviser to Mayor London Breed and, as director of the city's Office of Transgender Initiatives, is working with the departments on their SOGI data collection efforts. "There also seems to be more detail in the reports since the last hearing on where providers are serving LGBT folks and where there are gaps."
At the request of gay District 8 Supervisor Rafael Mandelman, the Board of Supervisors' government audit and oversight committee will hold a hearing Thursday, November 7, on how city agencies are meeting the mandate to collect the SOGI data. It is the second time this year that Mandelman has requested a report back from the sextet of departments.
He told the B.A.R. Tuesday that there has been progress made over the last 12 months but that the departments have a ways to go in order to adequately meet the SOGI data mandate.
"They are all appearing to make some kind of effort to gather some kind of information and put it in a report available to us. They are beginning to fulfill the SOGI mandate," said Mandelman, though he pointed out "there is not consistency across departments at all" with some "further behind" than others.
As of July 1, 2017 the collection of SOGI data became a requirement for the Department of Public Health; Mayor's Office of Housing and Community Development; Department of Human Services; the Department of Aging and Adult Services; the Department of Children, Youth and their Families; and the Department of Homelessness and Supportive Housing. Contractors that receive more than $50,000 a year in city funds are also required to collect the SOGI data.
Meeting the requirement has been a slow slog for most city agencies, as the B.A.R. has previously reported, due to having to update their computer systems, retool their data collection protocols, and train staff on how to best ask the SOGI questions. At the hearing this spring city officials acknowledged that they were behind in fully ramping up their SOGI data collection due to myriad reasons.
But based on their latest updates, the city agencies appear to be on track to greatly increase their SOGI data collection during the current fiscal year, which began July 1 and runs through June 30, 2020. Doing so is critical in order to have a better grasp on how they are providing services to LGBT people and where improvements are needed, as well as where the city should direct more resources.
"I really feel the departments are really motivated to do this well despite working across all different systems and with limited capacity," said Farley, whose office has more than 15 trainings scheduled through the end of the year with various city departments to help them be more LGBT inclusive. "One of the main hurdles we have left is to continue to have a broader equity review in terms of what city-funded programs are accessible to the LGBT community and where additional work is needed to ensure those programs are inclusive."
The city continues to grapple with what SOGI data needs to be collected by the various agencies. Several departments that mainly deal with housing programs have received partial waivers from the city administrator's office not to have to collect information on participants' sex assigned at birth.
That question has proved to be a complicated one to ask, and in consultation with Farley's office, city officials have determined that the information is really only needed to be collected by health care professionals.
Results vary by department
In a 39-page report issued in August, the San Francisco Human Services Agency noted that it "wholeheartedly supports the SOGI data collection ordinance and has worked hard to comply with it." The agency also noted that it must meet a state law requiring the collection of SOGI data.
Its compliance with the SOGI requirements has been hampered by "the complexity of the agency," noted its report, "and the fact that SOGI data is collected by around 140 programs or contracts and is stored in 11 different computer systems has translated to a heavy implementation lift."
HSA noted in its report covering the 2018-2019 fiscal year that some of its programs utilize a statewide or county consortium computer system, which limited its ability to dictate how SOGI data is tracked and delayed implementation for some programs. The city agency is working with the Office of the Controller's Performance Audit Group to recommend best practices for reporting and analyzing SOGI data in the future.
Under the agency's purview are numerous programs that have reported specific issues their staff have encountered in trying to collect the SOGI data. San Francisco Adult Protective Services, for instance, has found that when its workers make unannounced visits responding to reports of suspected abuse asking about SOGI can be "a challenge" because their presence is unsolicited by the client.
Staffers have also commented that they "fear losing engagement and opportunity to address abuse with some older adult populations" because of having to ask the SOGI questions.
The In-Home Supportive Services Program for Medi-Cal clients with disabilities, meanwhile, did not see the SOGI fields and translated forms put in place by the state until mid-September 2018, noted the report. It has since been updating its client records, so that now 44% are missing sexual orientation and gender identity information. Another 6% declined to answer the sexual orientation question and 2% declined to answer the gender identity question.
"Since comprehensive data collection was delayed until the fall of 2018 (due to state forms and systems), it is encouraging that a majority of IHSS FY18-19 client records contain SOGI data; the proportion of clients with missing data should decline next fiscal year," predicted the report. "Overall collection of SOGI data in IHSS has been successful."
About 85% of the clients who have received an intake and/or assessment visit have recorded answers to SOGI questions, reported the agency. However, due in part to statewide delays in SOGI implementation, some of its clients received their annual assessment visit prior to SOGI implementation and thus account for the majority of clients with missing SOGI data.
In its 13-page report dated September 9, the Department of Homelessness and Supportive Housing noted that it requires all of its contractors and grantees to collect SOGI data.
"While HSH has seen progress since FY17-18 in both data collection standards and representation of the LGBTQ+ population utilizing HSH direct services there is much more work to do to ensure equitable representation of these historically underserved communities within the Homelessness Response System," read the report.
HSH continues to roll out its Online Entry and Navigation (ONE) System across the department in order to see that all of the data being collected is in full SOGI compliance. It is also working to ensure that the data storage system used for adult shelter reservations "is in compliance with SOGI by either integrating fully over to the ONE system or redesigning the current platform."
The department "expects" that nearly all of its direct services will be SOGI compliant by the end of 2019. It plans to include a comprehensive analysis of HSH direct services in its FY19-20 SOGI report.
The department has already observed that transgender and gender-nonconforming households "are significantly more likely to be priority status than cisgender people experiencing homelessness and LGBTQ+ people are prioritized in a representative rate," according to this year's report. "HSH is pleased that our prioritization method: prioritizing by chronicity of homelessness, barriers to housing, and vulnerability is leading to a significant prioritization of LGBTQ+ people experiencing homelessness being prioritized for Homeless Response System housing assistance."
The Mayor's Office of Housing and Community Development disclosed in its 27-page report dated October 28 that 60% of the tenants placed into 95 Laguna, the second wing of the affordable housing development built primarily to house LGBTQ seniors, identified as LGBTQ. According to the report, 7% of the placed tenants identify as transgender/gender-nonconforming, with trans women (5.3% of the placements) leading the group. Meanwhile, 53% of placed tenants identified as lesbian, gay, bisexual, or queer, stated the report.
The mayoral office also reported that in FY2018-2019 it funded 183 projects providing services to nearly 34,000 clients, of whom approximately 9% identified as LGBTQ. Of those, slightly more that 1% identified as transgender or gender-nonconforming.
It also reported that the greatest number of LGBTQ clients were served through its Eviction Prevention program (737 people), followed by Legal Services (683), and then Access to Housing (545). The agency, however, does not know how many LGBTQ people live in the 358 affordable properties it operates in the city, since only new residents were asked the SOGI questions.
For the calendar year 2018, it reported that just 2% of the 21,867 heads of households in MOHCD's affordable multifamily housing developments identified as LGBTQ. Less than 1% of the heads of households identify as transgender or gender-nonconforming, according to the agency's report.
The agency also oversees the leasing of affordable rental units in private housing developments and those built by nonprofits. It asks applicants the SOGI questions and found that 14% of the 94,058 total applications received last fiscal year for new rental or re-rental units came from LGBTQ people. Of the 379 placements for the new and re-rental units, 14% of the primary tenants identified as LGBTQ.
Overall, MOHCD determined that across its various programs, "while the proportion of LGBTQ applicants and clients served is significant, the proportion of applicants and clients that identify as trans or gender-nonconforming could be improved, especially for programs that didn't serve any trans or gender-nonconforming clients in FY2018-2019."
One suggestion the mayoral office made is the formation of an intradepartmental working group on LGBTQ equity, similar to one it already formed focused on racial equity. It also wants to improve the accuracy of the SOGI data it is collecting and determine if it needs to address "specific cultural or language-related barriers within communities" that result in people declining to answer the SOGI questions.
In its six-page report from July, the Department of Public Health noted that both its Population Health Division and the San Francisco Health Network continue to improve their SOGI data collection efforts. It noted that the emergency department at Zuckerberg San Francisco General Hospital would begin asking the SOGI questions this fiscal year.
DPH wants to see all of its sites reach a goal of having at least 75% of patients provide the SOGI data this fiscal year. That could be a challenge to meet, since just two of its locations met the 50% threshold set for the previous fiscal year.
"As we approach this higher number, we'll start to examine health outcomes for disparities among minority orientations compared to heterosexually identified patients and among gender expansive patients compared to cisgender patients," stated the DPH report. "Armed with data for the first time, SFHN can begin to ensure health equity for LGBTQ patients."
Because the Department of Children, Youth and their Families "functions primarily as a funding agency and not as a direct service provider," it specified in its 11-page report dated October 1 that it does not collect data directly from children, youth, or their families. And due to ongoing issues with asking adolescents the SOGI questions, its data continues to focus on those youth age 18 and older.
In particular, the agency is focused on transitional age youth between the ages of 18 and 24, and during the last fiscal year, its grantees served 1,370 such youth who disclosed their sexual orientation. Among those, 17% indicated that they were bisexual, gay/lesbian/same-gender loving, or questioning/unsure, and 10% declined to state or did not identify their sexual orientation.
Among the 2,841 TAY program participants who answered the gender identity question, 3% identified as "transgender" and about 1% identified as "other." With estimates for the entire LGBT population of San Francisco ranging from 6% to as high as 12%, the department noted it appears LGBT youth are accessing the programs it funds at rates "higher than might be expected if participants simply reflected a general swath of the area's adult population."
As it works to improve its SOGI data collection efforts, the department also pledged it will "continue to direct funding toward LGBT communities, as data on TAY program participants suggest that LGBT individuals are more likely to participate in programs and services dedicated to meeting their needs."
Consistent theme emerges
The SOGI data collection is still not at the point where it needs to be in terms of figuring out baselines for how many LGBT people individual programs funded by the city should be serving, Farley told the B.A.R. Reading through the reports, she said a consistent theme emerges.
"The best results tend to be seen in programs that are tailored to the LGBT community. Those programs are serving LGBT folks really well," she said. "How can those lessons be learned for more general programs so we can hold them accountable to reach a broader community?"
Comments on Facebook