Political Notebook: Queer woman given SF civic platform
Wednesday Oct 30, 2019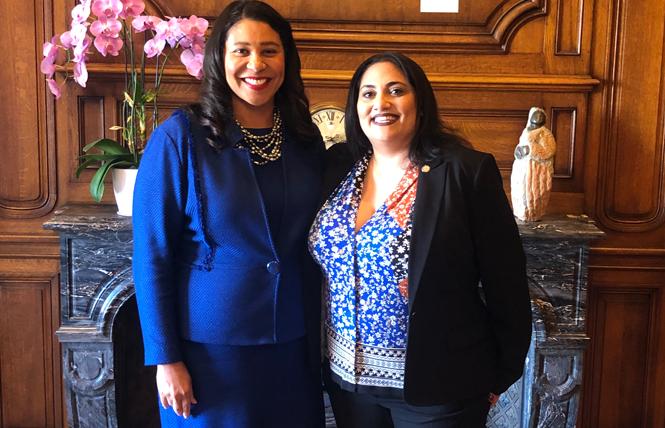 San Francisco-based queer activist and organizer Sophia Andary has moved from the realm of street protests and social justice advocacy to having a seat at the table at City Hall. A founding member and co-chair of the Women's March San Francisco, Andary now sits on the Commission on the Status of Women.
Its members not only provide guidance to the city's Department on the Status of Women but also advocate for the equitable treatment of women and girls in every aspect of civic and private life. Andary is one of two out women serving on the oversight committee.
"I am really excited about the commission. I am excited to give a different voice and to be working with the other commissioners. They have amazing resumes and are amazing women who have accomplished quite a bit," Andary told the Bay Area Reporter in a phone interview this week. "I never thought I would be a commissioner or even consider politics. But I realize I can bring change to the table."
Appointed to a four-year term on the oversight panel last month by Mayor London Breed, Andary was sworn into her seat October 7 and has already participated in two meetings of the committee. Her new role has been a bit of an adjustment for Andary, 37, a senior analyst for Levi Strauss & Co. who co-chairs the clothing company's Levi Women's Employee Resource Group.
"I have a lot of learning to do. I also believe I bring something to the table that needs to be there right now," said Andary. "As an activist I am coming from the standpoint of fighting for social justice and fighting for marginalized people."
Born in Michigan, Andary is a first-generation Lebanese American whose family is a member of the Druze religious sect, though she herself is agnostic. When she was 3 years old, Andary's family moved back to Falougha, Lebanon.
Five years later the family relocated back to the U.S., this time settling in Glendale, California in order for Andary and her sister to attend school full-time. In Lebanon they were often unable to go to school as the country was in the midst of a civil war.
"My mom didn't like the cold so she didn't want to go back to Michigan," said Andary, noting that at the time many members of her extended family had settled in Southern California.
(Her father is currently in his home country participating in the street protests against the Lebanese government that led Prime Minister Saad Hariri to announce on Tuesday he would resign. "The government is greedy and steals all the money. Now people are waking up and demanding change; I am really proud of that," said Andary.)
In 2004, Andary graduated from the University of La Verne in Los Angeles County with degrees in international business and French. Four years later she moved to the Bay Area, as she preferred its weather and San Francisco reminded her of her time studying in southern France.
A resident of the Outer Richmond, Andary serves as an at-large member on the board of the Harvey Milk LGBTQ Democratic Club. Not feeling welcome as a femme identified woman in the Castro's bars, she created the monthly SF Lipstick Lesbians meet up for other queer and transgender women that gathers at various nightlife spots around the city.
"When I moved here I realized very quickly this city is not for gay women; it is a city for gay men. I realized very early on there were no spaces for women," said Andary. "I really hated that because one of the things I love about San Francisco is my freedom. I didn't feel I had that in the Castro. I had a lot of issues, especially as a femme woman, always having to justify being there."
Days after Donald Trump's election as president in 2016, she found herself sitting in a living room with about a dozen other women interested in organizing a response. It led to the first Women's March in San Francisco on a rainy Saturday in January 2017. Despite the weather, about 100,000 people showed up to protest Trump.
"We were anticipating 20,000 people," recalled Andary, whose only protection against the elements that day was a cheap plastic poncho.
It wasn't until after the march had wrapped that she realized how large of a turnout it had drawn. She remembered thinking to herself "what the hell just happened" when the tail end of the march had set foot on the route.
She has remained involved with the local Women's March chapter, which is all volunteer run, and is helping plan for the fourth such event on January 18 next year with the theme of "Together We Rise." Andary has also been mentoring some of the youth leaders holding their own march for education taking place in cities around the Bay Area November 9.
While she encourages people to take part in such actions, Andary stressed that they need to remain engaged after the march ends or the protest wraps.
"I want to see more people getting involved in holding everybody accountable," she said. "I am really tired of people showing up to a march, taking pictures, patting themselves on the back, and that is it. That doesn't do anything if you are not standing up for people everyday in your life."
As for what the future holds for Andary, she is focused on her commission work — it is writing a new four-year strategic plan for the city department — as well as her activism and work duties. While she doesn't plan to run in the March election for one of the seats on the committee that oversees the local Democratic Party, Andary didn't rule out seeking public office at some point.
"One of the reasons I wanted to be a commissioner is to see if this is a route I can take to help create real change. I have done it from the activism, grassroots plank and now I want to see if I can do it in a more city-structured way," said Andary. "I will be able to answer that question better in a couple of years. This is going to help me figure it out."
Web Extra: For more queer political news, be sure to check http://www.ebar.com Monday mornings for Political Notes, the notebook's online companion. This week's column reported on a new California initiative to protect the rights of transgender voters.
Keep abreast of the latest LGBT political news by following the Political Notebook on Twitter @ http://twitter.com/politicalnotes
Got a tip on LGBT politics? Call Matthew S. Bajko at (415) 829-8836 or e-mail m.bajko@ebar.com
Comments on Facebook