Always removes female symbol from sanitary pads
Wednesday Oct 30, 2019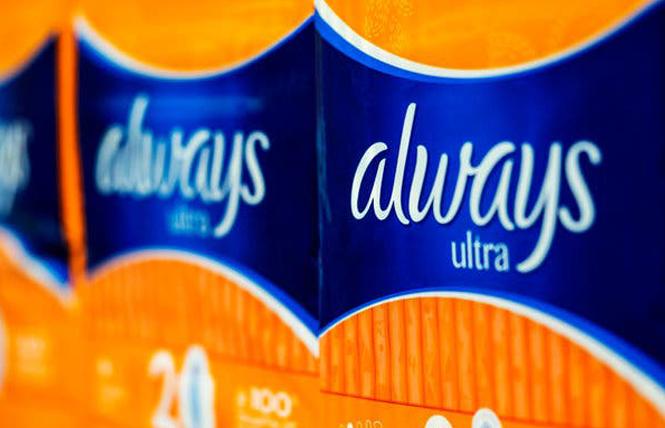 Some members of the San Francisco Bay Area's transgender community praised Always for removing the Venus symbol from the packaging of its sanitary pads.
The Venus symbol historically represents womanhood and the female sex. According to USA Today, the company said the change will apply to the wrapping on sanitary pads, not the outer packaging on products.
Always, a brand of Proctor and Gamble, made the announcement October 19, National Period Day. That day, launched by the Portland-based organization Period, is a protest to end sales taxes on tampons and pads, sometimes called a pink tax because it predominately affects women.
"Hopefully this will spark broader conversations about how framing reproductive health in gendered terms perpetuates health disparities, and what we can do to address them," Maceo Persson, civic engagement and operations manager of the San Francisco Office of Transgender Initiatives, wrote in a statement to the Bay Area Reporter October 28.
The queer transgender man supported the sanitary brand's move and wrote that trans and gender-nonconforming people have "always been using menstrual products."
"These products shouldn't be tied to any specific gender expression or identity," Persson wrote. "We welcome all changes that acknowledge the existence trans and gender-nonconforming people."
In 2007, Lyon-Martin Health Services, based in San Francisco, became one of the first organizations in the country to drop "women" from its name in order to better serve transgender and nonbinary patients.
Lauren Kahn, spokeswoman for Lyon-Martin, now a program of HealthRIGHT 360, praised the Always move in a statement to the B.A.R.
"I'm glad to see that Always made this change," she wrote, adding that the public announcement signaled acceptance and inclusivity "for the experience of all people with periods" and bringing attention to the "societal lack of inclusivity of people of all genders."
Always' move to become more inclusive of its customers joins a number of companies that are embracing their transgender and nonbinary customers. This year, Lyft, MasterCard, and Tinder have all announced inclusive policies recognizing gender fluidity — from pronoun usage to utilizing customers' chosen names rather than legal names when using their products.
Always announced its plans to redesign the wrapper in an October 18 tweet to United Kingdom transgender activist Ben Saunders, reported HuffPost UK.
News of the company's decision started making headlines October 21.
In June, Saunders, who was named Stonewall Young Campaigner of the Year, wrote to Always on the company's Twitter page requesting it remove the female symbol from the packaging around its pads. They pointed out that not all of the company's customers identify as female.
The letter hit a nerve among the transgender and nonbinary community, which rallied around Saunders' campaign over the summer.
Always is known for championing girl's periods with its campaigns #EndPeriodPoverty, which provides access to menstruation products, and the #LikeAGirl campaign, which tackles societal barriers and stigmas to build confidence in girls when they reach puberty.
Period poverty is the lack of access to menstrual products and hygiene facilities and education as well as combatting the social stigma around menstruation. Combined these issues prevent girls from accessing resources and going to school and work.
In a statement to the media, Always spokeswoman Ivanette Bonilla wrote the company has championed girls and women for more than 35 years and "we will continue to do so.
"We're also committed to diversity and inclusion and are on a continual journey to understand the needs of all of our consumers," the statement continued, noting that the company is ever evolving to meet customer needs. "The change to our pad wrapper design is consistent with that practice."
As of December, the company will begin using a new design for the pads wrapping, the company stated.
The company also pointed out that there might still be products on the market that have the old wrapper design after December. The new design will officially hit shelves sometime in January or February.
Protest
Not everyone is celebrating Always' move. Some have accused the company of "kowtowing" to the gender fluidity movement, reported HuffPost UK, and others have said that America has gone too far in its attempts to "deconstruct traditions out of cultural sensitivity," reported the New York Times.
HuffPost reported that angry customers were boycotting the brand in the United Kingdom.
Saunders' Twitter page has been made private since the company's announcement.
The B.A.R. reached out to Saunders for comment, but they didn't respond by press time.
Comments on Facebook