Online Extra: Depending on pundits, Buttigieg is surging or stalling
Monday Oct 28, 2019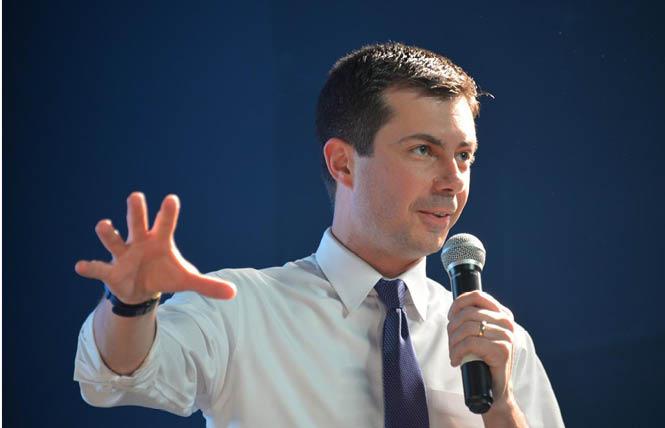 Mainstream media outlets have spent considerable space in recent days trying to reckon whether gay presidential candidate Pete Buttigieg is "surging" to the top tier of the Democratic field or stalling in the second tier.
On an anecdotal level, he has been successful enough to be attacked from top tier candidates.
Senator Bernie Sanders (Vermont), who has been clinging to third place, took a soft swipe. He criticized Buttigieg's comment that he would like to see more justices like former U.S. Supreme Court Justices Anthony Kennedy and David Souter, who were appointed by Republican presidents but shifted to the left during their time on the high court. Sanders said he would prefer more justices like Ruth Bader Ginsburg and Sonia Sotomayor, viewed as liberal jurists.
Buttigieg, the mayor of South Bend, Indiana, was also the target of an internal campaign leak: Someone made public a document that showed a focus group of African American voters in South Carolina found Buttigieg's being gay a stumbling block in his hopes of winning over a sizeable number of African American voters.
And a report emerged last week that Buttigieg's campaign was getting help from controversial Facebook chief Mark Zuckerberg. That came just as the media was turning up the heat on Zuckerberg for including the extreme right-wing news outlet Breitbart as a "trusted" news source on Facebook's new News tab.
Buttigieg's husband, Chasten, will be in San Francisco Tuesday, October 29, for a happy hour conversation at Oasis hosted by LGBT supporters D'Arcy Drollinger, Kevin Dowling, El Cerrito City Councilman Gabe Quinto, and others.
Looking at data, Buttigieg continues to succeed in both polling and fundraising.
In the latest two national polls to come out since the October debate, former Vice President Joseph R. Biden Jr. and Senator Elizabeth Warren (Massachusetts) have split the lead. Buttigieg, the only out candidate in the Democratic field, came in fourth each time.
In a Quinnipiac University poll of 713 voters who were Democrats or leaning toward Democratic candidates October 17-21, Warren garnered 28% of the support, followed by Biden with 21%, Sanders with 15%, and Buttigieg with 10%. (The poll's margin of error was 4.6 points.) For Buttigieg, the result was a 2-point improvement over a Quinnipiac poll just before the October 15 debate.
In a CNN poll of 424 Democrats or Democratic-leaning adults nationwide October 17-20, 34% supported Biden, 19% Warren, 16% Sanders, and 6% each for Buttigieg and Senator Kamala Harris (California). (The margin of error was 5.8 points.) For Buttigieg, the result was unchanged since the CNN poll in early September.
The CNN poll demonstrated something else: Despite his unprecedented success as a virtual unknown when he started his campaign, Buttigieg is still a relative unknown. The CNN poll found that 37% of 1,003 adults surveyed still "never heard of" Buttigieg. Twenty-eight percent had a "favorable" opinion of him, 23% had an "unfavorable" opinion of him, and 12% had no opinion. The 37% who said they had never heard of Buttigieg was an enormous improvement compared to January, when 77% had never heard of him. But it is still a significant hurdle when compared to Biden and Sanders (who only 3% said they never heard of) and Warren (with 13% never heard of). Even 28% of Democratic voters said they never heard of Buttigieg.
Iowa gains
Those are the national polls. In the first state that will conduct presidential party nomination voting, Buttigieg appears to be in better shape.
Buttigieg is polling third, even second, now in Iowa, the site of the first presidential nomination contest. An Iowa State University poll conducted October 18-22 among 598 "likely Democratic Caucus attendees" showed Buttigieg in second, with 20% of the vote. He was behind only Warren, with 28%, and two points ahead of third place Sanders.
In a poll conducted by USA Today and Suffolk University, 13% of 500 "likely Democratic caucusgoers" in Iowa said they would "vote for or lean toward" Buttigieg. (The poll was conducted October 16-18 with a margin of error of 4.4 points.) The percentage itself is not impressive; he's polled as high as 16 points this month. But what is worth noting is that his polling now puts him only 4 points behind Warren (at 17%) and five points behind Biden (at 18%) in Iowa. He has consistently been 11 points behind the front-runners since mid-September.
Poll expert Nate Silver, a gay man, called the idea that Buttigieg is surging in Iowa "bullshit."
"It's possible he'll surge," Silver wrote on his website. " ... But to say there's been a big Buttigieg surge is so far from reality that, if you simply glance at a table of polls, it almost feels like gaslighting. He's maybe gained a point or so in the national polls."
Silver said Buttigieg has advantages in Iowa and New Hampshire — both states have largely white populations, and Buttigieg's home state of Indiana is, like Iowa, in the Midwest.
A Washington Post op-ed piece last week made the same point. It said Buttigieg's "relative political inexperience is probably still a disadvantage" but that he has "successfully executed an Ellen DeGeneres-style charm offensive...."
"But as others have pointed out," said the piece, by Post political columnist David Byler, "rumors of a recent Buttigieg surge are mostly exaggerated" because Buttigieg's support is still primarily white, well-educated, high-income voters.
That shows up most starkly in the fourth state to hold its Democratic nomination voting: South Carolina.
In the Palmetto State, Buttigieg was polling sixth, with only 3 or 4% of the vote. A poll taken by the local Post and Courier newspaper October 12-21 showed Buttigieg support doubled, to 9% overall but at only about 5% among blacks.
Previous South Carolina polling has strongly suggested Buttigieg was suffering a significant deficit in support among black voters. McClatchy's D.C. bureau reported last week that an "internal focus group" study by the Buttigieg campaign found that the candidate's "being gay was a barrier" for black voters. McClatchy said the study covered responses from only 24 black voters participating in three small focus groups in South Carolina, but only one of the 24 said they would consider voting for Buttigieg.
"[T]heir preference is for his sexuality to not be front and center," McClatchy reported the study as saying, posting it online. The study also noted that, "After seeing the mayor speak, most voters in each group seemed to be able to get past his sexual orientation."
Fundraising prowess
On the plus side, Buttigieg is strong in fundraising. According to records filed with the Federal Elections Commission, Buttigieg has raised a total of $51.5 million through September 30. Among the Democrats, this is the third most raised. (Sanders has raised $74.5 million and Warren, $60.3 million.)
Though it's not clear whether this will help his campaign, Bloomberg reported October 21 that the Buttigieg campaign has been "quietly" getting help from Zuckerberg, the controversial Facebook founder. Buttigieg campaign spokesman Chris Meagher confirmed that Zuckerberg and his wife sent campaign manager Mike Schmuhl some names of people they would recommend for Buttigieg's campaign staff. Facebook has become an issue in the Democratic primary, with some candidates, such as Warren, saying mega-corporations like Facebook are engaging in "anti-competitive practices" and violating consumer privacy rights, among other things.
On Thursday, October 24, during an appearance in New Hampshire, Buttigieg appeared to put some distance between himself and Facebook. He contradicted Zuckerberg's congressional hearing testimony — that Facebook has no responsibility to police political ads on its pages. Buttigieg said Facebook does have a responsibility to pull false advertising and advertising aimed at suppressing voter participation. And he said breaking up mega-corporations is an idea that should be considered.
Fortune magazine said this week that Buttigieg appears to be taking the lead as the "Big Business candidate" in the Democratic presidential field. In addition to the Facebook connection, it cites that several big corporations — including Netflix, Uber, and Nest — have hosted fundraisers on Buttigieg's behalf. And he's won praise from the son of conservative publishing magnate Rupert Murdoch.
For more information on the San Francisco fundraiser, visit https://sfoasis.com/events/happy-hour-conversation-with-chasten-buttigieg
Comments on Facebook