Updated: Guerneville evacuation order downgraded to warning
Monday Oct 28, 2019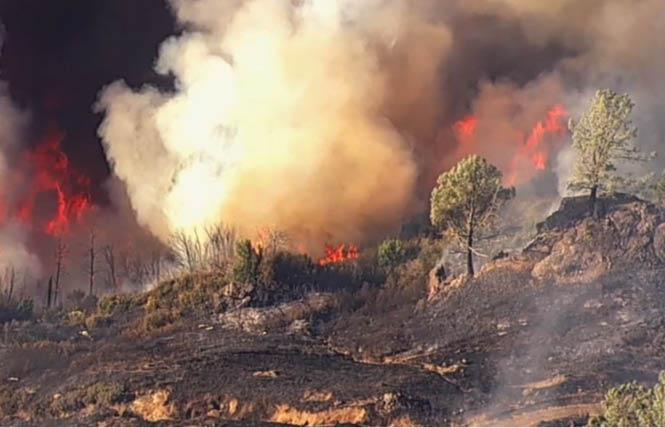 While residents residents in the LGBT-popular town of Guerneville were ordered to evacuate over the weekend due to the Kincaid fire, that was downgraded to a warning Monday.
As of 7 a.m., a spokesperson at the Sonoma County Sheriff's Office said Monday morning that the evacuation order remained in effect for the town on the Russian River.
That was changed sometime around 11.
As of Monday, the Kincade fire had spread to about 66,000 acres and was considered 5% contained, according to Cal Fire.
Pacific Gas & Electric Co. shut off power for customers in Guerneville Saturday, October 26, at 5 p.m. Residents had already been notified that they were in the evacuation warning zone due to the Kincade Fire, which Cal Fire logged as starting on Thursday, October 23, at 9:27 p.m. According to the Santa Rosa Press Democrat, the fire started inside the Geysers, a complex of geothermal energy facilities nestled in the mountains between Sonoma and Lake counties. A broken piece of PG&E equipment was discovered there, the paper reported.
An evacuation warning notifies residents they are "next in line" to be ordered to leave. Residents in the city of Healdsburg and the town of Windsor had been notified Saturday morning at 10 a.m. that they needed to evacuate by 4 p.m. that day. Centers were available in Santa Rosa, Sebastopol, and Petaluma. At that point, the Kincade Fire had spread to about 30,000 acres and was considered 10% contained.
But by that evening, the fire continued to grow. Guerneville residents and those in all areas throughout the Russian River Valley to Bodega Bay were ordered to evacuate as well, including much, but not all, of Sebastopol.
Evacuation shelters have been opened in Santa Rosa, Petaluma, Napa, Pleasanton, and in San Francisco at St. Mary's Cathedral at 1111 Gough Street; most will permit small animals. The fairgrounds in Petaluma (Sonoma County) and Pleasanton (Alameda County) accept large animals. A full list is available on the Sonoma County Emergency Office website at www.socoemergency.org
Evacuation warning and orders are issued by Sonoma County Sheriff Mark Essick, who defended what some were calling an overly proactive approach in an interview conducted by the Press Democrat Sunday morning. He was quoted as saying, "You look at the hurricane analogy, and when they are forecasting out two days, the cone is really wide. As time gets closer, they narrow the cone."
The sheriff issued additional evacuation orders Sunday at 4:30 a.m. and 12:45 p.m., including parts of Santa Rosa, Napa County, and all of the city of Calistoga. Because the fire is currently moving southwest, eastern Santa Rosa, including the 55-plus community of Oakmont, remained on evacuation warning status, though without power since late Saturday.
Power remains off in Guerneville. PG&E warned Sunday night that another wind event is forecast for Tuesday, so power may remain off for several more days.
For more information, go to www.pge.com/pspsupdates or call 800-743-5002, www.socoemergency.org; and www.fire.ca.gov
To receive alerts and advisories from Nixle in the form of voice or text messages on your smartphone from local law enforcement, text 888777 and follow the prompts to enter the ZIP code you are interested in.
The Sonoma County emergency website also lists other alert options. Sonoma County residents may tune their NOAA Weather Radio to 162.475.
Updated, 10/28/19: This article was been updated.
Comments on Facebook