Updated: Bi CA Congresswoman Hill to resign
Sunday Oct 27, 2019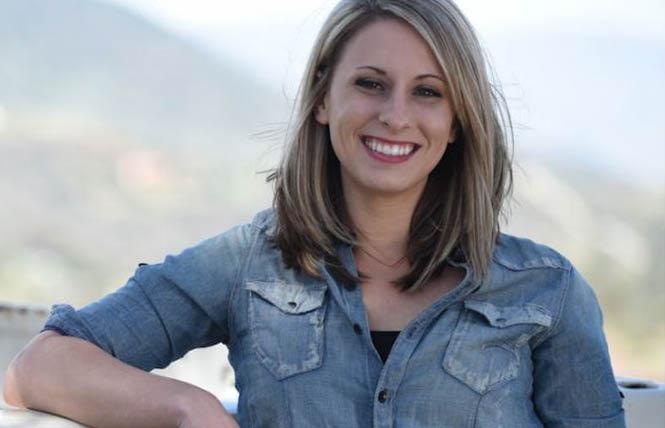 Bi freshman California Congresswoman Katie Hill will resign, multiple outlets reported Sunday afternoon, following the announcement of an ethics probe into allegations she had a relationship with a congressional aide.
Politico reported that Hill, a Democrat, is set to resign by the end of this week.
You all deserve to hear from me about why I made this devastating decision and where things go from here. I said the fight continues. I mean it, and I hope you're with me. https://t.co/ogKkyW7I6f

— Katie Hill (@KatieHill4CA) October 28, 2019
Hill's decision follows the news last Wednesday that the House ethics committee was opening an investigation after allegations surfaced that she had an affair with a male congressional aide.
Late Sunday afternoon, Hill tweeted that this "fight isn't over."
To every girl and woman - to everyone who believes in this fight - this isn't over. ????????????— Katie Hill (@KatieHill4CA) October 28, 2019
Earlier, she tweeted news of her resignation.
It is with a broken heart that today I announce my resignation from Congress. This is the hardest thing I have ever had to do, but I believe it is the best thing for my constituents, my community, and our country.

See my official statement below. pic.twitter.com/nG97RQIwvO— Rep. Katie Hill (@RepKatieHill) October 27, 2019
According to Politico, House Speaker Nancy Pelosi (D-San Francisco) said Hill acknowledged errors in judgment.
PELOSI on Katie Hill resignation, after her praising her contribution as a freshman:

"She has acknowledged errors in judgment that made her continued service as a Member untenable. We must ensure a climate of integrity and dignity in the Congress, and in all workplaces."— Kyle Cheney (@kyledcheney) October 28, 2019

Hill (D) has denied those allegations, but acknowledged October 23 that she engaged in an "inappropriate" relationship with a female member of her campaign staff.
House rules prohibit members from engaging in intimate relationships with congressional staffers. There is no such rule covering campaign workers.
In a letter to constituents obtained by the Los Angeles Times, Hill again denied the reports of an affair with congressional aide Graham Kelly. She did, however, state that she had a consensual relationship with a woman on her campaign staff.
Hill is in the midst of a contentious divorce from her husband, Kenny Heslep.
Hill contends the allegations that she's involved with Kelly, supplemented by at least one photograph in which Hill is naked with a woman, were an effort by political operatives and her estranged husband to derail her hopes for a second term. The conservative website http://www.RedState.com published some photos of Hill with the unidentified woman and text messages.
Hill became the first openly bisexual person from the Golden State to be elected to the House of Representatives in November 2018, when she narrowly defeated incumbent Republican Congressman Steve Knight. The Southern California district includes Palmdale, Simi Valley, and Santa Clarita.
On Monday morning, Equality California Executive Director Rick Zbur issued a statement thanking Hill for her service and hitting back against the treatment she endured in the days leading up to her resignation.
"Since January, Katie Hill has served the LGBTQ community and the people of California's 25th District with honor and integrity," Zbur said. "She fought for us every day. Her treatment by the cabal of right-wing media and a revengeful husband was abusive and unconscionable. The double standard that women — and LGBTQ women in particular — face in politics and the workplace is a sad stain on this nation. America needs leaders like Katie. She always had our backs — we and thousands of her grateful constituents still have hers."
The House Committee on Ethics issued a statement October 23, saying it had become "aware of public allegations that Representative Katie Hill may have engaged in a sexual relationship with an individual on her congressional staff ..."
The statement noted that such a relationship would be in violation of U.S. House Rule XXIII, Clause 18(a) under the House Code of Official Conduct and that the committee had begun an investigation into the allegations.
Clause 18(a) states that a member of Congress "may not engage in a sexual relationship with any employee of the House who works under the supervision of the Member ... or who is an employee of a committee on which the Member ..."
A spokesperson for the ethics committee said it does not comment on its investigations.
According to the Washington Post and other outlets, the revelations about Hill's personal relationships first emerged on RedState.
RedState's first story appeared October 18, noting that Hill is vice chair of the House Committee on Oversight and Reform, one of the key committees looking into whether President Donald Trump has committed acts worthy of having him removed from office.
In "that spirit," said the article, RedState was reporting that it had obtained photographs and text messages showing that Hill "was involved in a long-term sexual relationship with a female campaign staffer" and that the staffer, Hill, and Heslep had developed a "throuple" relationship. The campaign staffer was not identified.
The website published three photos of Hill. In one of those photos, Hill is shown naked, brushing the hair of a fully clothed woman sitting between her knees. The RedState article alleges that text messages indicate Hill broke off the relationship with the female staffer and her husband, saying she wanted to be alone and focus on her work. But RedState has Heslep saying he heard Hill had started a new sexual relationship with Kelly. RedState said Heslep filed for divorce after learning about the male congressional staffer.
The RedState article says that Hill's extramarital relationships pose national security risks, given that Hill serves on both the oversight and armed services committees.
Equality California Executive Director Rick Zbur had told the Bay Area Reporter Tuesday afternoon that he personally felt the RedState article was "pretty typical of right-wing sources" and an "incredible invasion of privacy" of the congresswoman.
"We are not going to be ... it doesn't deserve the dignity of even a comment," said Zbur, whose LGBT advocacy organization had fought hard to elect Hill last November.
EQCA's political action committee has already endorsed Hill in her bid for a second term next November. Asked what impact the scandal may have on her campaign, Zbur demurred from directly answering the question.
"I think that Congresswoman Hill is doing an incredible job for her district," said Zbur. "We always knew this was going to be ... all seven of the districts we helped flip last year were going to be significantly competitive and we are going to gear up as we did last time to do everything we can to protect her seat."
California political watcher Scott Lay on Thursday moved Hill's district from "leans Democratic" to "toss-up" based on the allegations.
"Traditionally, this would have just been a footnote, but House Democrats pushed last year for rules changes prohibiting relationships between members and staff and [as] part of the accusations against Duncan Hunter (R-Alpine), they couldn't ignore it," Lay wrote in his Nooner report.
"In short, the situation has moved beyond a nasty divorce and a naked picture and into the official domain of an alleged relationship in violation of House Rules," he added. "None of us know what will happen, but it would be dishonest for me to say that there is no impact on next year's race in the district."
Gay Southern California resident Clark Williams tweeted Thursday that he was disappointed in Hill.
I understand that elected officials are people, too, and have complicated private lives. But, as someone who gave $ and took valuable time away from his family to volunteer for @RepKatieHill, I'm rather disappointed in her reckless decision making.— Clark Williams (@clarkwilliams1) October 24, 2019
By Thursday afternoon, the British tabloid the Daily Mail had published an additional photo it identifies as Hill, naked and holding a bong. The paper said meta data from its photo indicates it was taken in September 2017, before recreational marijuana use was legalized in California. The tabloid points out a tattoo in her groin area that it says is a "Nazi era iron cross." The paper does not indicate where the photo was taken, how it was obtained, or how it was authenticated.
Hill initially denied the relationships with the congressional aide and campaign staffer when the House Committee on Ethics announced it was investigating her.
But in a letter to her constituents late Wednesday, Hill acknowledged the relationship with her female campaign aide, saying it began during the "final tumultuous years of my abusive marriage."
"I know that even a consensual relationship with a subordinate is inappropriate, but I still allowed it to happen despite my better judgment. For that I apologize," wrote Hill.
But Hill denied having an inappropriate relationship with Kelly calling the allegations "absolutely false."
Hill is not the first openly LGBT member of Congress to be subjected to a House Ethics investigation of allegations related to an inappropriate relationship. Previous investigations have been conducted on gay former Massachusetts Congressmen Gerry Studds (D) and Barney Frank (D). The House censured Studds for his relationship with a 17-year-old congressional page and reprimanded Frank for an "attempt to use [his] political influence" to help a man with whom he had a relationship.
Calls to Hill's office Thursday were being answered by voicemail. Many congressional offices were closed at least temporarily Thursday for services memorializing House Oversight Chairman Elijah Cummings, who died last week at the age of 68.
Matthew S. Bajko contributed reporting.
Updated, 10/28/19: This article has been updated since 10/27 with additional developments and comments.
Comments on Facebook