Editorial, Part 2: B.A.R. ballot measure endorsements
Wednesday Oct 23, 2019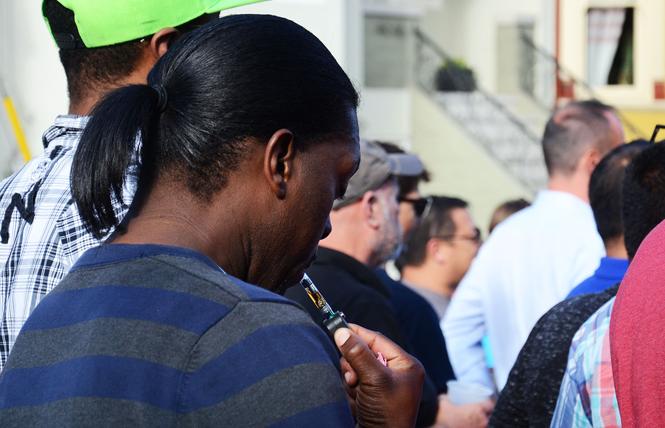 Here are the Bay Area Reporter's recommendations for Propositions C and F on the November 5 ballot.

Proposition C: Vapor Products. NO. Now that Juul Labs Inc. has pulled its millions of dollars from the Yes on C campaign, the prospects are good that it will be defeated. It should. The San Francisco Board of Supervisors passed an ordinance that suspends the sale of electronic cigarettes until they receive U.S. Food and Drug Administration authorization and adopts new regulations on the sale, manufacture, distribution, and advertising of e-cigarettes in the city. In response, opponents of the law (i.e., San Francisco-based Juul, a leader in the e-cigarette industry) gathered enough signatures to place this initiative ordinance on the November ballot. The problem is that the proposal effectively allows Juul to set public health policy for the city. No thanks.

"Juul is directly writing legislation they want. The ballot measure is a bad idea," gay District 8 Supervisor Rafael Mandelman told us in an editorial board meeting.

Even before Juul pulled out of the campaign at the beginning of the month, health risks associated with e-cigarette use attracted news coverage. As of last week, the Centers for Disease Control and Prevention estimated that 33 people have died from vaping-related lung illnesses. Young people, who are targets of Juul's advertising, have no idea that consuming one standard cartridge equals a pack of tobacco cigarettes. Although companies state that e-cigarettes are safe, there is no scientific evidence to support this view. Long-term data showing that vaping is a "healthier alternative" than cigarette smoking does not exist. If you don't think tobacco companies are latching on to e-cigarettes as a way to stabilize their customer base, think again. Altria Group (formerly Philip Morris Companies) acquired a 35% stake in Juul Labs for $12.8 billion last December.

Prop C is a shill for youth vaping and part of a national campaign to overturn local communities' efforts to stop it. E-cigarette companies target kids with enticing candy-flavored products. Last year, city residents overwhelmingly voted to ban flavored tobacco. Vote No on C.

Proposition F: Campaign Contributions and Campaign Advertisements. NO. While it's a good idea to make campaign contributions more transparent, the problem with this ballot measure is that election regulation should be done by legislators, not by voters. If this measure passes, future changes can only be approved by voters (very difficult if not almost impossible) unlike legislation, which a simple majority of the Board of Supervisors can rewrite or abandon at any time.

Currently, local law restricts certain campaign contributions to local elected officials and candidates, including from corporations, city contractors, or anyone seeking such a contract. Prop F would restrict two types of campaign contributions: those to elected officials or candidates from limited liability corporations; and those to the members of the Board of Supervisors, mayor, city attorney, and candidates for office and their campaigns from persons with certain financial interests in city land-use approval matters (read: developers). Currently, contributions related to land-use approvals are not allowed for persons with an ownership interest of $5 million or more in a project; a director or principal officer of an entity with an ownership interest of $5 million or more in a project; and a developer of a project with an estimated construction cost of $5 million or more.

While Prop F aims to limit pay-to-play campaign contributions, it narrowly targets one group rather than expanding to all individuals or entities making a political contribution. We need transparency for all contributors to candidates and ballot measures. If the Board of Supervisors is serious about comprehensive campaign finance reform, they should create legislation like they did earlier this year with two ordinances that changed the city's public financing program — not throw it to the voters if they can't pass it. Vote No on Prop F.
Comments on Facebook