Editorial, Part 1: B.A.R. ballot measure endorsements
Wednesday Oct 23, 2019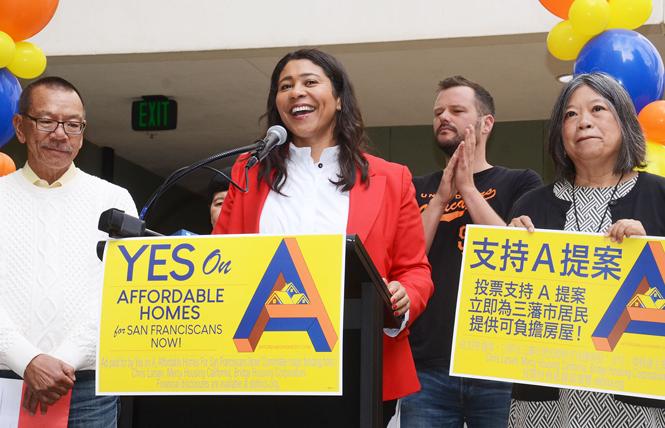 Here are the Bay Area Reporter's recommendations for Propositions A, B, D, and E on the November 5 ballot.
Proposition A: Affordable Housing Bond. YES. San Francisco Mayor London Breed and the Board of Supervisors support this $600 million affordable housing bond. They know that the city desperately needs affordable housing for families, teachers, and seniors who are struggling to remain in the city. If approved, the city would issue $600 million in general obligation bonds.
Gay District 8 Supervisor Rafael Mandelman told us during a recent editorial board meeting that this is the biggest housing bond since 2006 and there is "a little bit for everybody." He hopes to persuade LGBTs to support this measure. Prop A prioritizes $150 million for senior housing, specifically developments that are welcoming of LGBTs. The bond also seeks to finance projects in districts that lack affordable housing units and have lost a significant number of rent-controlled units that were taken off the market because of Ellis Act evictions or owner move-ins. District 8 would qualify for these LGBT senior housing projects if Prop A passes.
According to the voter guide, here's how the bond is structured: $220 million to acquire, build, and rehabilitate rental housing for extremely low- and low-income individuals and families; $150 million to repair and rebuild public housing developments; $150 million to acquire and construct housing for seniors; $60 million to acquire and rehabilitate affordable rental housing to prevent the loss of such housing and to assist middle-income city residents and workers to secure permanent housing; and $20 million to support affordable housing for educators and employees of the San Francisco Unified School District and City College of San Francisco.
Tomiquia Moss, a queer woman who until recently was CEO of Hamilton Families, which works on homelessness prevention and rapid re-housing, told us that Prop A is critical for the city's future. "There's a real strong need for consistent resources for housing," she told us in a meeting where she joined the mayor to discuss Prop A.
Breed said that the city has "to start getting creative with housing."
"We have to build more housing, period," she added.
Mandelman pointed out the bond includes money for small sites, including in District 8.
Prop A is supported by both the Alice B. Toklas and Harvey Milk LGBTQ Democratic clubs, as well as the Q Foundation and even the League of Pissed Off Voters. In short, it has broad support from every neighborhood and is a testament to the dire state of housing in the city. Prop A requires two-thirds vote for approval. Vote Yes on A.
Proposition B: Department of Disability and Aging Services. YES. This would amend the City Charter to change the name of the Department of Aging and Adult Services to the Department of Disability and Aging Services (and change the name of the respective commission as well). In addition to services and resources for seniors, the department has long been the home for services and resources for people living with disability, but most people don't realize that. According to the 2016 census, there are 94,000 San Franciscans living with a disability, or 1 in 10 residents.
The Board of Supervisors voted to place this on the ballot after concluding that the current name does not effectively communicate the disability aspect of the department's work for the community. Changing the department's name will more accurately reflect this role and guide community members to reach out to the agency for support. There was no argument against Prop B submitted to the Department of Elections. Vote Yes on B.
Proposition D: Traffic Congestion Mitigation Tax. YES. If approved, Prop D would, beginning January 1, impose a business tax on commercial ride-share companies for fares generated by rides that start in San Francisco as follows: 1.5% on a shared-ride fare, and 3.25% on a private-ride fare. (The same business tax would apply to driverless-vehicle companies.) It is supported by the mayor and the Board of Supervisors because the funds would be used for the city's public transportation system, repair local streets, and improve safety. According to the voter guide, it will provide more Muni buses and trains, hire more Muni drivers, and improve bike and pedestrian safety.
Mandelman pointed out that the city is precluded from regulating ride-share companies "in any meaningful way," yet the congestion generated by so many Uber and Lyft vehicles is "insane," he added.
It's important to note that Uber and Lyft both support Prop D, which is expected to generate an estimated $30-$35 million annually. Prop D requires a two-thirds vote to pass. Vote Yes on D.
Proposition E: Affordable Housing and Educator Housing. YES. This measure would amend the Planning Code to allow 100% affordable housing projects and educator housing projects in public zoning districts and to expedite approval of these projects. Currently, the code allows government buildings, public structures, city plazas, parks, and other similar uses but prohibits residential buildings in public zoning districts. Prop E would change that, and allow 100% affordable housing projects and educator housing projects in residential and public zoning districts. Notably, property used for parks would be exempt and the lots would have to be at least 10,000 square feet. Potential housing projects could not demolish or replace existing residential housing and would allow a limited amount of mixed or commercial use that supports affordable housing. Prop E would require a review of proposed 100% affordable and educator housing projects within 90 to 180 days, depending on the size of the project. Prop E is supported by the mayor and the Board of Supervisors.
Mandelman told us Prop E would streamline housing projects and create some incentives for building affordable housing and teacher housing on SF school district property. Vote Yes on E.
Comments on Facebook