Horizons meets legacy gift goal ahead of 40th birthday
Wednesday Oct 16, 2019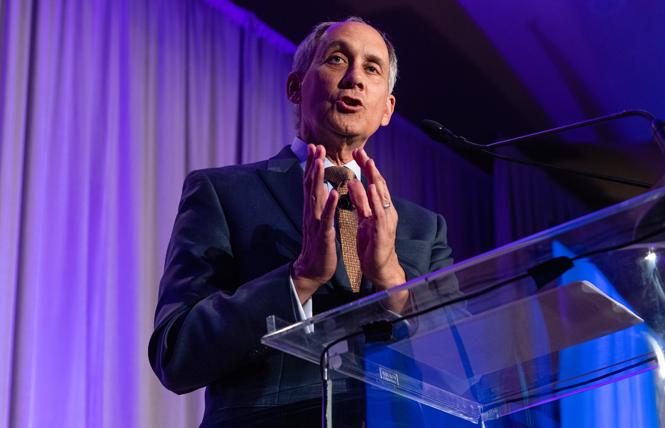 Horizons Foundation, an organization that supports LGBT nonprofits and organizations with LGBT-focused programs, announced that it has achieved its goal of getting $100 million in legacy gift commitments ahead of its 2020 goal.
"The opportunity for legacy donations in our community is truly staggering," Roger Doughty, a gay man who is the president of Horizons Foundation, said in a phone interview with the Bay Area Reporter.
Doughty said that after some research Horizons decided to go with legacy and estate gifts as the centerpiece of a project to raise money for LGBT nonprofits because of the large monetary potential those gifts have in these communities.
Horizons kicked off its Now and Forever campaign to secure the commitments three years ago. The organization wanted to achieve the $100 million goal by 2020, its 40th anniversary.
Doughty was careful to point out that Horizons isn't "sitting on $100 million."
"These gifts will come to Horizons in the form of cash, real property, insurance policies, securities, IRAs and other retirement assets, and occasionally other types of assets," Doughty wrote in an email to the B.A.R. "All are typically left through donors' wills or trusts. The $103 million number announced includes future legacy (i.e. after-death) gifts."
Horizons was able to secure these gifts through its outreach in the financial services community, according to Deb Stallings, a lesbian who is the vice president of development for the foundation.
"A big part was getting out the word that Horizons offers this," Stallings said in a phone interview with the B.A.R., adding that estate planners who are in-the-know would tell clients who wanted to be charitable that "If you check with the folks at Horizons, they can help you with that plan."
Some of the legacy commitments were to specific LGBT nonprofits to be distributed through Horizons, and others are for Horizons itself to figure out how to distribute. Stallings said that the latter makes more sense because estate plans are often written decades in advance of someone's death.
"People in a relationship with Horizons can trust that Horizons will know what the needs are in the community at that time," she said.
Doughty said that a third way was to make a gift to Horizons' LGBTQ Community Endowment Fund, which last fall gave grants to 45 LGBT organizations in the Bay Area to the tune of $409,532.
Organizations that received grants from Horizons last year included St. James Infirmary, the LGBT Asylum Project, the San Francisco Transgender Film Festival and Trans March, the Sisters of Perpetual Indulgence, the San Francisco LGBT Community Center, and the National Center for Lesbian Rights.
Dani Siragusa, the director of development of the LGBT center, said it was "grateful" for the grant that it received from Horizons.
"Horizons Foundation provided new resources to improve our fundraising and development work," said Siragusa. "While many grants go directly to our lifesaving programs and services, this type of funding helps build longer-term organizational stability, and we're grateful for the Foundation's willingness to support this type of critical work."
Doughty said that the organization will announce "a slate of special 40th anniversary events" early next year to celebrate the foundation's birthday.
"There comes a time in everyone's life when they think 'what's the footprint we're going to leave here,'" Stallings said. "Legacies of pride honor those who've lived them."
Comments on Facebook