Gov signs Wiener's cannabis bill
Wednesday Oct 16, 2019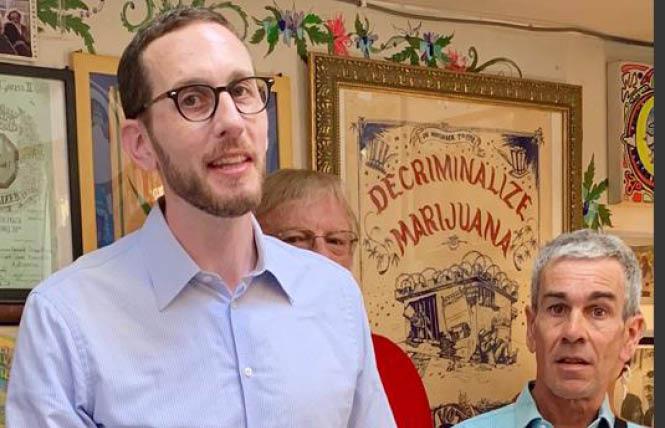 Cannabis activists were elated after Governor Gavin Newsom on Saturday signed Senate Bill 34, the Dennis Peron and Brownie Mary Act, which exempts compassionate cannabis programs from state cannabis taxes when they provide free medical marijuana to people living with serious health conditions.
The bill was introduced by gay state Senator Scott Wiener (D-San Francisco), a longtime cannabis advocate. Former Governor Jerry Brown vetoed a similar bill last year.
Wiener said he was pleased that Newsom signed the legislation.
"For decades, compassion programs have played a critical role in helping low-income people with serious medical conditions access their medicine," he said in a statement. "Access to medical cannabis has allowed so many people living with HIV, cancer, PTSD, and other health conditions to survive and thrive."
He added, "Taxing programs that give away free medical cannabis, and thus have no revenue, makes no sense and has caused far too many of these programs to close. SB 34 will allow compassionate care programs to survive and serve those in need. Many people will be healthier as a result of today's action by the governor."
Joe Airone, founder and director of San Francisco's Sweetleaf Collective, which has provided low-income patients free cannabis for the past 20 years, wrote in an email message to supporters, "Today is an incredible day ... and begins a new era."
Airone, an ally, said that after two years of lobbying, compassionate cannabis is now recognized by the state.
According to Airone, thousands of disabled Californians will regain access to this life saving medicine.
"The people who have died during this time are gone but not forgotten. They passed because they did not have access to cannabis but this tragedy has ended. The biggest travesty caused by Proposition 64 has been rectified," he wrote, referring to the state ballot measure that voters passed in 2016.
SaraMitra Payan, a queer cannabis activist who runs the compassion program for the Apothecarium, wrote on Facebook, "So proud SB 34 has been signed and our patients will again have access to their medicine through compassion programs. Now let's create programs that inspire the rest of the country to do the same ... Can't wait to let my patients know we finally got a win."
The governor also signed several other cannabis-related bills, including one that will let legal businesses take advantage of more tax deductions. He vetoed another measure that would have allowed some patients to use medical cannabis in health care facilities.
In 2016, Newsom campaigned for Prop 64. It went into effect in January 2018, providing for the sale of adult use, or recreational, cannabis by licensed dispensaries.
Comments on Facebook