Lt. gov. supports LGBTs at EQCA event
Wednesday Sep 11, 2019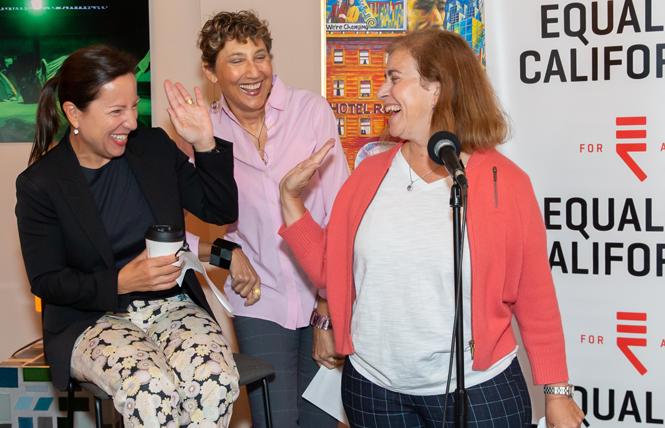 Pledging to fight "shoulder to shoulder" with the LGBT community, California Lieutenant Governor Eleni Kounalakis told a group of mostly women that issues such as immigration, climate change, and trade are key to the state's success as the world's fifth largest economy.
"A lot of California jobs are dependent on trade," said Kounalakis, who was the featured speaker at Equality California's first Womxn Brunch that was held Saturday, September 7, at Manny's in San Francisco's Mission district.
She went on to criticize President Donald Trump's "chaotic" trade policies as she said how important it is that the U.S. return to the Paris climate agreement that Trump withdrew from in 2017. Kounalakis added that California remains committed to the goals of the Paris agreement. Last year, then-Governor Jerry Brown signed an executive order for statewide carbon neutrality by 2045.
On LGBT-specific legislation, Kounalakis discussed gay state Senator Scott Wiener's (D-San Francisco) Senate Bill 145. Last month, the Assembly Appropriations Committee blocked the bill from consideration this year. It had aimed to ensure LGBT adolescents are treated the same as their heterosexual peers when faced with the possibility of being listed on the state's sex offender registry.
Kounalakis said the bill is important to the community, and noted that the opponent of a lesbian state Senate candidate has misrepresented the proposal. As the Bay Area Reporter previously noted, Democratic Modesto City Councilman Mani Grewal, a straight man who is running against Assemblywoman Susan Talamantes Eggman (D-Stockton) for the 5th Senate District seat, has falsely claimed SB 145 would allow adults who molest children not to register as sex offenders. Grewal suggested that because Eggman supports the bill, she is protecting sex offenders.
SB 145 would have granted judges discretion to decide if a person should have to register as a sex offender if that person is within 10 years of age of a consensual sexual partner between the age of 14 and 17 and engages in oral or anal intercourse with the younger person. Under current law, the person would automatically be added to the state's sex offender registry.
In cases where the consensual sex involved vaginal intercourse between an adolescent heterosexual couple, judges already have the discretion to decide if listing on the sex offender registry is warranted.
Kounalakis said the legislation is important because same-sex young people should be treated the same as their heterosexual counterparts.
Wiener, who was not at the event, previously told the B.A.R. that he is committed to carrying the legislation next year.
Kounalakis said that being an ally to the LGBT community "is something I hold very dear." She also talked about the importance of electing women to public office. Kounalakis is the first woman elected as the state's lieutenant governor. (Mona Pasquil served as acting lieutenant governor for five months beginning in November 2009 after then-lieutenant governor John Garamendi was elected to Congress.)
Over 100 people attended the brunch, co-chair and EQCA board member Leslie Katz told the B.A.R.
"We more than met our goal," she said.
Katz, a lesbian and former San Francisco supervisor, told the audience that Kounalakis served with her on the San Francisco Port Commission.
"As lieutenant governor, she is for equality for all of us," Katz said in her introduction of Kounalakis, adding that as ambassador to Hungary under President Barack Obama, she marched in a Pride celebration there, the first in that position to do so.
Valerie Ploumpis, EQCA's national policy director in Washington, D.C., told the B.A.R. that the brunch event was the statewide LGBT organization's inaugural womxn's event; more are planned for Palm Springs and Los Angeles.
"The goal is to introduce EQCA to a wider audience, to uplift women running for office, and to explain our mission," Ploumpis said.
Carolyn Wysinger, a member of the Lambda Democratic Club of Contra Costa County, said she enjoyed the event.
"It's always great to be around folks who are engaged and people willing to do that work," she said.
Adetunji Olude, who is on the board of the National Center for Lesbian Rights, found the brunch uplifting.
"It's wonderful to be in a place with so many queer women and allies and focus on the pressing issues of the day," she said.
Comments on Facebook