Political Notebook: Out CA lawmakers becoming parents
Wednesday Sep 4, 2019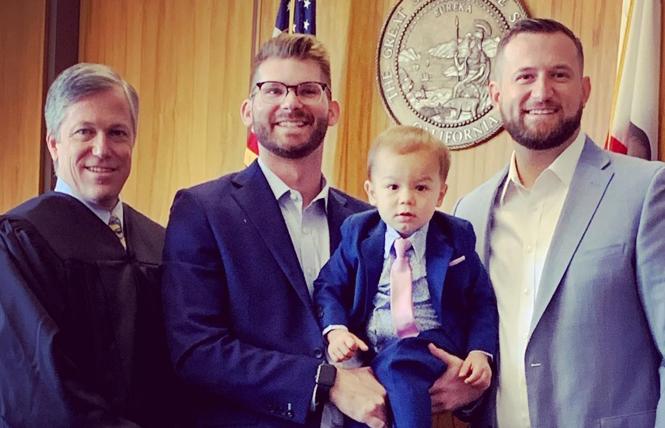 The proverbial stork has visited at least three out lawmakers this year in California. Two female politicians are expecting children with their spouses, while a male leader adopted a son out of foster care with his partner.

Gay Sacramento City Councilman Steve Hansen announced August 15 that he and Michael McNulty, his partner of five years, had legally adopted their son, Henry Benjamin Hansen McNulty. He posted photos that day on his Facebook page of the family signing the required paperwork at the state's Nevada County Superior Court north of the capital in order to finalize the adoption.

"He came to us just 14 months ago, but has been and will be in our hearts forever. We are filled with joy, love, & peace," wrote Hansen, the first out LGBT city council member in Sacramento.

A day later lesbian Assemblywoman Sabrina Cervantes (D-Corona) revealed that she and her wife, Courtney Downs, are expecting triplets in a pair of Twitter posts. While not the first out state legislator to be a parent, Cervantes is the first member of the Legislative LGBTQ Caucus to be an expectant mother while in office.

"Thrilled to announce we will be multiplying our joy by three. #expecting," wrote Cervantes in one August 16 tweet.

In another, she wrote, "Blessed to be growing our family in #AD60! We look forward to joining all who balance parenthood and career! #MamasToBeOfThree #CALeg."



Blessed to be growing our family in #AD60! We look forward to joining all who balance parenthood and career! #MamasToBeOfThree #CALeg pic.twitter.com/QOH3Z8u180— Sabrina Cervantes (@AsmCervantes) August 16, 2019
Cervantes, who is pregnant and has a due date in mid-January, could not be reached for an interview by press time Wednesday. But in an emailed reply to the Bay Area Reporter she wrote, "My wife and I always hoped to become parents someday. Learning that I am expecting triplets was exhilarating, and we couldn't be more excited to be starting our family. We are truly blessed."
And on June 26, in the middle of Pride week, lesbian BART board director Rebecca Saltzman and her wife, Caitlin Stone, announced that Stone was pregnant with a baby girl and due in mid-November. Last week, they moved from Oakland to a smaller home in El Cerrito within the boundaries of Saltzman's District 3 seat on the BART board as they await the birth of their daughter.
"We couldn't be much more excited about expanding our family!" wrote Saltzman in a Facebook post that included a sonogram image of the couple's child.
LGBT politicians having babies while in office is still relatively new in the Golden State, as those who are parents tend to enter into elective politics when their children are long out of diapers. When former gay San Francisco supervisor Bevan Dufty announced he would become a dad in 2006 amid his re-election campaign, it was front-page news.
Dufty, whose son, Sid Goldfader-Dufty, is now in eighth grade, currently serves alongside Saltzman as president of the BART board. Being a new parent and at the same time an elected official is "all about balance," he said.
"The best thing is your baby doesn't care who liked what you did or hated what you did that day. They want you to focus on them," said Dufty. "The best thing in the world for me as a new parent was being able to shake off anything bad happening in my political day. It put things in perspective."
It was Dufty's becoming a father, and prominently featuring his child in his unsuccessful campaign to be mayor of San Francisco in 2011, that convinced Hansen he could both be a father and serve in elected office.
"It was so inspiring to see him with his child in public representing our families. It still lifts my spirit," Hansen told the B.A.R. in his first media interview about becoming a dad. "It reminds me we are part of a group of families that are special. Bevan paved the way, in my mind, to show that you could be a parent and an elected official."
Saltzman told the B.A.R. she has yet to conference with Dufty about parenting tips but has received advice from other out elected colleagues in the East Bay who are parents about how to juggle raising a child and serving as a public official. Up for re-election in 2020, she has yet to think about her campaign plans next year.
"I have not decided definitely and will assess that in several months after I see how things are going with balancing not just being a mom and working but also being on the BART board," she said. "With everything that happens in life it is always a balance."
She is planning to take some time off when the couple's daughter arrives, but noted the timing happens to coincide with a fairly light meeting schedule for the BART board due to the holiday season between Thanksgiving and New Year's.
"The reality is it is hard and there is no one trick to how to do it," said Saltzman, who has been with Stone nearly 17 years. "I am really lucky to have my wife Caitlin; she is doing the hardest part of all of this. If I was the pregnant one, it would be a lot more challenging."
Finding a home they could afford that was within Saltzman's BART district was a challenge. Despite the women both having well-paying jobs, they were unable to find anything in their price range in Oakland and lucked out with finding their place in El Cerrito.
"We have it a lot easier than most Bay Area residents and we still couldn't afford to live in Oakland," said Saltzman.
The couple had discussed becoming parents for years but delayed doing so for various reasons. One came in 2016 when Saltzman faced opposition in running for re-election that year, and the death of Stone's father also led the women to postpone having a child.
"There are no accidents with us, so it is very planned," Saltzman said of her wife's pregnancy, which was also made possible due to the support of her mother-in-law.
"None of this would be possible without Caitlin's mom, who lives in North Berkeley — part of why we moved to El Cerrito to be nearby," said Saltzman. "She has been helping a lot with planning, the move, going with Caitlin to appointments, and she will be helping a lot once the baby is born. We definitely couldn't do this alone, without her and the support of many friends."
In 2017, Hansen and McNulty decided they wanted to become fathers and turned to the agency Sierra Forever Families to help guide them through the process. They made the decision to become foster parents with a desire to adopt rather than have a biological child of their own.
"Especially for foster children, there are so many kids in need. Rather than going through an artificial insemination or surrogacy route, we were able to do a beautiful thing and help a child in need," said Hansen, who in June launched his 2020 re-election bid. "We created a family of choice, which LGBT people do anyway."
They became a certified and licensed foster home and in the spring of 2018 were first introduced to Henry. He was then placed with the couple June 11 last year when he was just 4 and half months old.
"It was an opportunity to take in children who need a placement and adopt them if it works out that way," said Hansen. "There has been nothing so moving in my life as to make our son Henry legally ours."
Caring for their son has turned the working parents into "jugglers," said Hansen.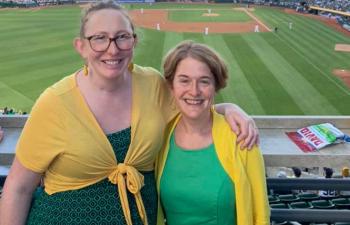 "The most important thing we do in our family is be home together at night," he said. "I had a whole life of being single and being without children. I really love spending time with our son and with our family. There is nothing I look more forward to than spending time with them."

He's hopeful that his constituents will adjust to the fact that their councilman has added duties at home and may not be as available as he used to be to attend events at night or on weekends.

"I do think it will take a while for my constituents who were used to having a workaholic LGBT elected official who will now have to make space for their family," said Hansen. "Becoming a father has truly transformed not only how I see my opportunities to create a family but how I see myself because now it is not just about me. It is about me and what I can do for him and to make a life for our whole family."

During the foster care and adoption process, Hansen and McNulty could not publicly talk about Henry or post photos of him, as they needed to abide by strict rules meant to protect the privacy of foster children. Even now that Henry is legally theirs, Hansen has some reservations about how much he should share via social media about his son in light of the fact he is a public official.

"As an elected official in the time of Trump, a lot of people want to attack our family. I honestly had no desire, even though I had tremendous joy and love in my heart that we could have Henry join our family, I had no desire to deal with trolls," said Hansen.

The reaction to his news has so far been overwhelmingly positive.

"Being a public official comes with real liabilities. People go to the thing you care about most and try to attack it. I have zero interest in putting my family through what I go through as a public official," said Hansen.

At the end of the day, Hansen said he is like any other parent raising an infant child.

"I change diapers, I clean up poop," he said. "As much as people want to paint us as other, we have the very same experience even though we are creating a family in our own way. We do get a little frazzled. We get sleep deprived. We are experiencing things an entire generation of LGBT people was told they couldn't do, and I think it is so beautiful."

Saltzman also said that reaction has been "very positive" since she announced her news. "Everybody has congratulated me."

Political Notes, the notebook's online companion, will return Monday, September 16.

Keep abreast of the latest LGBT political news by following the Political Notebook on Twitter @ http://twitter.com/politicalnotes .

Got a tip on LGBT politics? Call Matthew S. Bajko at (415) 829-8836 or e-mail m.bajko@ebar.com.

Updated, 9/5/19: This article was updated to state that Rebecca Saltzman and her wife moved to a smaller home in El Cerrito.
Comments on Facebook