Online Extra: Political Notes: Local Dems back gay San Diego mayoral candidate Gloria
Friday Aug 23, 2019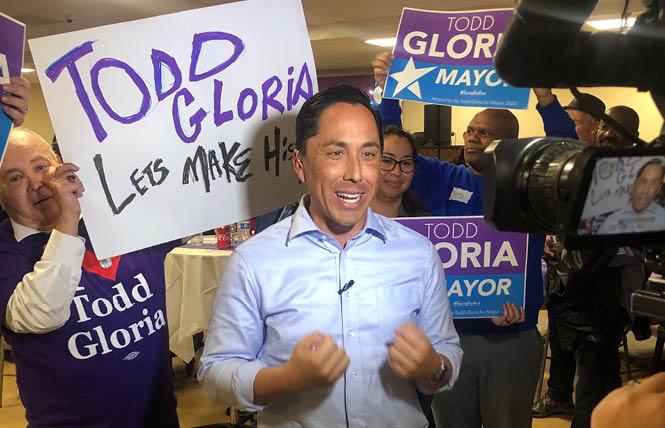 In a major coup for his mayoral bid, gay San Diego Assemblyman Todd Gloria has secured the endorsement of the San Diego Democratic Party.
The well-known lawmaker, who served as his city's mayor five years ago on a brief interim basis, received 71% of the vote when the local party's central committee met Tuesday, August 20. His opponent, City Councilwoman Barbara Bry, garnered 14%.
It is a sure sign that Gloria is the one to beat in the city's mayoral race next year. Should he be elected to a full four-year term, Gloria would become the first LGBT person elected mayor of one of the Golden State's largest cities.
And he would be one of only a handful of out mayors overseeing major metropolitan areas in the U.S. With 1.4 million residents, San Diego is the eighth-largest city in the country and the second largest in the state.
"I did it for eight months. I'd like the opportunity to do it for eight years!" wrote Gloria, the current vice chair of the Legislative LGBTQ Caucus, on Twitter the day after the endorsement.
Thank you @sandiegodems for endorsing me to be the next Mayor of San Diego! Together, I believe we can go beyond being "America's Finest City" and raise the bar to build a truly great city that works #ForAllofUs. #BelieveinSD pic.twitter.com/KJp6ou7jBr— Todd Gloria (@ToddGloria) August 21, 2019
Gloria, 41, is giving up his Assembly seat in order to run for mayor. San Diego will hold a nonpartisan mayoral primary election March 3, with the top two vote-getters advancing to the November 3 general election.
A third-generation San Diegan, Gloria is the first LGBT person of Native American and Filipino ancestry to serve in the state Legislature. Even before being elected to the state Assembly in 2016, Gloria had long been talked about as a potential mayoral candidate one day.
San Diego's current mayor, Republican Kevin Faulconer, is termed out next year and it is expected that a Democrat will succeed him. To date, no Republican has officially declared himself or herself a mayoral candidate. The only other person currently running is community activist Tasha Williamson.
Gloria briefly served as San Diego's interim mayor in late 2013 through early 2014 due to the resignation of former mayor Bob Filner amid sexual harassment accusations. The former city councilman then was elected to the 78th Assembly District seat, succeeding Toni Atkins, a lesbian former city councilwoman who also had served as interim mayor of San Diego.
Now President pro Tempore of the state Senate, Atkins is backing Gloria in the mayoral race, as is Equality California, the statewide LGBT advocacy group. Both Governor Gavin Newsom, a former mayor of San Francisco, and his predecessor Jerry Brown, who was mayor of Oakland, have endorsed Gloria.
Tweeting while at the local party's endorsement vote Atkins wrote, "I wholeheartedly support his campaign for mayor and am happy that the San Diego County Democratic Party Central Committee has officially endorsed him, too!"
.@ToddGloria is an effective leader with the experience and understanding of San Diego that we need leading our city. I wholeheartedly support his campaign for mayor and am happy that the San Diego County Democratic Party Central Committee has officially endorsed him, too! pic.twitter.com/JhU1DlnSxC— Toni G. Atkins (@toniatkins) August 21, 2019
A whole host of legislative and local elected leaders are supporting Gloria, so his securing the overwhelming backing of the local Democratic Party is hardly a surprise. It is another signal that he is the clear frontrunner in the race.
Local news website Voice of San Diego wrote that the party's endorsement of Gloria means he "has taken control" of the mayoral contest. And Gloria's campaign, which already raised more than $656,000 during the first half of 2019, used the party's backing for a fundraising pitch the day after.
"After almost six years of Republican control of the mayor's office, it's time for Democrats to rally behind Todd as the clear choice to send bold, progressive leadership to City Hall," read the emailed solicitation to Gloria's supporters. "On issues ranging from housing to transportation to climate change, this election is critical for securing San Diego's future."
Gay city commissioner Nicole Murray Ramirez, who has been a longtime backer of Gloria's political rise, told the Bay Area Reporter that all signs point to a Gloria victory. San Diego has gone from being a GOP bastion to now having more registered Democrats, he noted, and "is fast turning brown" due to its swelling Latino population.
"Our city is now a majority Democratic registration and all political pundits predict a Democrat mayor," wrote Ramirez, who pens a weekly column for Gay San Diego, in a texted reply.
The Political Notes column will return Monday, September 16.
Keep abreast of the latest LGBT political news by following the Political Notebook on Twitter @ http://twitter.com/politicalnotes .
Got a tip on LGBT politics? Call Matthew S. Bajko at (415) 829-8836 or e-mail m.bajko@ebar.com.
Comments on Facebook