8 LGBTs file suit against Google/YouTube
Wednesday Aug 14, 2019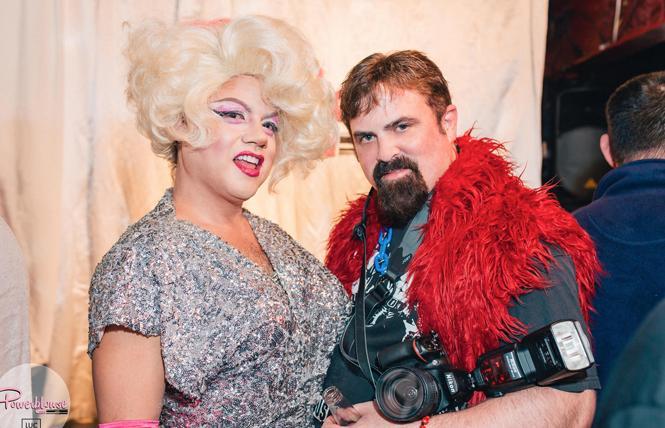 Eight LGBTQ+ content creators, including those behind the popular GlitterBombTV.com, on Wednesday filed a federal lawsuit against YouTube and its parent company, Google, alleging discrimination, fraud, and unfair and deceptive business practices.
The lawsuit, filed in U.S. District Court for the Northern District of California, also alleges unlawful restraint of speech and breach of consumer contract for the creators and the LGBTQ community. The plaintiffs are seeking class action status.
Celso Dulay and Chris Knight, a married couple in San Francisco, run GlitterBombTV.com. The website's GNews online news and information show for the LGBT community has been repeatedly flagged by YouTube for "shocking content," and the couple were stopped from boosting or monetizing their show on YouTube, which, they say, prevented them from reaching their target audience.
In June, the men launched Glitter Bomb TV as their own website, which will enable them to broadcast the show without fear of what they call censorship.
The other plaintiffs in the suit are: Bria Kam and Chrissy Chambers, proprietors of YouTube.com/BriaAndChrissy; Chase Ross, sole proprietor of YouTube.com/uppercaseChase1; Lindsay Amer, sole proprietor of YouTube.com/QueerKids.com; and Amp Somers, sole proprietor of YouTube.com/WattsTheSafeword.
Joining Celso and Knight in the suit is Cameron Stiehl, the co-host of GNews.
Knight and Dulay provided a recording of a phone call between themselves and Google representatives to discuss why their Google Ad Words (now called Google Ads) were repeatedly blocked. They asked a Google representative to specify what Google was referring to when they said that GNews was blocked from boosting due to "shocking content."
"Sir, I do see that the video has sexuality content about the gays and everything," was the reply, according to Dulay.
"That is your shocking content?" Dulay asked the Google rep.
"Yes, it comes under shocking content, sir," said the rep.
"It's been incredibly frustrating having YouTube prevent us from sharing the content from our show with more people," said Dulay. "We're also angry at Google/YouTube for their broad and blatant discrimination against us and the other members of the LGBTQ+ community. There is nothing shocking, inappropriate, or too adult about GNews, our weekly news show, or GBomb, our in-depth interviews with inspiring members of our community."
According to a news release from the plaintiffs, in sworn testimony to the U.S. Congress, Google/YouTube warrant that "everyone's voice" will be heard, subject only to viewpoint-neutral, content-based rules and filtering under community guidelines that "apply equally to all" for all members of the YouTube community, regardless of the users' particular viewpoint or identity. However, there have been numerous, publicly known incidents where members of the LGBTQ+ community have been treated differently than others.
The eight LGBTQ+ YouTube creators' content has been restricted, stigmatized, and demonetized or denied advertising because it has been deemed by Google/YouTube to be "shocking," "inappropriate," "offensive," and "sexually explicit," the release stated.
Knight said that their lawyer approached Google and YouTube's legal team weeks before the suit was filed, requesting an in-person meeting.
"However, Google/YouTube was not interested in talking to us about systemic problems and solutions. We have not yet had the opportunity for a sit-down with them," Knight said. "The leadership at Google/YouTube has repeatedly acknowledged there are problems with treating LGBTQ+ content differently. Since 2017, they've repeatedly promised to fix the issues. However, the problems not only persist, they have grown worse over time."
According to Dulay, the eight plaintiffs who have filed the suit are asserting claims based on discrimination, fraud, unfair and deceptive business practices, unlawful restraint of speech, and breach of consumer contract rights for themselves and all members of the LGBTQ+ community, who are a protected class in California where Google and its subsidiary, YouTube, are based. Peter Obstler of the law firm Browne George Ross LLP is representing them.
As alleged in the complaint, Obstler told the Bay Area Reporter that Google/YouTube is "arbitrarily, capriciously, and unfairly censoring, removing, suspending, restraining, suppressing and/or demonetizing the speech, video content, or channels of LGBTQ+ YouTubers solely because they are lesbian, gay, bisexual, transgender, or queer because they identify as such, because they address issues of interest to the LGBTQ+ community or because they use tag words related to the LGBTQ+ community in association with their content to make it easier for viewers to locate their content."
Obstler further alleged that Google/YouTube is "enforcing what defendants stated was a company policy of prohibiting gay users from advertising their content on YouTube because of the 'gay thing' and using that policy to stigmatize LGBTQ+ YouTubers and their content as shocking and sexually explicit solely because the users identify as gay or LGBTQ+."
"Many of the LGBTQ+ creators we talk to have simply given up on trying to fight the relentless censorship," said Dulay. "They feel helpless in the face of Google/YouTube's ceaseless attacks on their work."
Knight said the group's goal is to "drive systemic change."
"We want equality, both as creators of video content and as viewers of that content on the YouTube platform," Knight said. "We are victims of consistent and pervasive fraud and anti-LGBTQ+ discrimination."
Obstler said that the plaintiffs are challenging one of the world's largest conglomerates and a regulator of free speech "by invoking their right to petition the courts to enforce the anti-discrimination, free speech, and consumer fraud laws to require the defendants to honor their promises and legal obligations to LGBTQ+ YouTubers and YouTube consumers."
Knight said he and Dulay would consider staying on the platform if they could secure systemic change in the way Google/YouTube formulates and applies its standards, including age-appropriate restrictions and restrictions for sensitive viewers.
"With a level playing field, we could finally reach the audiences we target for GNews, GBomb, and other new shows that we plan to launch in the coming months," he said.
While the case is pending, Knight and Dulay are continuing to produce new shows for their Glitter Bomb TV website.
Representatives for Google/YouTube did not immediately return a message seeking comment.
Comments on Facebook