Online Extra: Washington state welcomes lesbian House speaker
Friday Aug 2, 2019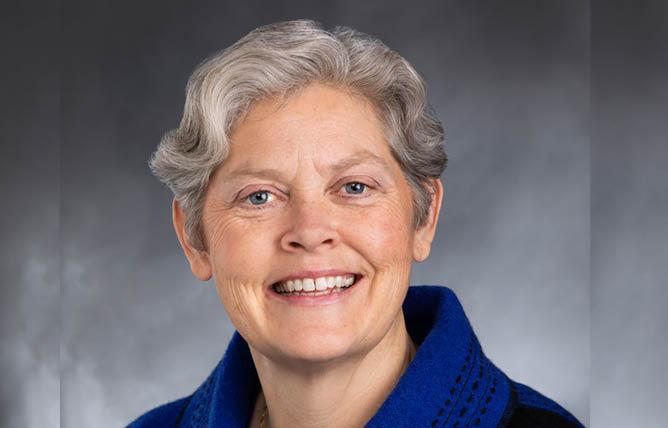 Representative Laurie Jinkins (D-Tacoma) will be sworn in in January as Washington state's first woman speaker of the House of Representatives and the first LGBTQ person in that position.
According to the Victory Institute, an arm of the LGBTQ Victory Fund that tracks firsts and numbers of out politicians in office, Jinkins will be one of three openly LGBTQ people currently serving as leader of a state legislative chamber, and the sixth in U.S. history to do so.
Jinkins, 55, was first elected in 2011 to her Tacoma-area House seat, becoming the first lesbian to serve in the state's Legislature. She is also the director of organizational initiatives at the Tacoma-Pierce County Health Department.
She was a sponsor of the 2018 Long Term Health-Care Act, which imposed a .58% payroll tax to establish a new benefit for Washingtonians who don't have anyone to care for them as they age. She also has a long-established voting record seeking equity in eviction reform.
The Speaker-designate spoke with the B.A.R. by phone, saying that her primary focus is going to be maintaining the stability of the majority.
"Washingtonians have what we have because Democrats have had the majority in the House for 20 years," she said.
Asked about the pressure that comes with being LGBTQ in such a visible position, Jinkins was thoughtful.
"I was the first out lesbian in the Legislature. With that came great opportunity and great responsibility," she said. "There were people for whom I represented an entire community. The thing that makes me excited to be the first woman and the first out lesbian to do this is that there are so many high-level positions in this state and this nation where people have never seen themselves and could never imagine being there. So if I can be that figure to someone, that would be all I would ever need."
Jinkins has been married to her wife, Laura Wulf, who works in the state attorney general's office, for six years and together for 30. They met in law school and have a 19-year-old son who is about to go off to college.
The B.A.R. pointed out to Jinkins that with her election to speaker, she will join Oregon House Speaker Tina Kotek (D-Portland) and California State Senate President Pro-tem Toni Atkins (D-San Diego) as lesbians leading state legislative chambers up and down the West Coast. Jinkins was modestly amused.
"I didn't think about that when I was running. But the same day I was elected, I got a congratulatory text from Kotek, and I realized it. I said 'Oh, my goodness.' But put me down for saying that the West Coast leads on a lot of things," Jinkins said.
Washington state Representative Beth Doglio (D-Olympia) called the B.A.R. to express her feelings as another lesbian member of the Legislature.
"It's about time we get a woman in office. That she is openly gay is great, but what she brings to the table is amazing," Doglio said. "She just has so much emotional intelligence, and I'm really looking forward to seeing what she can do with our caucus. Washington used to lead the nation in the number of women in our Legislature and we lost a little ground, and she's helped us focus on electing more progressive women to office in the state."
Lesbian state Representative Nicole Macri (D-Seattle) spoke with the B.A.R. by phone about what Jinkins' appointment means to her and to the state.
"I'm thrilled. I'm so excited for our caucus and for our state. It's a historic moment for Washington. My district has the longest-running LGBTQ representation of any legislative body in the United States. We have the largest LGBTQ caucus, with just one more member than the one in California," Macri said.
Washington has eight; California dropped to seven after former state Senator Ricardo Lara (D) was elected to state insurance commissioner.
When asked specifically about Jinkins as a role model, Macri did not hold back.
"Representative Jinkins started with LGBTQ civil rights issues, and she has really strong ties to the community across the states," Macri said. "She's been a local and national leader in anti-discrimination to marriage equality, to the fight against transgender discrimination. LGBTQ young people from around the state tell me how inspiring it is to have someone to relate to, and I think Rep. Jinkins not only stands for that but has really fought hard in LGBTQ issues, but also really lifting up equity and equality for women, for people of color, for everybody."
Comments on Facebook