SF Homeless Project: Guest Opinion: We have to raise the floor on housing
Wednesday Jul 31, 2019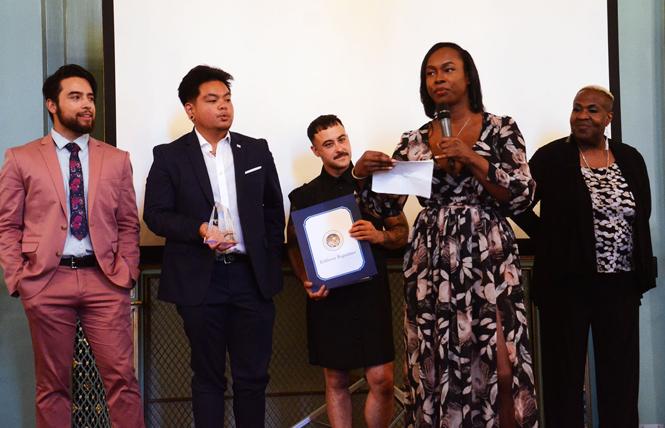 Everyday, my staff and I at TGI Justice Project work tirelessly to find a safe place to call home for our transgender, gender variant, and intersex community. It keeps me up at night. It should keep us all up at night.

That is why we joined the Our Trans Home SF coalition campaign to end trans homelessness.

In April, we joined the Our Trans Home SF Advocacy Day to speak truth to power. We came because what we are going through is a crisis.
TGI Justice was represented by a group of predominantly black trans women, many of whom have experienced incarceration and homelessness. In fact, one of our leaders took action at advocacy day despite the fact that she was just kicked out of her hotel the night before. She came despite not knowing where she was going to sleep that night. She took part in the day because of the urgency we all feel around the housing crisis. We were there to tell our San Francisco supervisors about our experiences and to say that we need action now. We are facing discrimination and violence today. We cannot afford to wait for tomorrow.

TGI Justice is a black trans-led organization working to end the human rights abuses against transgender, gender variant, and intersex people, especially trans women of color, in jails and prisons. Our core work includes hosting a weekly mailing night to support people in prison, working with trans people as they come out of jails and prisons, offering employment opportunities, and advocating for policies and laws to better support transgender women of color.

We are a black-trans led organization that centers our work in our experiences of both incarceration and returning back into the community because the combined impact of anti-black racism and transphobia has resulted in incarceration being a common experience for our community.

One of the most challenging and pervasive parts of our work is to fight the barriers our people face in accessing housing. Finding housing for anyone in San Francisco is hard, but finding housing for a black trans woman who has a record or a past eviction is nearly impossible.

It was found in the 2015 U.S. Transgender Survey by the National Center for Transgender Equality that 30% of all trans respondents experienced some form of housing discrimination, like being evicted from their home or denied housing because of being transgender. When you narrowed that down to the black trans respondents, that number increased to a staggering 40%.

These statistics, combined with the fact that one out of every two trans San Franciscans has experienced homelessness, are alarming. They also seem to represent an understatement for the black transgender women that we work with on a daily basis. Everyday we struggle to find landlords who will rent to our participants. We find that landlords are discriminating based on the fact that they don't believe that black trans women are their preferred tenants. Landlords fail to offer housing even when one of our participants does meet all of the requirements for tenancy.

Safe and stable housing is the foundation we need to set in order to raise the floor for our community. Stable housing sets the foundation for anyone to get back onto their feet, to be able to show up and maintain your job, and to maintain your mental health. These are all basic human needs that many of our participants don't have access to.

Just this year, the Our Trans Home SF coalition made historic leaps in successfully advocating for the first in the nation government funding of a trans-specific housing program. It is huge.

The funding includes $1 million each year over two years to cover housing subsidies to keep and place trans people into housing, for housing navigators to support people in finding shelter or housing, and to create a long-term plan for trans housing.

This is an important step forward, and we need to do so much more to make sure that our community is housed. That is why developing a long-term plan with a multi-pronged approach is critical. We need to make emergency housing and Navigation Centers safe for trans people. We need to create trans-specific transitional and supportive housing programs. We need to make sure that our community can attain and stay in their homes through subsidy programs. We need to make sure that these programs also center the needs of those who are facing the most barriers in their lives and have the least opportunities. This means creating trans specific programs that also centers the lives of black trans women, trans people of color, trans immigrants, trans people who are and have been in prisons and jails.

That is why we are asking you, what are you doing to raise the floor of the living conditions of our community?

What are you doing to support trans-led organizations, especially trans people of color-led organizations?

We are calling on our elected officials, allies, and the larger queer community to continue to support the efforts of Our Trans Home SF to end trans homelessness.

The Our Trans Home SF coalition includes the San Francisco Office of Transgender Initiatives' Transgender Advisory Committee, API Equality Northern California, Community United Against Violence, El/La Para Trans Latinas, Lyon-Martin Health Services, Openhouse, San Francisco LGBT Community Center, St. James Infirmary, Taja's Coalition, Trans Health Consulting, Transgender Law Center, Trans Thrive at San Francisco Community Health Center, and TGI Justice.

We will continue to work with Our Trans Home SF and push to raise the floor.

Janetta Johnson is the executive director of TGI Justice Project. For more information on the coalition, visit www.ourtranshomesf.org.
Comments on Facebook