Bay Area Cannasseur: 'Weed the People' starts in SF
Tuesday Jul 30, 2019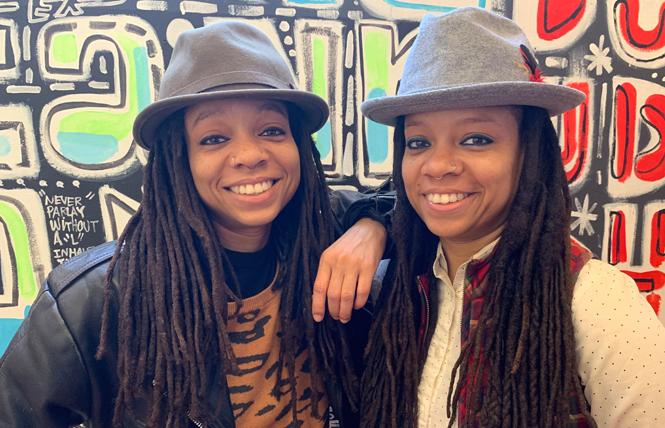 A free four-day conference to help people of color, queers, and women navigate opportunities in the cannabis industry, "Weed the People," will be held August 1-4 at the African American Art and Culture Complex, 762 Fulton Street in San Francisco.
The conference begins Thursday evening with ceremonies and rituals surrounding cannabis; on Friday evening, there will be a screening of the 2019 Netflix documentary, "The Grass is Greener," about racial injustice in the cannabis industry. The meeting's programming begins with a keynote Saturday morning and runs through Sunday.
While there is no entrance fee to attend, anyone who wants to go must pre-register at the conference's Facebook page, where you can also find details about the event.
Anyone is welcome to attend, although the sessions are focused on helping people often denied opportunities to enter the cannabis industry. In San Francisco, traditional costs of opening a cannabis dispensary begin at $1 million, according to the city's Office of Cannabis.
The city also has an equity program that gives applicants who've been adversely affected by the war on drugs assistance in entering the business. There are similar programs in Alameda County and many other cities.
The conference is being organized by Melonie and Melorra Green, 41-year-old twin sisters who are co-executive directors of the African American Art and Culture Complex, a community nonprofit under the umbrella of the San Francisco Arts Commission. The event is co-sponsored by the People's Dispensary, a minority-operated chain of dispensaries in Oakland and Portland, and several other community groups.
"A cannabis conference is nothing new," said keynote speaker Christine De La Rosa, in a telephone interview with the Bay Area Reporter. Known widely as "Miz Chris," De La Rosa is a co-founder and executive director of the People's Dispensary.
De La Rosa, who identifies as queer and lives in Oakland, said that cannabis conferences, per se, "are certainly not groundbreaking, there are ones almost every week. But to have this conference, at this moment in time, is not only groundbreaking, it is historic." Unlike traditional dispensaries, the People's Dispensary donates 10% of its profits back into minority organizations within their city.
De La Rosa, who has spoken at dozens of conferences in the past year, said she was "very honored" to present the keynote address at this gathering, where several hundred people are expected.
Most of the mainstream cannabis industry meetings are "guys in ties," said De La Rosa.
"And the recent National Cannabis Industry Association conference in San Jose charged $695 just to get into the front door, which immediately excluded many people," she added.
In her keynote, De La Rosa will talk about "unlocking the promise, profit, and power of social equity," she said.
"Everyone is talking about social equity but very few are actually benefiting from it," she said. "I'm going to talk about ways to tap into our collective power to make sure our communities achieve the promise and profit of the cannabis social equity movement."
Following the keynote address, a panel of local equity applicants will describe their experiences trying to break into the cannabis industry through social equity programs.
The Sunday program includes a town hall meeting, where participants and organizers will create a lobby day to reach out to city officials to work together toward more equitable opportunities in the industry, and a letter writing campaign to offer guidance to people who want to have their marijuana offenses expunged from their criminal record.
The Green sisters, organizers of the conference, are themselves in the process of breaking into the cannabis industry. Although they were unable to divulge specifics of their plans, the women are hoping to acquire an existing San Francisco dispensary, which would become a new member of the fledgling People's Dispensary chain.
Both longtime medical cannabis patients, the sisters want to educate and inform their community about the benefits of the plant as well as the business opportunities that are possible.
They grew up in Memphis, Tennessee, moving to San Francisco 20 years ago, first living in the Fillmore and now in the Lower Haight. The women are both artists and have been involved in organizing and operating a wide variety of artistic and charitable projects. Two years ago, they were named co-executive directors of the complex, which Mayor London Breed had overseen prior to winning public office.
"There are so many conversations now going on about the cannabis industry," said Melorra Green in a phone interview. "Most exclude people of color, women, and the queer community.
"We grew up in a conservative city and, like many other people, had negative ideas about using cannabis," she added.
But after moving to the Bay Area, and meeting many people whose health had improved dramatically with cannabis, "we want to share that information" with our community, she said.
"Cannabis has a way to empower people and that is our goal," she added.
"We hope San Francisco will get it right" as the city continues to develop regulations for the cannabis social equity program.
"If they don't," said Green. "It will send the message that people like us just don't matter."
Organizers said that the conference is expected to sell out. To pre-register, visit https://www.facebook.com/events/723337328123195/.
Cannabis Pride event a hit
Last month's first Bay Area Cannabis Pride Celebration was a tremendous success, selling out in advance, with 5% of the ticket proceeds benefitting the Oakland-based Transgender Law Center.
Held July 11 at the SevenWest venue in Oakland, the event was produced by Tali Eisenberg, a straight ally, and Brian Applegarth, who identifies as queer and is director of the documentary short "The Secret Story: How Medical Cannabis was Re-Legalized in the U.S.," which was screened at the celebration.
In a prepared statement, Eisenberg said the event "brought together an inclusive group of local Bay Area cannabis brands and social justice organizations for a community cannabis showcase to celebrate the role of the LGBT community in the legalization of cannabis in the state."
Eisenberg said she is hoping to produce a similar event next year.
Bay Area Cannasseur runs the first Thursday of the month. To send column ideas or tips, email Sari Staver at mailto:sfsari@gmail.com.
Comments on Facebook