Editorial: Stop the flip-flopping, Kamala
Wednesday Jul 10, 2019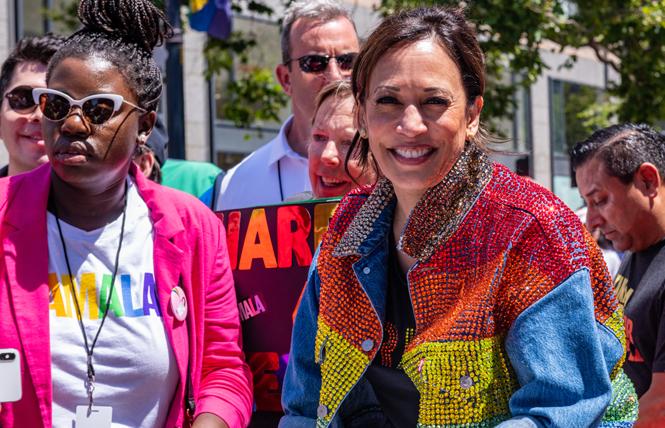 Last week in this space we praised Democratic presidential candidate Kamala Harris' debate performance for confronting former Vice President Joe Biden on his opposition to federally mandated busing to desegregate public schools. Biden was flummoxed and was unable to adequately respond.

Imagine our surprise — and many others were caught off guard too — when two days after our editorial was published, Harris sounded like she agreed with Biden during a July 4 appearance in Iowa, a key early voting state. Now, as media outlets report, she said she would support federally mandated busing in situations like those in the 1970s when Harris was bused to school in Berkeley, where integration efforts by states or school districts met resistance or were not effective. The Washington Post reported that she also said she does not believe current circumstances require that kind of intervention. Days earlier, Harris said that busing should be "considered" by local school districts, but she did not go so far as to say she would support the federal government mandating it. In the end, the main point of her argument on that debate stage was muddled. She took Biden to task because he believed that city councils, not the federal government, should be making decisions on busing; now Harris herself apparently believes basically the same thing. She only undercut her debate gains.

This isn't a new problem for Harris. Since launching her presidential bid in January, California's junior senator has repeatedly had to "clarify" her statements. What that really means is that she said something bold that got people's attention, then later backtracked to a safer position. The problem with that approach, however, is obvious: voters become confused and don't know what to believe — or more crucially, where Harris stands on the issues.

Take health care, one of the signature issues in the Democratic primary. President Donald Trump has said he wants to scrap the Affordable Care Act. There will be "insurance for everybody," he said before he was sworn in. Well, when the House and Senate were both controlled by Republicans, they never could pass a plan, even as they chipped away at the ACA. Now, progressive Democratic candidates like Bernie Sanders and Elizabeth Warren want Medicare for All, which would do away with private insurers. During the recent debates, Harris and Sanders raised their hands when asked if they supported that policy. (Warren raised her hand at her debate the night before.) Afterward, Harris said that she "misunderstood" the question and disagreed with ending private insurance. Harris also said that a bill Sanders introduced in the Senate, which she supports, doesn't get rid of private insurance. In fact, as NBC News reported, Sanders' bill would "outright ban private insurance that provides similar coverage to Medicare for All plans after a short transition period." Asked to explain this, Harris maintains that she supports eliminating the "bureaucracy" in the health insurance industry, which she says the Sanders bill calls for, but not private insurance.

This distinction is important because polls consistently find that Americans who have health insurance (usually through their employer) want to keep it. They support expanding public insurance so that everyone has coverage, only if they don't lose their private insurance. That's the needle that Democratic candidates have to thread.

Harris' penchant for taking a daring stand only to back down later underscores a recurring problem that will come back to haunt her. She needs to stake out a position and stick to it. It takes a lot to stand out in a crowded field of 23 candidates; Harris has demonstrated she can do that, but she sabotages herself if she flip flops days later.
Comments on Facebook