Lawyer looking for 'blue discharge' recipients
Wednesday Jun 12, 2019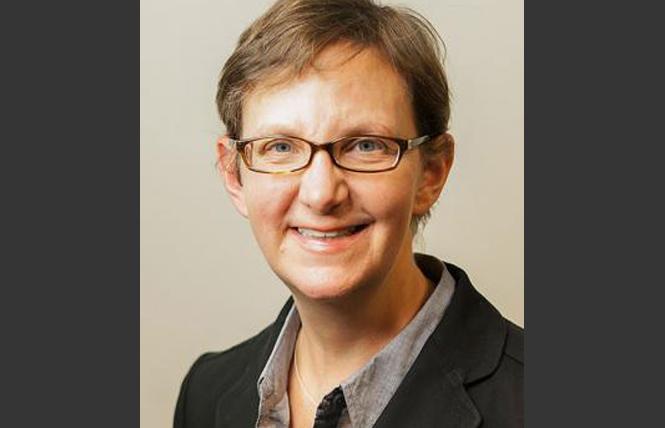 Lawyer Elizabeth Kristen is looking for some of America's long-lost gay soldiers.
Uncovering the shameful history of the American military's "blue discharges" is one of the driving passions of her efforts for San Francisco-based Legal Aid at Work, where she is director of its gender equity and LGBT rights program.
The blue discharge designation means that one's ending in the military was neither honorable nor dishonorable. These walking papers were handed to unknown hundreds of soldiers from 1916 to 1947, when it was replaced by the general discharge and finally the long-standing anti-gay policy known as "Don't Ask, Don't Tell" from 1993-2011.
The so-called blue ticket still carries a stigma for many living vets, reminding them of the shame and ostracism of being outed. Printed on blue paper, the discharge once waved a red flag to potential employers who often refused to hire returned soldiers who could not show honorable discharge paperwork.
Kristen, a 52-year-old lesbian, said in a phone interview that she came from a military family, which got her interested in the plight of these veterans who were deprived of most of the benefits of their service, including the GI Bill program for education, health insurance, and burial assistance.
It also deprived gay veterans of benefits and honors not commonly known to the civilian public. While most veterans in possession of a blue discharge are not likely to still be in the market for college education, death and burial benefits can be a more pressing concern.
"I found out about this history by just talking to an older family member of mine," Kristen said. "He told me he had a bad discharge for being gay, and I begged him to allow me to file a discharge upgrade for him. He didn't want to dig up the shame and regret involved. He said it was literally locked away in the closet and that's where it will stay."
Unable to help her own family, Kristen reached out to other veterans, including Helen James, a 90-year-old lesbian living in Clovis, California with one of these discharges on her record. James had already applied for a discharge upgrade, but the Air Force failed to respond within the mandated 18 months. With the help of D.C. law firm WilmerHale, Kristen brought suit on James' behalf and national media began to take notice.
"I met Helen James, and she was so vital and warm and genuine and still very much in touch with what had happened," said Kristen, remembering the beginning of the case. "I wanted to make it happen faster because of her age. Helen James was the 2018 grand marshal of the Fresno Rainbow Pride parade. Her life changed in ways she couldn't have imagined, because she came out about this."
Kristen contacted James to see if she would speak with the B.A.R., but James did not respond.
Kristen hopes most of all that these stories of restored honorable discharges will reach any remaining queer vets and encourage them to come forward to receive their due.
"I read a 1986 undesirable discharge. The reason for separation is given as 'attempted to engage in or solicited homosexual acts.' I met a lesbian who did time in Leavenworth for being who she was. These people are still out there, and they deserve justice. It's unfair to put the burden of appealing for these upgrades on the individuals who have suffered from them. We need a bill that restores all these purged service members to their full dignity. We can't give them back what they've lost, but we can honor them as they deserve," Kristen said.
Kristen hopes that stories like James' will encourage other veterans to come forward, and push for broad change.
"Courage has a ripple effect. Each person who comes forward and tells their story shows their bravery and helps someone else do the same," she said. "Our lesbian elders and queer elders, we owe it to them for doing the hard work of coming before us. We have to set an example for younger queer people that we don't just move forward, we can still bring the past to justice."
For more information, contact (415) 864-8848 or visit http://www.legalaidatwork.org.
Comments on Facebook