News Briefs: Queen Nation to perform at San Mateo fair
Wednesday May 29, 2019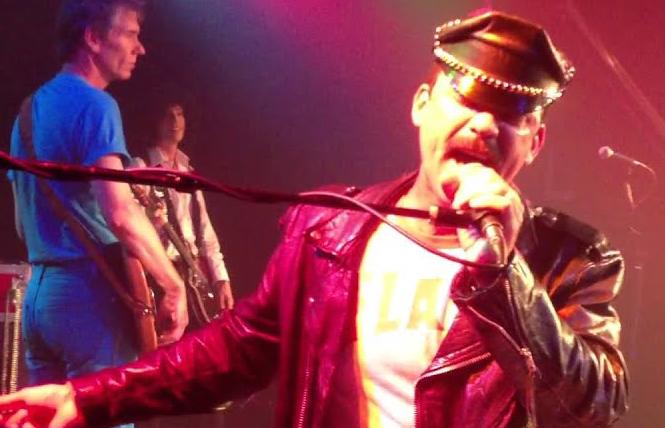 The San Mateo County Fair will be rocking when Queen tribute band Queen Nation performs Monday, June 10, at 7:30 p.m.
Fair officials said the day has been designated its inaugural Pride Family Day, when all children 12 and under will be admitted free, from opening to closing.
The theme for this year's nine-day fair, which runs June 8-16, is "Celebrating the Best of the Bay."
"The lines to see the movie 'Bohemian Rhapsody' late last year are evidence of the timeless love for Queen's music," Dana Stoehr, CEO of the San Mateo County Event Center and Fair, said in a news release. "We are delighted that Queen Nation will bring Queen's music to our free concert series in June."
Actor Rami Malek won an Oscar this year for his portrayal of the late bi Queen frontman Freddie Mercury in the film.
Queen Nation's live 90-minute production of the band's greatest hits preserves the image, sound, and stage persona of vintage Queen, the release stated.
The fair has multiple concerts lined up during its run; all are included with paid admission to the fair, which is $10 for adults, $8 for kids ages 6-12 (except Pride Family Day), and $6 for seniors. Children 5 and under and military (with ID) are free.
The fair, located at 2495 South Delaware Street in San Mateo, is open from noon to 10 p.m. on weekdays and 11 a.m. to 10 p.m. on weekends. It features a carnival midway, kids' activities, community stage acts, and more.
The San Mateo County Pride Center is planning for a group to go on June 10. For tickets, contact the Pride center at (650) 591-0133 or info@sanmateopride.org.
For more information on the fair, visit www.sanmateocountyfair.com.
San Mateo Pride celebration
The aforementioned San Mateo Pride Center will hold its Pride celebration Saturday, June 15, from 11 a.m. to 5 p.m. in San Mateo Central Park, 50 East Fifth Avenue in San Mateo.
This year's theme is "Rooted in Resilience." Organizers said that this year's seventh annual event will be family-friendly and inclusive. Admission is free.
The festival will feature live music, entertainment, activities, resource booths, food trucks, local art, and merchandise.
The festival is a sober space.
For more information, visit http://www.sanmateopride.org.
GLBT Historical Society Latinx exhibit
A new exhibition opening next month at the GLBT Historical Society Museum displays photography, ephemera, and text to center both biological and chosen Latinx LGBTQ family connections as structures that build hope and resilience.
"Chosen Familias" examines queer Latinx stories by documenting real-time, real-life Latino/a relationships. By appropriating and queering the concept of the traditional family photo album, the exhibition reframes documentation of queer mothers, daughters, fathers, children, aunts, and uncles, a news release stated.
Additionally, the exhibition features a video station that will play interviews with, and footage of, Bay Area LGBTQ Latinx activists and artists of the past four decades.
The exhibit is curated by Tina Valentin Aguirre, a genderqueer poet, movie director, and opera producer. In the early 1990s, Aguirre helped set up AIDS programs at Mission Neighborhood Health Center's Clinica Esperanza and Community United in Response to AIDS/SIDA. They currently serve as the associate director for institutional giving at the Shanti Project. Aguirre is also chair of the GLBT Historical Society's board of directors.
A public reception will take place Friday, June 7, from 7 to 9 p.m. at the museum, 4127 18th Street in San Francisco's Castro neighborhood. The curator will offer introductory remarks and light refreshments will be served. Admission is $5; free for historical society members. For tickets, visit https://bit.ly/2HSaqgW.
Oasis to hold gala event
Oasis Legal Services, a Berkeley-based nonprofit that helps LGBTQ people gain legal status through asylum, will hold its annual gala Saturday, June 8, at the top of Salesforce Tower, 415 Mission Street in San Francisco.
Organizers said they would be highlighting achievements of the past year, and raise funds for the road ahead.
The evening begins with a VIP reception at 5 p.m., followed by the program from 6 to 9. The keynote speaker will be Yosimar Reyes, a queer undocumented immigrant, poet, and activist.
Tickets are $250. RSVPs are needed by Friday, May 31. A valid, government-issued ID with photo is required for entry to the building.
For more information, and to purchase tickets, visit https://secure.givelively.org/event/oasis-legal-services/salesforce-tower.
SF police panel OKs updated rules for citizen complaints
The San Francisco Police Commission recently adopted the Department of Police Accountability's proposed revisions to General Order 2.04, the rules and regulations governing citizen complaints against San Francisco Police Department officers.
These revisions, the first since 1994, implement U.S. Department of Justice recommendations and affirm DPA's independent authority to investigate police misconduct, according to a news release from the agency.
"I am proud that the DPA took the lead in the first updates to General Order 2.04 in more than 20 years," agency director Paul Henderson, a gay man, said in the release. "These revisions clarify and reaffirm the Department of Police Accountability's independent jurisdiction to investigate peace officer misconduct and are an important step to building public trust in our civilian oversight system."
The police commission approved the changes at its May 15 meeting.
The new General Order 2.04 recognizes DPA's historical practices and clarifies its jurisdictional authority. The revisions acknowledge DPA's independent jurisdiction to investigate officer-involved shootings. They permit DPA to accept and investigate complaints from other city agencies. The revisions affirm the department's right to investigate complaints regarding conduct of off-duty officers if the officer has represented him or herself as law enforcement.
Every police station must now make DPA materials and complaint forms easily accessible to the public. Citizens will no longer have to request complaint forms or DPA contact information from station keepers or other officers, according to the release.
The order establishes a quarterly disciplinary board that will hold meetings between DPA and SFPD to identify and address disciplinary trends and training deficiencies.
Henderson said DPA will continue working to implement the DOJ recommendations.
Comments on Facebook