Vienna is ready to shine for EuroPride
Wednesday Apr 24, 2019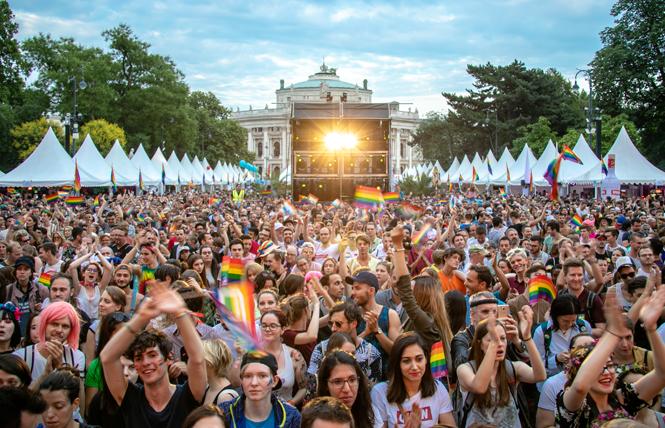 Rainbow flags and banners will fill Vienna's Ringstrasse as more than 200,000 people are expected to parade through the Imperial City's main boulevard to its Town Hall for EuroPride in June.

"Once a year this boulevard is ours," said Andreas Brunner, a 56-year-old gay man who is one of the co-founders of the Rainbow Parade. "Face it. Here we are in our diversity from the Dykes on Bikes to half-naked dancing boys on trucks to lesbian groups drumming. That's our colorful Pride."

The Ringstrasse is the city's famed boulevard that replaced the fortress that once circled Vienna.

Nearly 20 years after Vienna first hosted EuroPride, the city is ready to welcome all of Europe and American friends to celebrate under the banner "Together & Proud" from June 1-16.

Celebrating queer Europe
"I'm getting excited," said Katharina Kacerovsky, CEO of Stonewall GmbH, the organization that oversees the annual Rainbow Parade and Pride Village at Town Hall. "I love to connect people and bring completely different cultures ... together for fusion."

That's exactly what Kacerovsky and her team are doing, working with about a dozen different Pride organizers to truly make the event a celebration of Europe's LGBT community.

There will be more than 40 events during the first half of Pride Month, offering something for everyone. The festivities range from family days at the Schönbrunn Zoo and parks to a conference to parties to a mass wedding at the 5-star Hotel Le Meridien (http://bit.ly/2KSlUGj).

It will all lead up to the EuroPride parade June 15 and two celebrations at the Pride Village and Pride Park.

In December 2017, the Austrian Constitutional Court legalized same-sex marriage. Same-sex marriages began on January 1 this year. However, it's been a bittersweet victory. Austria's conservative government limited marriages for binational couples to only those who come from countries where same-sex marriage is legal, Viennese activists said during a recent trip to Vienna.

The mass wedding will be both a celebration and a demonstration.

There will be a "focus on the fact that not everyone is allowed to marry. We still did not reach the goal with our government," said Kacerovsky, a 38-year-old lesbian who was an international DJ for two decades when she took the helm of the organization.

"EuroPride, with its multifaceted program, is the perfect occasion to celebrate and explore a city that has emerged from being a hidden gem to becoming a hot spot for the LGBT community," said Norbert Kettner, 51, a gay man who is the director of the Vienna Tourist Board.

For the first time, the city's tourism agency will have a truck in the EuroPride parade, Tom Bachinger, a gay man who handles travel trade relations for the U.S. market for the Vienna Tourism Board, told the Bay Area Reporter.

Viennese LGBTQs are getting excited about the events.

"Vienna is one of the most LGBT-friendly cities in the world," said Ian Goudie, a gay man who formerly led Stonewall GmbH and now works with Richard Zanella, one of the city's top gay bar and nightclub owners. "Vienna is an absolutely beautiful city. It's going to be an amazing event."

In 2001, Vienna first hosted the European-wide LGBT Pride celebration only five years after the Austrian capital hosted its first Pride parade.

An estimated 25,000 Pridegoers attended that first Pride event in 1996, said Brunner, who was inspired by Stonewall 25 celebrations in New York two years earlier. The 1969 Stonewall riots in New York City, which sparked the modern gay rights movement, will celebrate its 50th anniversary in June.

"Visibility was the main issue for us," said Brunner, who is co-manager of QWIEN (http://www.qwien.at), Vienna's LGBT archives, and runs LGBT Vienna history tours. "It still is."

EuroPride is "something that we should really celebrate," said Peter Holzinger, a 44-year-old gay man who owns Samstag Shop, a fashion boutique (http://samstag-shop.com).

However, Holzinger said it was important to remind younger LGBTs "that someone had to fight for this right to live such a carefree and great life today."

To commemorate the events of EuroPride and Stonewall 50 this year he has gathered 13 of the shop's artists to design limited edition EuroPride and Stonewall 50 T-shirts.

He was inspired by T-shirts on display at the GLBT Historical Society Museum in San Francisco's Castro district during a trip last year, he told me during one of the shop's many exhibitions celebrating the launch of new designs by international queer artist and designer Jakob Lena Knebl.

Knebl's works will also be exhibited at Vienna's MUMOK June 10-16 during EuroPride.

The goal of the T-shirts, which will be unveiled during a special event June 6, is to honor the unity of the LGBT community in the "fight for the recognition of our rights and our culture," Holzinger said in a statement sent to the B.A.R.

EuroPridegoers will be able to purchase their own T-shirts at the shop, online, and at various locations during the festivities.
Heading to EuroPride
The gay districts are centered around the MuseumsQuartier; Mariahilfer Strasse, the main shopping street; and the famed Naschmarkt (http://bit.ly/2Gwxp1J), the city's largest open-air market filled with restaurants and shops in the tightly knitted together fourth, fifth, sixth, and seventh districts.

Visitors will know they are in the heart of Vienna's gay districts as the pedestrian signals outside the MuseumsQuartier on the Ringstrasse light up with same-sex couples when they cross the street.

Here is where cafes, bars, restaurants, and shops, as well as museums and high-end shopping along the Mariahilfer Strasse, bustle with fabulousness.

Gay guide Niki König, 46, showed me all of the city's gay hot spots as we walked through the trendy neighborhoods, stopping in at Felixx Bar (http://www.felixx-bar.at), one of the city's best gay bars. Next month the bar will also open during the daytime as a cafe serving coffee and cakes among its menu selections.

Goudie said B.A.R. readers who order a coffee and mention this article would receive a free cake to celebrate EuroPride and the opening of the cafe.

Just a few blocks away, König pointed out one of his personal favorite spots, Marea Alta (http://mareaalta.bplaced.net). It has a bar upstairs, while downstairs it's a nightclub that hosts a number of events where the city's lesbian-feminists party.

Where to eat
We then wound our way down to the Naschmarkt, where across the street is one of the most popular places in Vienna, the historic Cafe Savoy (http://www.savoy.at/en/index.php).

The gay men playfully teased that only the men are left at the more than 120-year-old cafe that was once a straight pickup salon. The cafe is currently open during an expansion that will take it back to its original size. The Savoy serves breakfast, lunch, and dinner and is popular among locals and visitors. At night, it turns into a queer hangout.

Other popular cafes around the city are lesbian-owned Fett+Zucker (http://www.fettundzucker.at), and the feminist cafe Frauencafe (8, Lange Gasse 11).

The Viennese love their eclectic cuisine, which has evolved beyond the standard fare to a more international farm-to-table flavor. I enjoyed exploring Vienna's ever-emerging restaurant scene, dining at LGBT favorites Labstelle (http://www.labstelle.at), Wrenkh Wiener Kochsalon (http://www.wrenkh-wien.at), Glacis Beisl (http://www.glacisbeisl.at/info), and 1500 Foodmakers (http://www.1500foodmakers.at). Glacis Beisl and 1500 Foodmakers offer late-night dinners.

When LGBTs aren't dining or imbibing coffee or wine from the vineyards that are on the outskirts of the city, they enjoy the great outdoors and sunbathing or using the sauna.

There are two unofficial gay beaches on the Donauinsel, a small island in the middle of the Danube River, and the Neue Donau. Locals also enjoy strolling along the Danube River, or relaxing in one of the city's many parks.

That is when the men aren't enjoying a bath at the historic gay sauna, Kaiserbründl (http://www.kaiserbruendl.at). The sauna has enjoyed centuries of popularity among gay men, especially with Emperor Franz Joseph's younger brother, Archduke Luziwuzi, who got in trouble hitting on a soldier during the mid-1800s.

"It's the most beautiful gay sauna I know in Europe, probably," said König.

He recommends the sauna to every gay man who visits Vienna. "That's something really special that we've got here in Vienna," he said.

Where to stay
I stayed in the heart of the MuseumsQuartier as a guest of 25hours Hotel (http://www.25hours-hotels.com/en/hotels/vienna/at-museumsquartier), a fun and trendy concept hotel that has queer staff and is very gay-friendly. The hotel has a California-Italian inspired restaurant, the aforementioned 1500 Foodmakers, and a rooftop bar, the Dachboden Loft. It's close to all the action and sites, and the perfect retreat after exploring the city and partying late into the night.

During a previous visit, I stayed at the nearby artsy Altstadt Hotel (http://www.altstadt.at).

EuroPride Vienna has also partnered with 12 other hotels to host guests. For more information, visit https://europride2019.at/travel-info.

How to get there
Austrian Airlines (http://www.austrian.com) offers nonstop flights from select U.S. airports, such as Los Angeles, to Vienna or there are one-stop flights on other airlines.

An inexpensive way to get to Vienna is to fly into Munich, Germany and take a four-and-a-half-hour train ride that starts at around $50 one-way. I took Omio (http://bit.ly/2UHHIJ0), formerly GoEuro.

Getting around Vienna is easy. The city is very walkable, especially around the gay area.

Visitors can also get a Vienna Card (http://www.viennacitycard.at), which provides unlimited transportation and discounts into museums and sites as well as at more than 210 restaurants and shops. The cards are available for 24-, 48-, and 72-hour increments. Remember to validate the cards at the machines in the metro station. They are conspicuous boxes located about 10-feet from the escalators.

For more information, including EuroPride entertainment headliners, which weren't available at press time, visit https://europride2019.at or http://www.wien.info/en/vienna-for/gay-lesbian.
Comments on Facebook